Crawford, Ethier most logical to go as Dodgers try to pare crowded OF
Carl Crawford and Andre Ethier seem like the two most logical candidates for the Dodgers to trade away.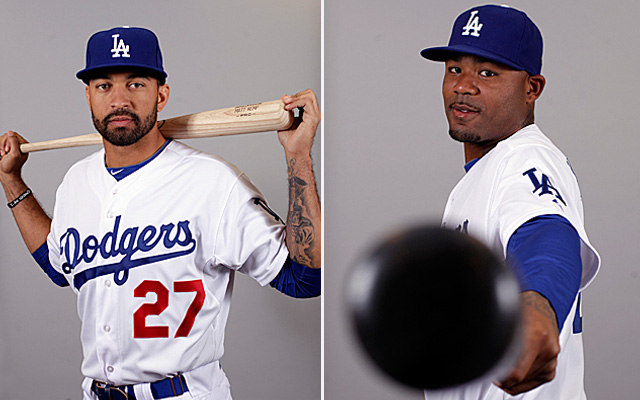 PHOENIX -- Rival executives expect the Dodgers to trade at least one veteran outfielder, and maybe two, as they attempt to sort out a crowded outfield.
The Dodgers have held their four high-priced veteran outfielders to this point, but with top outfield prospect Joc Pederson on the cusp of the majors, the need to trade one is increasing.
One issue, though, if they trade Carl Crawford and Andre Ethier and then insert Pederson, the best center fielder, into center, is that it could create another issue. If Pederson's in center, that would mean that the strong-armed Yasiel Puig would have to be move back to right field, pushing Matt Kemp back to left field, apparently his least favorite of the three spots.
Another concern may be the readiness of Pederson, an excellent glove man who still struck out too much at Triple-A last year. Power hitting Scott Van Slyke is yet another Dodgers outfielder.
Word is, the Dodgers also are interested in paring their record $230 million payroll a bit, as well.
The Dodgers, until midway through last season, had little issue with the extra high-salaried outfielders because of assorted injuries that kept at least one sidelined at a time, and there was certainly a major financial benefit to having so many big-name players -- it helped the $2.15 billion team with their ultra-lucrative local TV deal.
However, the overcrowding became more apparent as the year went along. Ethier usually was the odd man out, but others were impacted. Complicating things further, Kemp didn't enjoy being moved from center field, or specifically, playing left field.
Rivals suggest Crawford and Ethier are the two Dodgers outfielders most likely to move. Kemp's name has been out there on occasion, including during last season after his then-agent Dave Stewart (now the Diamondbacks GM) suggested he might not mind being traded, but his right-handed bat would be a big loss for them.
There's no evidence the Dodgers would seriously consider trading multitalented youngster Puig, according to one executive who's spoken to the Dodgers.
Some Dodgers observers say that Puig seems "isolated" from most of the clubhouse, though, suggesting veteran leaders need to do a better job of incorporating him into the mix. The Dodgers succeeded throughout the regular season despite some obvious clubhouse issues. But Dodgers people understand this is something to work on this coming year.
Crawford and Ethier are the most logical to trade, too, though Crawford's $21 million salary and Ethier's $17 million salary would require some sort of offset. There was a report of Crawford for Elvis Andrus talk, but two people connected to those teams said there hadn't yet been any serious discussion, and the feeling is that at least Texas wouldn't be interested in such a swap.
The Angels' Ohtani faced Milwaukee in Cactus League action on Saturday

New Mexico broke the school and WAC single-game run record with a 39-0 victory over Mississippi...

It's the first Saturday slate of spring training games, and Ohtani will be taking the mound...
The Tigers are very early in their rebuild and they're counting on Miguel Cabrera to rebound...

The Grapefruit League and Cactus League seasons started on Friday

Data will be collected and then used to determine whether humidors are necessary in 2019