Crawford in pain as Red Sox officials meet Monday to discuss Tommy John surgery
A source suggested it's likely that the decision will be made soon to get the surgery, which would end his season. He would still have a chance to be back for the start of next season.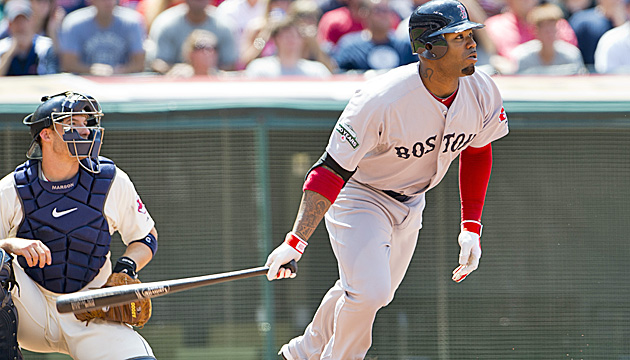 After having wrist surgery earlier this year, Crawford is likely to have Tommy John surgery soon. (Getty Images)
Red Sox officials will meet Monday regarding Carl Crawford's painful elbow, and indications are that there is a strong likelihood it will be decided that Crawford should get Tommy John surgery soon.
"It doesn't look good [for Crawford to avoid surgery],'' a source close to Crawford told CBSSports.com.
Crawford is feeling pain in the elbow, the source said, belying a strong August that has included 13 extra-base hits heading into Sunday night's game at the Yankees. Crawford, who has continued to play just about every day, also has made some strong throws. But the pain has not subsided.
If Crawford, who is hitting .283 with three home runs and 19 RBI, gets the surgery now, it's possible he could be ready by the start of next season. The Red Sox, hampered by serious injuries all season, are three games under .500, and it would be a stretch at this point to think they have a chance to make the postseason.
Red Sox GM Ben Cherington confirmed the meeting, saying, "We are going to circle up with medical staff and Carl tomorrow.''
It was reported on Saturday by the Boston Globe that Crawford was going to request the surgery next week.
Crawford has been reluctant to get the surgery as he is anxious to prove himself in Boston, Gordon Edes of ESPNBoston reported. Noted sports surgeon James Andrew informed Crawford early this season that he would someday need the surgery. He had wrist surgery earlier this year.
Neither Josh Donaldson nor Brian Dozier have talked about a new contract extension

Francisco leads the Dominican Winter League with seven home runs

Thome deserves enshrinement and here's why the case against him does not hold up
The Twins have already fortified the bullpen with Addison Reed, and now they want to address...

The Orioles likely want pitching, and the Indians have plenty of it

Halladay died in a November plane crash off the coast of Florida