Creating baseball's perfect left fielder
Our series looking at the perfect "Frankenstein" player at each position continues on Saturday with left field.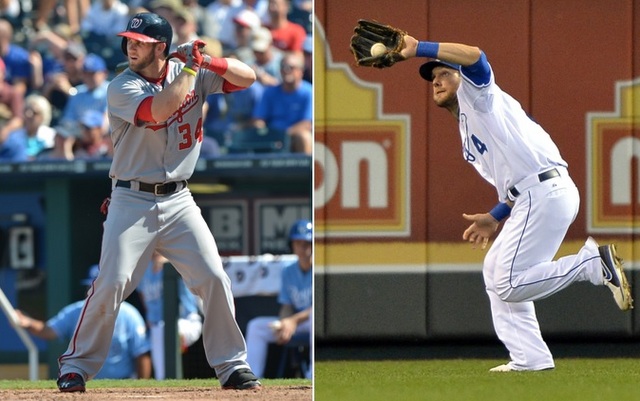 Creating the perfect: Catcher | First baseman | Second baseman | Shortstop | Third baseman
Our attempt at creating the perfect baseball player at each respective position -- using current players only -- now moves on to left field.
For those new to what we're doing with this series, welcome. Go back and read through the previous entries (linked above) to get an idea of what we're trying to create. Long story short: we're building a Frankenstein monster at each position with individual skills and traits from different players. Here is our left fielder.
Baseball's perfect left fielder would have ...
Matt Holliday's bat
Holliday is one of the game's most unheralded great hitters, in my opinion. The guy does nothing but mash, and, over these last few years with the Cardinals, he's shown he was not just a product of Coors Field in Colorado. Holliday has hit .306 in parts of five seasons with St. Louis and is a career .311 hitter. Fair or not, Ryan Braun (career .312 hitter) was apparently dinged during the voting process for his performance-enhancing drug ties.
Also considered: Ryan Braun, Carlos Gonzalez
Bryce Harper's power
Even though the emphasis on defense has increased in recent years, left field is still a bat-first position. Teams stick guys out there who can rake, first and foremost. Needless to say, there are a ton of power bats to consider here. We went with the young Harper over more established players because he already has a pair of 20+ home runs seasons under his belt at age 21. He also hasn't played a full season yet to a late call-up and injury. The kid is only getting better and that's what we're looking for.
Also considered: Justin Upton, Carlos Gonzalez, Matt Holliday, Yoenis Cespedes, Ryan Braun, Domonic Brown, Alfonso Soriano
Josh Willingham's plate discipline
Over the last three seasons, no player in baseball has swung at fewer pitches outside of the strike zone than Willingham (18.6 percent). In fact, no other player is within a full percentage point of Willingham -- Marco Scutaro is second at 19.9 percent. Willingham has drawn a walk in 12.0 percent of his plate appearances since 2011, and only one other left fielder (Holliday at 11.3 percent) was over even 10 percent. Willingham it is.
Also considered: Matt Holliday, Alex Gordon, Ryan Braun
Eric Young Jr.'s speed
Young led the NL with 46 stolen bases in 2013 and, despite sporadic playing time, his 87 steals over the last three years are the third most among all left fielders. He's also a monster at taking the extra base (first-to-third on a single, etc.), doing so in 56 percent of opportunities in his career. The league average is around 40 percent.
Also considered: Rajai Davis, Starling Marte
Bryce Harper's arm
The best outfield arms are usually reserved for right field, so the pickin's are a little slim in left. Harper, a former catcher, has the most powerful arm of the bunch even though he tries to show it off and occasionally throws to the wrong base. Other players might make better throwing decisions, but in terms of sheer arm strength, Harper's the guy.
Also considered: Alex Gordon
Alex Gordon's glove
Like I said before, left fielders are expected to hit above all else. Gordon has separated himself from the pack defensively thanks to excellent reads and routes rather than pure speed and range. Now that Brett Gardner is a full-time center fielder, no left fielder comes close to Gordon's +35.4 UZR or +60 DRS over the last three years. In fact, among all positions, he ranks sixth in baseball in UZR and first in DRS during that time.
Also considered: Carlos Gonzalez
Alex Gordon's durability
Gordon leads all left fielders with 468 games played since 2011 -- Alfonso Soriano is second with 439 -- and is 15th among all players in games played over the last three years. He's become a rock for the Royals after having some early career injury problems.
Also considered: Alfonso Soriano
Bryce Harper's intangibles
The intagibles category is always the hardest, but Harper gets the nod because he's pretty much everything a team could want in a franchise player. Let's put it this way: you know the kid has made it when everyone went through the trouble of building him up earlier in his career and is now in the process of trying to tear him down. It comes with the territory. Harper has handled the attention well (and provided a few great quotes along the way) and plays as hard as anyone in the game. That's the key for me.
Also considered: Carlos Gonzalez
The Diamondbacks outfielder was not impaired, he was just going way too fast

MLB can unilaterally implement rule changes, which will also include limits on mound visit...

If the MLBPA wants to fix MLB's economic system, it should push for more money for young p...
Fans aren't happy Gerrit Cole and Andrew McCutchen have been traded away

Acuna is arguably the best prospect in baseball

Kent had a good career, particularly with the bat