Creating baseball's perfect players, Part I: Catcher
What if you could take Buster Posey's swing, Evan Gattis' power, Yadier Molina's arm and more in creating the perfect catcher?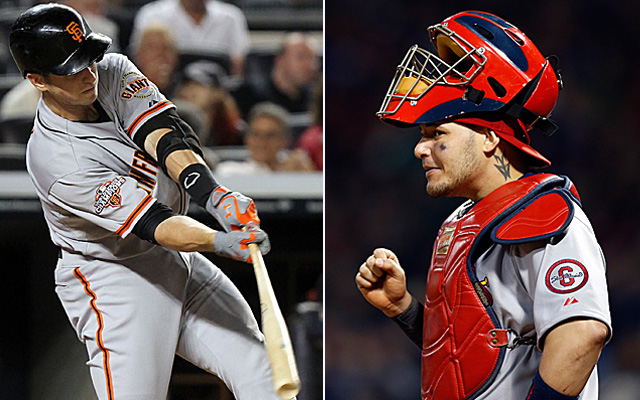 With the Winter Meetings set for the second week of December, Thanksgiving being this week and a small flurry of signings having been completed this past weekend, the best guess is we're in a for slow news week.
Which means for us here Eye on Baseball scribes, it's time to have a little fun. And the concept of a "baseball Frankstein" has long intrigued me, though the focus shouldn't be on body parts but instead skill sets. So what we're going to do is run through each position this week, judge the traditional five tools and a few other traits of great players and see what the perfect player at each position would possess, using only current players at their current positions.
To start, we'll put together the perfect catcher.
Baseball's perfect catcher would have ...
Buster Posey 's bat
With Joe Mauer having officially been moved to first base, the honors go to Posey. This would be the "hit tool" from the aforementioned five tools, so there's emphasis on batting average, who handles the bat best and who has the smoothest swing. Essentially, who is the best pure hitter? For us, Posey was the unanimous selection.
Also considered: Yadier Molina
Evan Gattis ' power
Not only did Gattis hit 21 homers in just 354 at-bats last season as a rookie, but he had the longest homer of the season among all players, a 486-footer, which was 10 feet further than the second-longest homer of the season. We haven't even gotten past two categories, but it's already fun to imagine a catcher with Posey's hit tool possessing Gattis' pure power.
Also considered: Brian McCann , Carlos Santana , Matt Wieters
Derek Norris ' speed
Obviously with catcher we aren't going to get into any blazing speed, but Norris was 5-for-5 in stolen bases this past season and took the extra base 55 percent of the time. He's definitely not slow, and that's good enough to take the honors here.
Also considered: Russell Martin , Jarrod Saltalamacchia
Carlos Santana's plate discipline
In his three full seasons, Santana has averaged 94 walks. He boasts a career on-base percentage of .367 against a .254 batting average. Last season he swung at 25.8 percent of the pitches he saw outside the strike zone, but made contact on 71.7 percent of those. He takes walks, has decent plate coverage and doesn't dip outside the zone too often.
Also considered: Ryan Hanigan
Yadier Molina's arm
Throughout his career, Molina has thrown out 45 percent of would-be base stealers with the league average being around 28 percent. This isn't even including the times runners were held at first base due to the fear of running on Molina or the numerous snap throws behind runners to catch them sleeping.
Also considered: Ryan Hanigan, Russell Martin, Matt Wieters
Russell Martin's glove
Martin only committed two errors and four passed balls last season, compared to four errors and three passed balls by Molina. Both are as good as it gets back there and it's basically a toss up with no wrong answer.
Also considered: Jose Molina , Yadier Molina
Yadier Molina's ability to work with pitchers
This one was, again, a dead heat between Molina and Martin. Martin helped the Pittsburgh Pirates shave their team ERA from 3.86 to 3.27 in one season, though personnel was a bit better, too. On Molina, the St. Louis Cardinals routinely deal with significant injury woes and turnaround to their pitching staff and never seem to miss a beat. They had to use 10 different starting pitchers last season but still ended up with the best record in the NL. It's no coincidence how easily they transition pitchers from the minors, either.
Also considered: Russell Martin, Jose Molina, Salvador Perez
Yadier Molina's 'intangibles'
Since we aren't a fan of using past "clutch" performance to signify it will definitely continue in the future -- whether it be a runners in scoring position stat, late-and-close stat, anecdotal evidence or anything else -- the clutch aspect is more that of a gut feeling.
That is, if a player needs to make a big play with his bat, glove or arm, who would you most want to count on?
Also in this category, we need to include leadership and probably even ways to make teammates better.
For all of the above, Molina seems the easy choice.
---
Tuesday: Building the perfect first baseman
Keep it locked right here for everything you need to know about the world of baseball Tues...

There have been several racially charged incidents at Fenway Park this year

Washington's right fielders have sputtered offensively since Harper went down
The good news? Wichita still has a chance to win the series Tuesday night

Soon more home runs will have been hit in 2017 than in any other season in MLB history

Ferrell somehow avoided going to the ground