Creating baseball's perfect right fielder
It's time to create baseball's perfect right fielder in our ongoing series. It's part Cuddyer, Stanton, Stubbs, Werth, Parra, Puig, Hunter and Ichiro.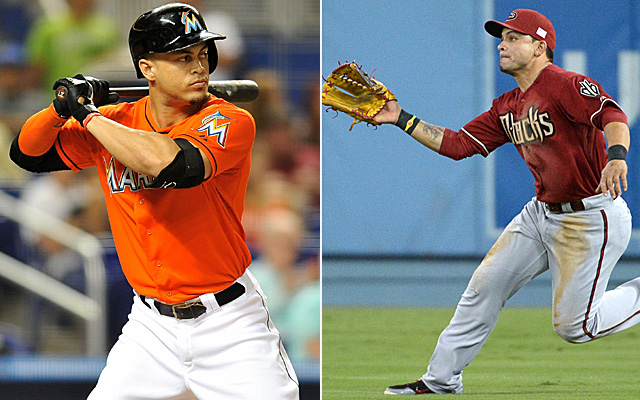 Creating the perfect: Catcher | First baseman | Second baseman | Shortstop | Third baseman | Left fielder | Center fielder
It's time to conclude our series of creating the perfect player at each individual position, as we're going to do the "Frankenstein" thing with current MLB right fielders in this installment. We'll hit on starting pitchers Tuesday and relievers Wednesday, but for now it's the final everyday position with these specific categories. Obviously, pitchers will be judged mostly on individual pitches.
As a reminder, for those new to the series, check out all the handy links above to get a good idea of what we're doing.
Baseball's perfect right fielder would have ...
Michael Cuddyer's bat
He of the long hitting streak and .331 batting average in 2013, Cuddyer definitely handled the lumber well this past season. Was it an outlier considering his career .277 average and astronomical batting average on balls in play? Possible. For now, though, Cuddyer gets the nod.
Also considered: Yasiel Puig, Jayson Werth
Giancarlo Stanton's power
Few in baseball come close to having the pure, raw power Stanton does. He's homered 117 times in 1,749 at-bats in his young career. Only nine players have ever hit more career homers through their age-23 season in baseball history and it's quite a list: Eddie Mathews, Mel Ott, Alex Rodriguez, Frank Robinson, Ken Griffey Jr, Ted Williams, Orlando Cepeda, Juan Gonzalez and Mickey Mantle. Further, only Mike Trout and Justin Upton averaged more distance on their home runs in 2013.
And, really, did he even get all of this one?
Also considered: Jose Bautista, Jay Bruce, Chris Carter, Wil Myers, Yasiel Puig
Drew Stubbs' speed
Though he didn't have a ton of stolen base opportunities in 2013, Stubbs has blazing speed and was successful on 17 of 19 attempts. In his career, he's swiped 127 bases while being caught 29 times. He's also maintained an excellent infield hit rate throughout his career and successfully bunted for a hit four times in eight tries last season.
Also considered: Yasiel Puig, Alex Rios
Jayson Werth's plate discipline
Werth's high walk rate throughout his career has made him much more valuable than his batting average might suggest (.274 career average with a .367 OBP). Last season, Werth drew 60 walks in 129 games, good enough to help him to a .398 on-base percentage. He only offered at 25.2 pitches outside the strike zone, good for second among right fielders (behind Bautista).
Also considered: Norichika Aoki, Jose Bautista, Jason Heyward, Daniel Nava
Gerardo Parra's glove
He has the range of a center fielder but spends most of his time in right field. Parra actually ranked third in the majors in defensive runs saved last season behind Andrelton Simmons and Carlos Gomez. Only Manny Machado had a better ultimate zone rating while Parra ranked eighth in defensive WAR. He also rarely makes errors and has a great arm. Everything points to elite here.
Also considered: Jason Heyward, Shane Victorino
Yasiel Puig's arm
Though the youngster needs to learn when it's OK to fire his cannon and when he needs to hit the cutoff man, there's no doubting his raw talent with the arm. He threw out three runners at third base and two at home last season while his kill percentage (the percent of runners thrown out while trying to take an extra base) was tops among qualifying right fielders.
Need video evidence? OK, here:
Also considered: Jose Bautista, Jeff Francoeur, Gerardo Parra, Josh Reddick
Torii Hunter's intangibles
A long-time clubhouse leader who has won the Branch Rickey Award due to his charitable efforts, Hunter is one of the most respected players in baseball by his peers in terms of his attitude. He's also played on seven playoff teams in three different cities. Some of his opinions have definitely raised eyebrows, but he's a winner and his teammates seem to love him.
Ichiro Suzuki's durability
Throughout his entire 13-year career, Ichiro has averaged 159 games played per season -- and that's with lack of performance causing him to play just 150 games last season. He has been on the disabled list one time in his career, needing only the minimum 15 days back in 2009 to get back from an ulcer.
Also considered: Jay Bruce, Hunter Pence, Alex Rios
Keep tabs on the top 50 free agents right here

Your one-stop shop for all things MLB Winter Meetings-related

The Angels knew about the first-degree sprain and still wanted to sign the potential ace, of...
The run on relievers continues with two more signings

The Yankees added Giancarlo Stanton in a blockbuster trade, though they now have openings at...

Smyly is currently on the mend from Tommy John surgery