Creating baseball's perfect second baseman
In Part III of our ongoing series, we'll create the perfect second baseman using parts of current second basemen.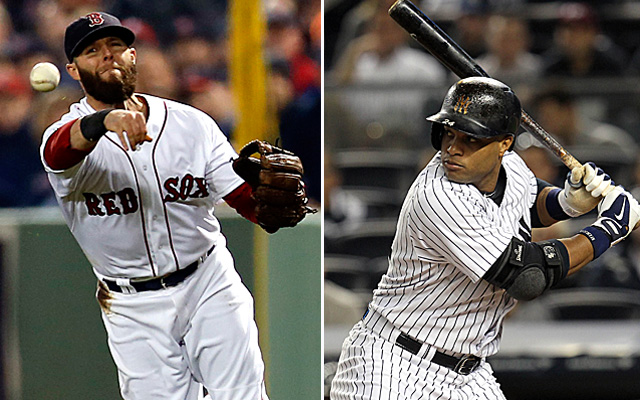 Creating the perfect: Catcher | First baseman
As we roll forward in our series of fictionally creating the perfect baseball player at each respective position -- using current players only -- Wednesday's installment is for the second basemen.
For those new to what we're doing with the series, welcome. First of all, go check out the catcher and first baseman entries in the series to get a better idea of what we're doing -- which is essentially saying that if we could build a "Frankenstein" second baseman, what skill and/or trait would he draw from the respective second basemen in the majors right now?
Baseball's perfect second baseman would have ...
Matt Carpenter 's bat
Few in baseball handle the bat better than Carpenter, who led all qualifying second basemen in batting average last season. He also had a solid walk rate and workable strikeout rate. He finds gaps (55 doubles and seven triples last year) and comes through with sac flies. All this with a smooth swing from the left side.
NOTE: Carpenter is likely headed for third base next season, but the move hasn't been officially made for reasons of health like it was for Joe Mauer . Hence, an injury or any other number of factors could have Carpenter back to second at some point next season. So we're keeping him here for now.
Also considered: Robinson Cano , Dustin Pedroia
Robinson Cano's power
Several years ago, this would have been a good discussion between Cano and Chase Utley , but it's not anymore. Cano has averaged 28 homers per season in the last five years and even without that, he boasts the most raw power here. He's like having a corner infielder playing second.
Also considered: Jedd Gyorko , Dan Uggla , Chase Utley
Emilio Bonifacio 's speed
He's swiped 98 bases in 120 tries in the past three seasons and is generally regarded as one of the fastest men in baseball. He also ranked fourth in the majors in taking the extra base a whopping 61 percent of the time last season. That is, if he's on first base and a batter singles, he gets to third instead of second. Etc. That's part know-how, part ball placement, sure -- but it's not happening at that high a rate without blazing speed.
Also considered: Jose Altuve , Jason Kipnis
Marco Scutaro 's plate discipline
Scutaro only drew 45 walks last season, but just looking at the raw number isn't always good enough here. We have to take other things into consideration, such as that he only struck out 34 times -- and it's such a rarity these days to walk more than strikeout. Also, Scutaro spent most of his time this season in the two-hole in the order, meaning pitchers want absolutely nothing to do with walking him. He was also best among all qualifying second basemen in swinging at just 20.1 percent of pitches outside the strike zone. If you want to get him out, you better throw a strike.
Also considered: Matt Carpenter, Dan Uggla
Robinson Cano's arm
This is a tough one to measure and going straight off the eye test can fool as well. Many of the assist stats are tough to read, so we're mostly left going off the ever-deceiving eye test. We went with Cano here, and plays like this are examples of why:
That's across the body, ranging well in shortstop territory and he threw it to first base on the fly, side-arm and effortlessly. He barely even had to exert any energy and just flipped it. That shows his immense arm strength from a position that rarely requires it.
Arguments could be accepted for several other players here, though. It's a tough one.
Also considered: Brian Dozier , Ian Kinsler , Brandon Phillips
Darwin Barney 's glove
Two years ago, this was Brandon Phillips without a doubt. As Phillips has lost a step in the past two years, though, Barney has surpassed him. Barney committed fewer errors last season with a better fielding percentage, old school people. As for the new school people, Barney was superior to Phillips in defensive runs saved, ultimate zone rating and defensive WAR. It wasn't particularly close in the majority of the measures, either. In fact, Pedroia was second here.
Also considered: Dustin Pedroia, Brandon Phillips
Robinson Cano's durability
No question here. Cano has averaged 160 games per season since the beginning of 2007, playing in 160, 159, 161, 160, 159, 161 and 160 games, respectively.
Dustin Pedroia's intangibles
Big hits, part of a winner, leadership qualities ... Pedroia's got the goods. Any team would love to plug him into their lineup at second base and reap the rewards.
Also considered: Chase Utley