Creating baseball's perfect third baseman
As we continue building a team of perfect baseball players, it's time to look at what it takes to create the ultimate third baseman.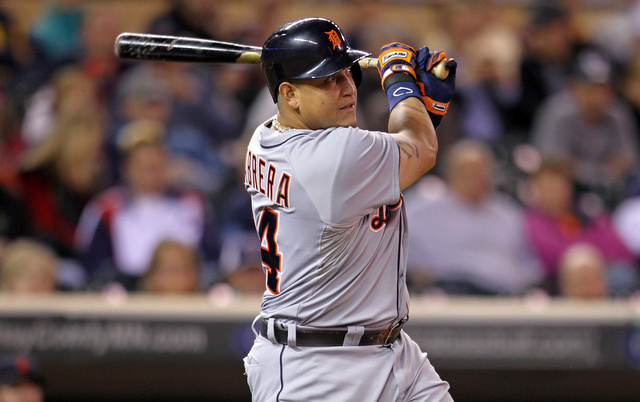 Creating the perfect: Catcher | First baseman | Second baseman | Shortstop
Our attempt at creating the perfect baseball player at each respective position -- using current players only -- moves to the hot corner next.
For those new to what we're doing with this series, welcome. Go back and read through the previous entries (linked above) to get an idea of what we're trying to create. Long story short: we're building a Frankenstein monster at each position with individual skills and traits from different players. Here is our third baseman.
Baseball's perfect third baseman would have ...
Miguel Cabrera's bat
Easy call, right? Cabrera didn't just win the batting title by hitting .348 in 2013, he's won each of the last three batting titles in the AL. Among players to bat at least 1,000 times since the start of the 2011 season, only Ryan Braun (.321) is within 25 points (!) of Cabrera's .340 average. Miggy is a hitting machine. No-brainer.
Also considered: Josh Donaldson, David Wright
Miguel Cabrera's power
Remember how Braun was the only player with 25 points of Cabrera's batting average over the last three seasons? Well, during that same time, only Jose Bautista and Adrian Beltre (both 98) are within 20 homers of Miggy's MLB-best 118 long balls. That's absurd. His .269 isolated power trails only Bautista (.278) and Giancarlo Stanton (.275) since 2011. When you have this kind of plate coverage ...
... and can hit the ball out of any part of any park, yeah, we're taking your power tool for our Frankenstein player.
Also considered: Pedro Alvarez, Evan Longoria, Adrian Beltre
David Wright's speed
Finally, something Cabrera is not good at. Wright has stolen at least 13 bases in each of his nine full seasons and he leads all third basemen with 45 steals over the last three years. On top of that, he also excels at taking on the extra base (first-to-third on a single, etc.). Wright is baseball's premier runner at the hot corner.
Also considered: Kyle Seager, Manny Machado, Brett Lawrie
Miguel Cabrera's plate discipline
Back to Miggy we go. The reigning two-time AL MVP has led baseball in on-base percentage in two of the last three years and his .427 OBP since 2011 is bested only by Joey Votto (.438). Votto (339), Carlos Santana (281) and Prince Fielder (267) are the only players that have drawn more walks than Cabrera (264) over the last three seasons as well. Not many players know the strike zone as well as the Tigers' slugger.
Also considered: Josh Donaldson, Chase Headley, David Wright
Manny Machado's arm
Among the five traditional tools, I'm not sure there's one I enjoy watching more than a great throwing arm. There are plenty of great arm candidates at the hot corner and I'm not convinced Machado is the right call -- my vote when to Beltre -- but when a guy can make this throw right on the money ...
... it's tough to argue he's a bad choice. Hooray for cannon arms.
Also considered: Adrian Beltre
Adrian Beltre's glove
Beltre's arm might fall a bit short for our Frankenstein monster, but his overall glovework does not. He's long been considered the best hot corner defender in the game and the stats bear that out: Beltre ranks eighth in baseball in both UZR (+44.4) and DRS (+60) over the last five seasons, among players at all positions. Here is the obligatory highlight reel:
Goodness gracious.
Also considered: Evan Longoria, Nolan Arenado, Manny Machado
Miguel Cabrera's durability
Lost in his historically great bat is Cabrera's elite durability. He has played in at least 148 games every season since 2004 and has averaged 157.3 games played over the last decade. Since 2009, only six players have appeared in more games than Miggy. Heck, he played through a Grade 2 groin strain late in the season and in the postseason this year. The guy is in the lineup every day no matter what.
David Wright's intangibles
Clutch? Check. Incredibly popular? Also check. Captain of his team? Another check. Squeaky clean reputation? One more check. I think you get the point by now. Wright offers all the intangibles and is pretty much the model franchise cornerstone. He's a great player on the field and a great representative of his team and the game off the field. Easy call, I think.
Also considered: Adrian Beltre
This would undoubtedly be the worst trade in Miami Marlins history

The Pirates recently shipped Gerrit Cole and Andrew McCutchen to Houston and San Francisco,...

Surely, Martinez and his agent are holding out for more
The reliever had a very good 2017 season with the NL Central champs

We don't need to discuss Chipper's Hall of Fame case, so let's have fun instead

Dioner Navarro still hopes to return someday