Crowded field for potential NL All-Star starting pitcher
Who will be the starting pitcher in the All-Star Game for the National League? There are plenty of worthy candidates.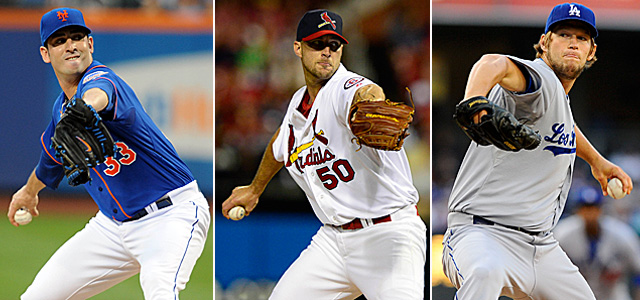 More MLB: Scoreboard | Standings | Probable Pitchers | Sortable Stats | Odds
We are now only one week from when the All-Star rosters are revealed -- or at least the initial rosters before all the additions. One of the most intriguing storylines for me, however, is who will eventually be the starting pitcher for the National League.
The AL starter is all but sewn up, with Tigers starter Max Scherzer sitting at 12-0 and having his manager as the one who makes the decision.
In the NL, though, there are close to a dozen guys who would make sense. Let's size 'em up, bearing in mind these aren't necessarily who I think have been the best pitchers this year. For example, Stephen Strasburg is having an excellent season, but poor run support leaves him with a 4-6 record -- which will certainly keep him off the All-Star team.
The Frontrunners
Patrick Corbin , Arizona Diamondbacks : He's 9-0 with a 2.22 ERA. That alone would make him a slam dunk in many seasons, but instead he's one of five guys right now with an absolutely legitimate case.
Clayton Kershaw , Los Angeles Dodgers : Objectively speaking, pretty much every fan should be able to admit Kershaw is the best pitcher in the NL. Forget the numbers. If you were drafting a team from scratch and the player pool was the entire National League, Kershaw would be the first pitcher taken. Aside from record, his numbers are sparkling, too, with a 2.08 ERA, 0.96 WHIP and 118 strikeouts. He also takes pressure off the bullpen by averaging a whopping 7 1/3 innings per start. The 6-5 record as things stand right now could be what keeps him from starting the All-Star Game, however.
Matt Harvey , New York Mets : He leads the NL in ERA (2.00), strikeouts (132) and WHIP (0.86). He's 7-1 on a team that is 11 games under .500. Does it matter that the game is being played in the Mets' home, Citi Field? I'd use it only as a tiebreaker -- as I said last Sunday -- but that appears to be needed at this point.
Adam Wainwright , St. Louis Cardinals : The 11-5 record and 2.22 ERA look pretty awesome, but how about this? Wainwright has an absurd K/BB rate. He's struck out 114 batters in 125 2/3 innings but walked just 12. That puts him on pace to do something pretty special. In the history of baseball, only one pitcher has ever struck out more than 200 hitters with a K/BB rate of better than 9.0: Curt Schilling in 2002, with 316 strikeouts and 33 walks (9.58 K/BB). Wainwright is at 9.5 K/BB right now.
Jordan Zimmermann , Washington Nationals : He entered the season as the Nationals' clear No. 3 starter behind Strasburg and Gio Gonzalez, despite a big -- and underrated -- 2012 campaign. And now there's no doubting Zimmermann as a star. He's 11-3 with a 2.28 ERA and 0.92 WHIP.
Still in the Mix
Mat Latos , Cincinnati Reds : He's certainly a longshot to start, as his ERA (3.05) is about a run higher than a few frontrunners, but that 7-1 record puts him in contention, especially if he runs it to something like 10-1.
Cliff Lee , Philadelphia Phillies : He has star power along with a 9-2 record and 2.59 ERA. As things stand now, he's sixth in line at best, but there are a few more starts coming before the decision is made.
Jeff Locke , Pittsburgh Pirates : The 7-1 record and 2.06 ERA will absolutely have him in contention, but his strikeout-to-walk ratio leaves him behind someone like Harvey -- who has nearly identical record and ERA. Basically, Locke isn't better than Harvey in the two main categories and he's far behind elsewhere, so he'd need to leapfrog him before being a legitimate possibility.
Lance Lynn , Cardinals: The 10-2 record gets him in the conversation, but his ERA (3.52) reveals that Lynn has been the beneficiary of incredible run support -- 6.56 runs per start; the best in the majors. Plus, if a Cardinals pitcher is taken, it's gonna be Wainwright.
Outside Looking In
Madison Bumgarner , San Francisco Giants : If Bruce Bochy wanted to go homer, he could with Bumgarner. We have seen Bochy recently pick an All-Star starter, however, in 2011 when he selected Roy Halladay of the Phillies. He didn't reach then for a Giant and it's unlikely he'd do so this time around.
Jhoulys Chacin , Colorado Rockies : The 25-year-old former top prospect has a shot at his first All-Star Game, sporting a 7-3 record with a 3.59 ERA (125 ERA-plus, thanks for the correction for hitter-friendly Coors Field), but he's not gonna start.
Jorge De La Rosa , Rockies: Again, a real good season but he's out of his league when you compare him to the top five.
Jason Marquis , San Diego Padres : The 9-3 record might catch some eyes, but that's all that will. Take away record and he looks like a sub-par pitcher (3.99 ERA, 1.44 WHIP, 62 K, 53 BB). He shouldn't even make the team.
Shelby Miller , Cardinals: In the middle of May, he was headed to having a really good case to being the All-Star starter, as he was 5-2 with a 1.40 ERA through eight starts. At 8-6 and 2.79 right now, he's still very good and could make the team, but he's not gonna start. In fact, he's third in line when it comes to Cardinals.
Mike Minor , Atlanta Braves : At 8-3 and 2.98, he has the best win-loss/ERA combo on the team that has led one of the three NL divisions from the get-go. My guess is Bochy would consider him if he tacks on, say, three more wins. For right now, though, he's far behind.
Hyun-Jin Ryu , Dodgers: Good season, but if Bochy is going to pick a pitcher from his rival, it's Kershaw.
Disqualified for poor record or too few starts
Homer Bailey , Reds; Tyler Chatwood , Rockies; Francisco Liriano , Pirates; Jeff Samardzija , Chicago Cubs ; Stephen Strasburg, Nationals; Jake Westbrook , Cardinals; Travis Wood , Cubs
---
In all honesty, I probably didn't need to do the "outside looking in" category and definitely didn't need the last one. Realistically speaking, I believe only the top nine have a shot at starting the All-Star Game for the NL. Still, we're only 15 days from a starter being named and there are nine guys with a shot -- and over a dozen more having great seasons? That's insane. Kudos to this group of NL pitchers. It's been a pleasure watching them ply their trade this year.
As for my guess? Right now I'm going Harvey. I believe the Citi Field venue will be enough to sway Bochy, though I wouldn't be surprised if it were Wainwright or Kershaw based upon the combination of star power and first-half stats.