Cruel twist: The great Carlos Beltran waited 16 years for two innings
The Cardinals need Beltran to play well through pain but by the looks of it, it won't be easy.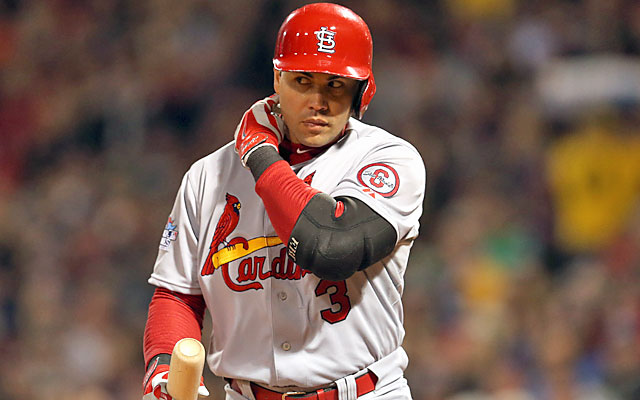 BOSTON -- Carlos Beltran waited a lifetime for this moment. And as fate would have it, that's exactly all Beltran got -- a moment.
More specifically, Beltran waited 16 years to finally play in a World Series game, seeing and surviving just about everything in the game he was born to play. He performed through multiple trades, and many more rumors, through two big free-agent paydays (one much bigger than the other), through heroics and near misses, through nicks and bruises and one devastating knee injury that soured his time in New York at the end.
He played on the East Coast and West, and now again in the Central time zone, where he started and played twice before. He has flashed his immense ability in every corner of the country. He's hit 16 postseason home runs (the same as David Ortiz in far fewer at-bats), but until now he never could quite lift his team to the World Series.
He has rejoiced, and endured. Now it is time for more of the latter.
Finally, he had arrived at a World Series game, more than a decade and a half into what may be a Hall-of-Fame career, in what was very likely the most heart-warming story of this World Series. And two innings into the game he waited a lifetime to play, he was making the defensive play of the game, knocking into the right field fence while hauling in an Ortiz drive that seemed ticketed for the bullpen with Beltran's usual easy, effortless grace. Except the fence didn't give a care abut Beltran's moment or his flair.
Two innings into the game he had waited for, after a strikeout in his only World Series at-bat, Beltran was twisting his body and backhanding the ball while hurling his ribs into the wall that separates right field from the bullpen. Beltran looked placid, even nonchalant, while make the over-the-fence grab, pulling the ball back without hint of strain, like only he can.
Turns out, he's as clutch with the glove as he is with the bat.
At the time, it didn't look quite so terribly painful, at least at first. Though one batter later, he was gone. Jon Jay entered the game, and Beltran was transported to a hospital to scan his hurting body.
Word is, Beltran has badly bruised ribs and a sadness that could be felt and seen, even if he didn't appear afterward in the postgame clubhouse session. He wasn't talking, and after a few minutes with his teammates, you knew why. He was too sad to speak.
"It's tough,''Cardinals longtime star Yadier Molina said. "When you see a guy like that, waiting as long as he did, go down in the second inning, it's too bad … too bad."
Molina, lucky enough to be playing in his fourth World Series, could feel Beltran's pain. Everybody could.
Now the sadness turns to curiosity, and frankly necessity, as the Cardinals wonder if Beltran, one of the greatest postseason players ever (his 1.173 lifetime OPS going into the game is the highest ever for someone with 175 plate appearances) will play anymore in this World Series, and if he does play, how effective he can be.
They all just saw firsthand how the Dodgers' Hanley Ramirez valiantly kept trying to play in the NLCS against them, and how while he scored points for courage, but couldn't be himself. Not even close.
Beltran's tests all came back negative, the CT scan and X-Ray, and it's being labeled "severely" bruised ribs. Which frankly doesn't sound too comfortable or positive.
They are also calling him day-to-day.
"We are somewhat optimistic," Cardinals general manager John Mozeliak said.
That's the Cardinal way. They are an optimistic, professional and tough group.
The way they played in Game 1, though that wasn't the Cardinal way.
The 8-1 defeat contained barely two Cardinals highlights, Matt Holliday's home run over the Green Monster in the ninth inning off Ryan Dempster and Beltran's great play in the second, reducing Ortiz's home run bid to a sacrifice fly that made the score 5-0.
 The other Cardinals made three errors but it could have been five. They are a tough and resilient bunch, and they need to show it now.
They could easily bounce back to play their game behind magical rookie Michael Wacha in Game 2 Thursday night. But can Beltran? That's the question on the minds of all Cardinals.
They got down nine years ago, in the 2004 World Series, and never got back up. It was like they didn't know what hit them, and they were swept away by the Red Sox.
Beltran knew what hit him, and the Cardinals, playing it cautious, knew to get him out of there.
Beltran looked placid, even nonchalant, while make the over-the-fence grab. But one batter later, after the half inning, Beltran's night was through.
 Rather than try to play through the pain and guess at it, they figured it was time to get it looked at.
Beltran's great skill was tested. Now his mettle will be.
Thursday in Game 2 he will try to test himself, try to ply through what's very likely immense pain.
Along with all his many highlights, his 16 career postseason homers, and all the rest, he's taken a lot of verbal hits throughout his wonderful career.
Not enough passion, they've said.
Need more sweat, some have cried.
Even too soft. Yes, that was one that was thrown out there on twitter after he came out of the game.
It's all unfair, really. But it's reality.
Beltran will always carry the reputation of a great and talented player, a five-tool guy who rose to the occasion almost every time except one. A guy who had instincts and ability to die for, a guy who could run the bases like almost no one else (he once had the record for highest steal percentage) and a guy of almost normal build but extraordinary strength who could carry a team.
But some will always wonder whether he could have done more. It's not right. But that's the knock.
These Cardinals played in Game 1 like they could use a big boost, and even in advancing years, he is their best chance for postseason power. They look like a team hasn't a shot without him. the Red Sox are on a roll.
They probably won't know until game time Thursday whether he can go. It's like the NLCS all over again, except not for their competitor but for them.
Sixteen years, 16 postseason homers. Even his critics know he deserves more than two innings. What's more, his team needs him to play. If he can't, that would be the cruelest of twists. Sixteen years and two innings isn't a very happy ratio.