Cruz-ing: Could Nelson's one-year Orioles deal become long-term thing ?
Things are working out so well in Baltimore, there's speculation Nelson Cruz and the Orioles could work on a longer deal.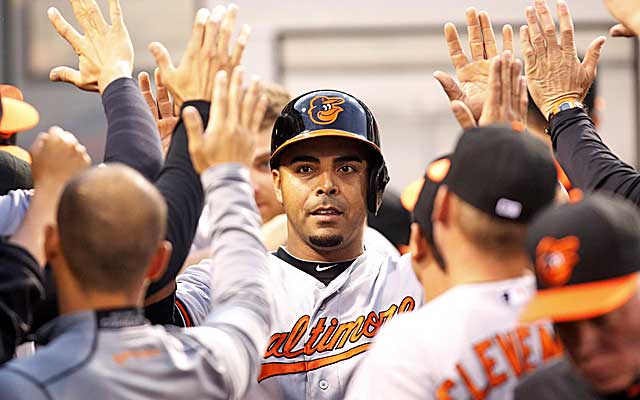 Slugger Nelson Cruz and the Orioles got together on a last-minute, one-year deal last spring, but the partnership has worked out so well that people close to the situation figure it could turn into a long-lasting relationship.
While there's no definitive immediate word of any early negotiations between Cruz and the Orioles, both sides have expressed an interest in continuing the marriage, if possible. Cruz spoke of his strong interest in staying in an interview with Tom Verducci of MLB Network and Orioles people likewise have suggested they wouldn't mind keeping Cruz around. The team's stance should come as no surprise considering Cruz currently leads the AL with 34 home runs.
Normally free agents of this stature don't do quick deals, but some folks are wondering whether Cruz might consider becoming that rare top free agent to forgo free agency to sign up early. Orioles GM Dan Duquette declined to say whether that was a possibility, citing his preference to keep any possible negotiations in-house, and Cruz's agent Adam Katz also declined comment on that possibility.
While it's almost unheard of for a star posting big numbers in a walk year to re-sign before free agency, consider in this case that Cruz's dream season -- the Orioles lead the AL East by seven games -- comes after his surprisngly rough go at free agency last offseason. Cruz found a shockingly weak market, the result of the double whammy of being the only player with both the qualifying offer and scarlet letter (for steroids) attached to him.
It may be hard to see the Orioles as his salvation since they got the benefit of one of the biggest free-agent bargains in recent years, signing Cruz to a one-year, $8-million deal after a market yielded no offers commensurate with his productivity due to the aforementioned double whammy (a similar-productive Curtis Granderson, at least going into the season, received a $60-million, four-year deal from the Mets). But Cruz may view them as such. Though free-agent stars with only one year on their current team don't often look to stay, Cruz could be that rare exception.
"It's no secret it's been a very positive experience for Nelson and the Orioles -- though I don't want to speak for them," Cruz's agent Adam Katz said. "He's enjoyed every minute of it."
It clearly isn't just about the ballpark, either, which is generally known for yielding home runs. The reality is that while Cruz had a very good record at Camden Yards entering the year, and made the signing logical, he has been far better on the road, with 22 of his 34 home runs coming away from Camden Yards, where his OPS is only .733, nearly 200 points shy of his stellar .923 mark elsewhere.
No, Cruz's positive experience has been more about how the Orioles have welcomed him, and how manager Buck Showalter has handled him. The results are undeniable, as his 34 home runs are a career high, no small trick at exactly age 34.
While Duquette declined to get into the specifics of any talks (if there are any), he expressed equally upbeat sentiments about the experience from the team's perspective. "He's having a great year and doing a really great job," Duquette said. Cruz's big season seems heaven-sent as the Orioles have lost other stars Matt Wieters and Manny Machado to inury, and slugger Chris Davis is having a poor season following a 53-homer campaign last year.
It also can't hurt that Duquette and Katz appear to have a very close relationship from years working together, first when Duquette was with the Expos, then the Red Sox.
If the Orioles and Cruz don't have a deal by free-agent time, they plan to extend the qualifying offer, which is expected to be worth $15 million and would represent a near-doubling of Cruz's $8-million salary this season. No player of the 22 so far who have received the qualifying offer has yet accepted it, and it's hard to see Cruz accepting it, either, considering his .834 OPS, which ranks 11th in the AL, and his 88 RBI, which ranks fifth.
The strong likelihood is that Cruz could land a multiyear deal elsewhere this winter, based on his productivity and the resuscitation of his reputation following the one transgression (the 50-game suspension for his Biogenesis connection, served late last year as a Texas Ranger) in an otherwise pristine career. Of course, free agency is a gamble, and maybe Cruz has found his comfort zone.
It's almost that time of the year again, time for the Tebow madness to return

Walker was a tremendous all-around player, but Coors Field undoubtedly inflated his career...

A beardless Wilson says that he tried to outrun the police on the second day he had his driver's...
The Diamondbacks outfielder was not impaired, he was just going way too fast

MLB can unilaterally implement rule changes, which will also include limits on mound visit...

If the MLBPA wants to repair MLB's salary structure, it should push for more money for young...