Cubs' Anthony Rizzo and the prospect of being demoted to AAA
Cubs manager Dale Sveum recently indicated Anthony Rizzo could be in danger of going back to the minors if his performance doesn't improve.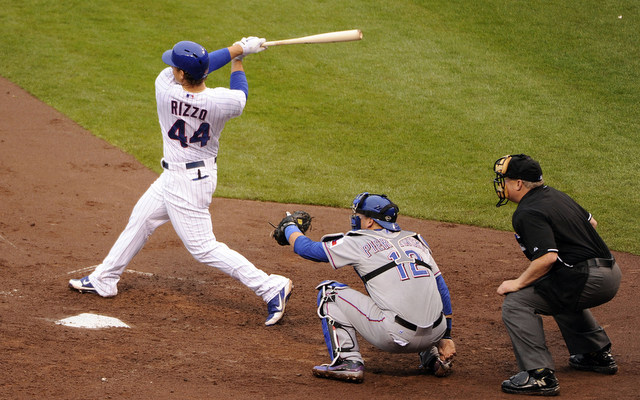 More MLB: Scoreboard | Standings | Probable Pitchers | Sortable Stats | Odds
Only Chris Davis has hit more home runs among full-time first basemen this year than the Cubs' Anthony Rizzo, who has clubbed six long balls in his 18 games. Despite the impressive power production, Rizzo is hitting a weak .191/.286/.485 overall. It's all or nothing.
Over the weekend, Cubs manager Dale Sveum insinuated that his 23-year-old first baseman could find himself back in Triple-A if his performance doesn't improve. From Paul Sullivan of the Chicago Tribune:
"If people keep playing like that, you have to find options," Sveum said before a 4-2 loss to the Brewers. "Give people playing time at Triple A to figure this stuff out."

(snip)

"The bottom line is you've got to perform," Sveum repeated. "Whether they need more development or you decide all those kind of things … there's still that accountability. Many, many people throughout the history of the game (have been demoted). It's a performance-laden occupation. That's what makes the world go 'round. That's what makes this country what it is."
Players who aren't hitting get sent to the minors all the time, so this isn't some kind of crazy idea. That said, just last year Rizzo came up from Triple-A and hit .285/.342/.463 with 15 homers in 87 games, and Sveum batted him third in 82 of those games. For his career, Rizzo owns a .336/.405/.670 batting line in 163 career Triple-A games. Safe to say he's mastered the level.
ESPN's Keith Law wrote about possible demotions in an Insider-only piece on Tuesday, and this tidbit about Rizzo caught my eye:
...the Cubs appear to have altered his swing, getting his hands loaded lower and farther back than last year so that he's swinging more up through the ball, which should generate more power but would absolutely reduce contact and lead to more popups, all of which is true so far.
Law notes the changes to Rizzo's swing are consistent with the approach preferred by Sveum, a former hitting coach with the Brewers. Here are the stats that would be impacted by the changes described, courtesy of FanGraphs:
Rizzo's Performance
Year
PA
Contact%
Strikeout%
Fly Ball%
Infield Pop-Up%
ISO
2012
368
80.9%
16.8%
30.2%
2.2%
.178
2013
77
80.3%
27.3%
40.4%
6.4%
.294
Obviously, sample size is an issue, so none of these numbers should be taken to heart. They can change in a hurry. Rizzo is indeed hitting more fly balls (and infield pop-ups) though, which in turn has resulted in some more power. His strikeout rate is up in a big way, but his contact rate -- the rate at which he makes contact on individual swings -- is basically the same. We do see some symptoms of the changes Law described.
So, I guess the first question is why did the team make Rizzo change things after his success last year? The second question is would they really be so quick to pull the plug and send him to Triple-A? Changing a swing isn't like changing a lightbulb, there's muscle memory involved and all sorts of other stuff to be considered. In that sense, the early season struggles aren't a surprise. They should be expected and patience is required, more than the typical second-year player requires.
Because the Cubs are non-contenders, I think they should just stick with Rizzo and ride out whatever struggles he may be going through right now. The season is still young, and it's not like he's in Justin Smoak territory, with a string of disappointing years to his credit. Give him time to adjust to the swing changes, time to show it's not just a three-week slump, all that stuff. Talk of demotions in mid-April seem like overreaction at best and empty threats at worst.
Does the Jackson signing mean the Giants are out on Lorenzo Cain?

Acuna edged out Shohei Ohtani and Vladimir Guerrero Jr.

There's no reason to run over the cases for and against Bonds, so let's have fun instead
The coveted right-hander would certainly be a fit in Milwaukee

We rate the best mustaches from random baseball cards because, why not?

Colon wants to break a Dennis Martinez record