Cubs fire manager Dale Sveum
Cubs manager Dale Sveum has been fired after two years on the job, the team announced.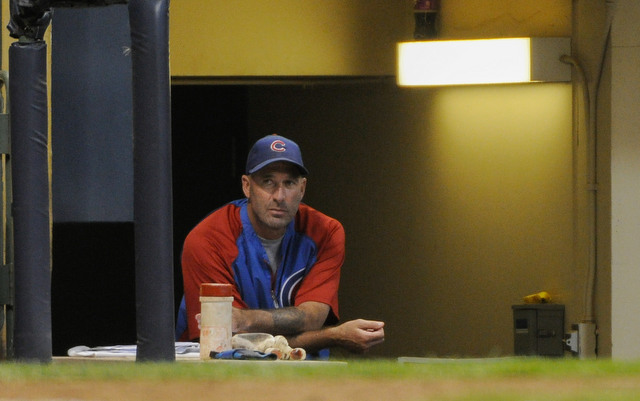 More MLB: Scoreboard | Standings | Probable Pitchers | Sortable Stats | Odds
The Cubs have fired manager Dale Sveum, the team announced. He met with front office staff at Wrigley Field on Monday morning. The team hopes to have a new manager in place by the GM meetings in November but has not yet contacted any candidates.
"Today, we made the very difficult decision to relieve Dale Sveum of his duties as Cubs manager," president of baseball operations Theo Epstein said in a statement. "Dale has been a committed leader for this team the last two seasons, and I want to thank him for all of his dedication and hard work. I have a lot of admiration for Dale personally, and we all learned a lot from the way he has handled the trying circumstances of the last two years, especially the last two weeks, with strength and dignity.
"We will begin our search immediately," Epstein added. "There are no absolute criteria, but we will prioritize managerial or other on-field leadership experience and we will prioritize expertise developing young talent. We have not yet contacted any candidates or asked permission to speak with any candidates, but that process will begin [Tuesday] morning."
Sveum, 49, was hired by the new Epstein-led regime before the 2012 season. The rebuilding Cubs went 127-197 with a pair of last-place finishes the past two years. Sveum worked under Epstein as Red Sox third base coach from 2004-05. He also spent time with the Brewers, both as bench coach and interim manager in 2008.
The club's poor record these past two years is not Sveum's fault -- the Cubs are clearly rebuilding and were not expected to contend in either 2012 or '13. The firing likely stems from the stalled progress of youngsters Starlin Castro (career worst 72 OPS+), Anthony Rizzo (101 OPS+) and Jeff Samardzija (91 ERA+) more than anything.
With Sveum out of the picture, the Cubs are widely expected to pursue Yankees manager Joe Girardi. Girardi, whose contract expires Nov. 1, is from Chicago and still has strong ties to the area. He was originally drafted by the Cubs and played seven years (across two stints) with the team.
"It comes down to family," Girardi said to reporters while discussing his upcoming free agency on Sunday (Journal News). "They are first, and whatever is best for group of us -- not one individual, not me or just my wife or just one of my children -- whatever is best for us as a group, that's what we'll decide to do. And that's something I've put some thought into and I'm going to have to think about a lot of the next few days obviously. But that's a decision that we'll sit down and make and decide what's best."
Girardi also left open the possibility of returning to the broadcast booth -- "It doesn't even necessarily have to be in baseball, in a sense," he said. "It's just, as I said, it's not so much the [managerial] circumstances, but what's best for my crew" -- and it has been speculated Fox could pursue him to replace the retiring Tim McCarver.
The Cubs have not made any kind of announcement about the status of the rest of their coaching staff, but that figures to follow relatively soon.
Does the Jackson signing mean the Giants are out on Lorenzo Cain?

Acuna edged out Shohei Ohtani and Vladimir Guerrero Jr.

There's no reason to run over the cases for and against Bonds, so let's have fun instead
The coveted right-hander would certainly be a fit in Milwaukee

We rate the best mustaches from random baseball cards because, why not?

Colon wants to break a Dennis Martinez record