Cubs hand Masahiro Tanaka first regular season loss in 42 starts
Masahiro Tanaka suffered his first loss since August 2012 on Tuesday night.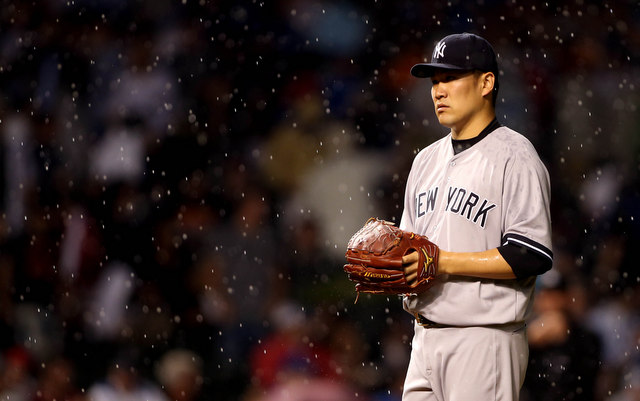 More MLB: Power Rankings | Expert Picks | Latest news & notes | Fantasy news
The Cubs beat the Yankees by the score of 6-1 on Tuesday night (box score), and in doing so they handed Masahiro Tanaka his first regular-season loss in 42 starts. That dates back to Aug. 19, 2012, when he was still with the Rakuten Golden Eagles in Japan.
Tanaka allowed four runs (three earned) in six innings against the Cubbies, the most runs he's allowed and the fewest innings he's thrown in his nine starts for the Yankees. That bumped his ERA all the way up to ... 2.39. Still pretty great. Tanaka still leads the league with a 0.97 WHIP.
It's worth noting that, for the first time this year, Tanaka faced a team for the second time. He threw eight shutout innings against the Cubs last month. Does manager Joe Girardi think Cubs hitters cracked the Tanaka code the second time they faced him? Here's what he told Chad Jennings of the Journal News:
"I wouldn't make too much of (the Cubs seeing him a second time)," Girardi said. "If he has his good splitter tonight, I think he gives a much better performance. Since it's the first time he saw a team twice and they scored four runs, people are probably going to make a big deal out of it."
Tanaka said his pitches "went to locations which were easy for the batters to hit" and more or less blamed the loss on a lack of command. Neither he nor the team seemed concerned and I don't blame them. Losses happen.
Prior to Tuesday, Tanaka had gone 34-0 in his last 42 regular-season starts. He did lose Game 6 of the Japan Series last fall before coming back to close out the Game 7 win the next day. Tanaka had gone 6-0 in his first eight starts with the Yankees.