Cubs having best year ever for a team that's 59-72 and ensconced in last
The Cubs are getting big years from virtually everyone who counts.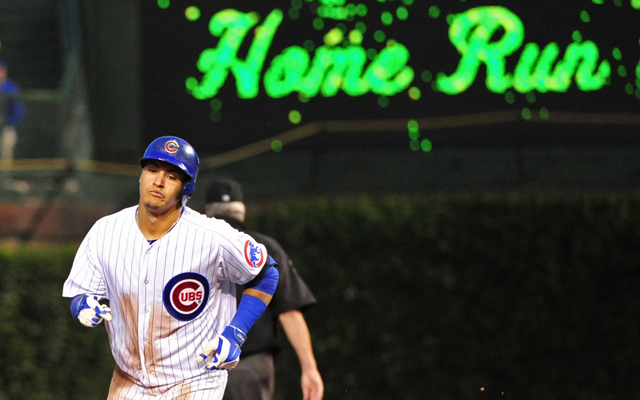 Things could not have gone better for the Cubs this year. That's a funny thing to say about a 59-72 team, but in the category that truly counts for them – their top young players and prospects – the Cubs could not possibly have hoped for more.
Top Cuban import Jorge Soler joins the Cubs prospect party Wednesday night at Cincinnati, and while the Cubs are still in last place, the key young players are putting together great seasons across the board, or at the very least showing magnificent potential. The same goes for the prospects still in the minors, where top Cubs prospects are generally dominating, raising hopes of a sustained run of success at the major-league level at some point.
"From a young player standpoint, it's been pretty good," Cubs general manager Jed Hoyer said by phone.
That seems like quite the qualified understatement, which actually may not be such a bad strategy considering the storied team is into its second century of disappointment, famously having not won a World Series since 1908 (or even gotten to a World Series since 1945). The numbers the vital 20-somethings are posting, both at the major-league level and in the minors, are nothing short of amazing, and that goes for basically each and every of them.
Towering third baseman Kris Bryant, who has 43 home runs and a .323 batting average between Double-A Tennessee and Triple-A Iowa, is having an all-time great season ("as good a minor-league season as I can remember for a player in his first full year in pro ball," is the way Hoyer put it). And yet, Bryant's sterling 1.113 OPS is actually slightly lower than that of the outfielder Soler, who had a 1.132 mark at those two spots before his promotion.
Soler was promoted because he has a major-league contract and only one option remaining, meaning the Cubs want to get a closer look at what they have. "We want to learn as much as we can," Hoyer said.
There isn't much question what they have in Bryant, the No. 2 overall pick out of the University of San Diego last year. That was one spot behind Stanford righthander Mark Appel, who went first to the Astros and has generally struggled before improving lately. According to the experts, Bryant is going to be a monster – maybe even someone to rank with crosstown star Jose Abreu, at one-tenth the price, at least initially. Bryant received $6.7 million compared to $68 million, which shows you the difference between the draft, where Bryant received the biggest bonus of anyone in 2013, and free agency. In any case, Bryant is ranked the top prospect in the minors in multiple places now.
Speaking of Soler's ascension to join Javier Baez, Arismendy Alcantara and the other top young guys already up with the Cubs, Hoyer said, "It's going to be fun. We're getting there. We have a chance to be young and fun and exciting."
But, of course, they have to temper expectations, which are growing on the North Side. "We have to expect there are going to be growing pains," Hoyer said. "That means there will be ups and down."
Cubs fans will surely take that after their recent won-loss ledgers – they've lost 197 games in the first two years of the Hoyer-Theo Epstein regime after taking over an organization basically bereft of talent before showing noticeable improvement this year. Their current record is tied with their rival White Sox at eighth/ninth worst in MLB and has them buried in last in the otherwise tight NL Central. But it's hard not to get excited about what's there, and what may be coming.
The minor-league stats of their top young players are in many cases nothing short of eye-popping, but the very best news may be the progress of young first baseman Anthony Rizzo and shortstop Starlin Castro, who are already locked up to lucrative long-term deals and needed bounce-back seasons following struggles in 2013. Well, both made the NL All-Star team; Castro is second among qualifying NL shortstops (to Jhonny Peralta) with a .764 OPS, and Rizzo is doing even better; he's second (to Giancarlo Stanton) among all NL players with 30 home runs.
 "Last year was just an anomaly (for Castro)," Hoyer said. "The rest of his career he's shown steady progress and been pretty consistent."
Last year is in the past for the Cubs, who are doing nothing but celebrating the exploits of their under-30 players. There's no question they'll need more pitching help if they have a chance to contend next year, but Jake Arrieta and Kyle Hendricks give them a chance to fill two spots with productive young pitchers. Arrieta (7-4, 2.53) is seen a potential top-of-the-rotation starter while Hendricks (5-1, 1.78) is viewed as mostly a surprise.
Both pitchers sport sterling 1.01 WHIPs. Hoyer credited Arrieta and the Cubs coaches for helping him to harness his vast potential following his trade from the Orioles, who just lost to their former pitcher. Hendricks is surprising folks by having great command and being "really cerebral," in Hoyer's words.
It doesn't take a genius to see positive things are ahead for the Cubs, not with Javier Baez, who hit 23 homers at Triple-A, adding seven homers in his first 21 big-league games while manning second base, and the other top prospects continuing to thrive in the minors. Arismendy Alcantara, who preceded Baez to the majors, hit .307 at Iowa with 10 homers, and the younger prospects also are all starring, as well.
Twenty-year-old phenom Addison Russell, the top shortstop prospect who came in the Jeff Samardzija/Jason Hammel trade, is hitting .300 with 13 homers in the minors overall, and is doing even better than that since arriving from Oakland as the best prospect traded this summer. Billy McKinney, who came with Russell, is hitting .305 at high-A Daytona (Fla.) Former No. 1 pick Albert Almora, a center fielder, is hitting .299 between A-ball and Double-A.
Top draft choice Kyle Schwarber, the surprise pick out of Indiana University, is hitting .349 with 18 home runs in A ball. Schwarber, a catcher/outfielder, was seen by many as a mid-first round choice, but the Cubs appear to have pegged him correctly as perhaps the top college hitter who was a bargain ($3.125 million) for what seems now like a deserving fourth overall pick.
What's most remarkable of all: None of the big prospects is having off years.
These great young players do combine to create an issue about where to play them all, and it's natural to wonder whether the Cubs, who still need pitching, might package a few of them to bolster a rotation that needs at least two pitchers. Though Hoyer said, "I don't think there's any hurry to do anything."
In any case, Cubs fans, who know a thing or two about patience, shouldn't have to wait too much longer to see what might be baseball's most exciting group of position players.
CBS Sports HQ Daily Newsletter
Get the best highlights and stories - yeah, just the good stuff handpicked by our team to start your day.
Please check the opt-in box to acknowledge that you would like to subscribe.
Thanks for signing up!
Keep an eye on your inbox for the latest sports news.
Sorry!
There was an error processing your subscription.
Adam Thompson nailed Game 6 of the NLCS and has a strong play for Game 7

It's Game 7 of the NLCS, and the World Series matchup will be determined by night's end

There will be a Game 7 at Miller Park on Saturday
Boston awaits the winner of the NLCS, facing either the Dodgers or Brewers in the World Se...

It's one game to determine the National League champ for 2018

The NLCS starts Oct. 12 in Milwaukee