Cubs make Samardzija an offer he can refuse; trade to contender looms
Jeff Samardzija wants to play for a winner, and also wouldn't mind testing his market value. Under those conditions, it's hard to see him taking the Cubs' five-year offer.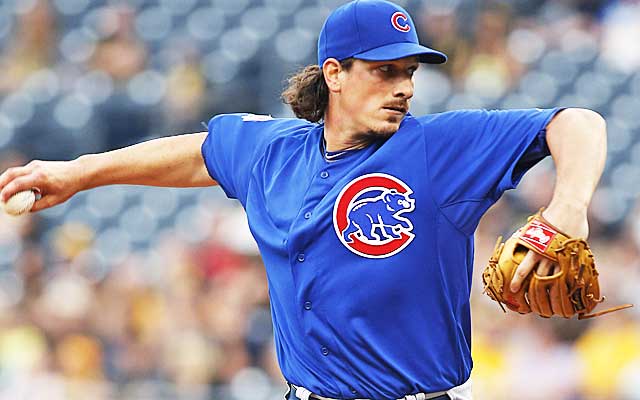 More MLB: Power Rankings | Expert Picks | Latest news & notes | Fantasy news
The Chicago Cubs did indeed recently present star right-handed pitcher Jeff Samardzija  with a new five-year contract offer.
However, the chances of Samardzija signing the new proposal amount to something akin to the outmanned, out-of-it Cubs winning the World Series this year. If the odds are slightly better than that, it isn't much.
The Cubs are said by sources familiar with the talks to have upped their previous bid of about $60 million for five years to a bigger number, also for five years, confirming the original Chicago Sun-Times report. The new offer isn't known but it's quite possibly something more in the range of $75 million-80 million, but most definitely not in the vicinity of the $105 million guarantee Homer Bailey has with the Cincinnati Reds .
And even that probably wouldn't get it done, anyway.
Samardzija hasn't countered the Cubs' offer yet, he isn't obligated to counter it, and he may never counter it. As in the past, the sides appear to remain uncomfortably apart.
Considering his priorities, that shouldn't be surprising. From everything we've heard about Samardzija over his fairly short Cubs tenure, he values two things above all else. First and foremost is winning. And he's on the Cubs, so they are at an immense handicap to start, at least for the foreseeable future.
Second on Samardzija's short priority list is having the chance to be paid his true market value. To do that, normally one has to go on the market, which won't happen until he's a free agent after the 2015 season.
While the Cubs have increased their multiyear offers by eons from their first proposal, which was thought to have been somewhat comparable to Derek Holland  $28.5 million, five-year deal (if a bit higher). While the exact amount of the new offer isn't known, either, the market for a No. 1 or even No. 2 pitcher on the right side of 30 is likely very high, much higher than most of us can imagine. Top-of-the-rotation starters don't often make it to market, but when they do, there is a feeding frenzy -- see Zack Greinke -- which is probably why the small-market Reds gave Bailey that nine-figure guarantee.
Samardzija is better than Bailey, and he strikes most of us as a bigger risk-taker than just about anyone, at least for the willingness to bet on himself. And why not? There aren't any 29 year olds with a fresher arm, thanks to his early years as a football star and then a bullpen piece (and fairly also, the Cubs' care -- they shut him down with a month to go in 2012). The market for such a pitcher surely isn't $75 million to $80 million, or even $85 million if they stretch it to the old Jered Weaver deal.
Beyond Baliey, there are even higher comparables, if you're figuring free-agent years that could put him comfortably into $20-million-a-year territory, such as Matt Cain  $112.5 million, five-year extension that guaranteed him $127.5 million over six, and Cole Hamels $144 million, six-year deal. While those two pitchers are far more accomplished than Samardzija, there is a decent argument to be made that the lack of innings on Samardzija's arm, and therefore lack of stress, may make him as good or better bet for the future.
Some guys might play it safe and sign a pre-market deal, but that isn't Samardzija. If he was ever going to be cautious, it would have happened a year and a half ago, when he wasn't nearly as proven as a starter and three years remained before free agency. The offers are moving steadily up from the original one but he is trending with an even steeper arrow up.
A rare nest egg probably kept him from being tempted. He had the unusual cushion of the startling $10 million signing bonus he wrangled with the leverage of his Notre Dame wide receiver pedigree, making him easily the highest-paid fifth-round choice in the history of the draft. Even better, it doesn't hurt that by all accounts he has the guts of a gambler.
If there's a third factor in play, you can be sure he wouldn't mind playing on a big stage. That should be obvious. He didn't go to Notre Dame because it's in his home state of Indiana. In addition to the winning, he went because of the golden dome, the tradition, the TV contract and the exposure.
Pitching in Chicago, within throwing distance of his hometown of Valparaiso, Ind., is nice -- for some folks, anyway. Samardzija, though, has never given off even a whiff of sentimentality or nostalgia.
He has handled his teammates' gross lack of support on the field like a pro, absorbing the undeserved defeats and no-decisions (the ND used to stand for Notre Dame, now it's no decision) without public complaint. The 2-6 record is unspeakable for someone with a stellar 2.78 ERA, and yet he doesn't say a discouraging word. If he's traded -- and that seems to be the most likely option now -- you can imagine there won't be a tear shed.
His stock is high now, but the Cubs have scored with patience of their own in the past. They received quite a prospect haul for Matt Garza , who has physical questions and only a half year to go, and word is they will logically seek even more this time, including at least one super-elite prospect in a multi-player package.
Based on his personality and past Samardzija quite likely wouldn't mind going to a big stage in New York with the New York Yankees , to Boston or to LA. But mostly he just wants to win, and any of the rumored possibilities in the AL East, the NL West or elsewhere represents a stark upgrade, whether it be the Baltimore Orioles , Toronto Blue Jays , San Francisco Giants , Atlanta Braves or any other team he would help.
This isn't to say the Cubs' updated offer is only window dressing, intended to make the team look better for having tried (or make him look worse). Cubs honchos Theo Epstein and Jed Hoyer have done nothing to negate the widely held belief that they love Samardzija, who was only a middle reliever before they accepted his challenge to join the rotation.
In more revealing moments, some Cubs people have spoken more optimistically about the possibility of signing Samardzija back as a free agent in a year and a half, after they trade him elsewhere, then (hopefully) show marked improvement in the interim, thus proving to him they are on the pennant track. For now, the unavoidable truth is their timelines aren't a fit; his next year and a half should be his prime time while the Cubs await the emergence of a vaunted group of positional prospects that includes Kris Bryant, Javier Baez, Albert Almora and now top draftee Kyle Schwarber.
Samardzija's agent Mark Rodgers characteristically declined to comment on the case, and Hoyer couldn't be reached.
They may be talking to each other again soon. Or maybe not.
Either way, it doesn't appear there's a lot to talk about until he gets traded.