Cubs managerial search moves on without Plan A (Joe Girardi)
So the Cubs didn't get Joe Girardi to manage their ballclub. Where to go from here? Here are some of the names.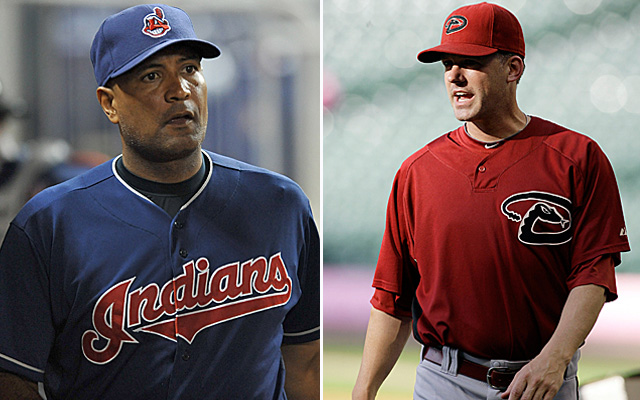 Yankees re-sign Joe Girardi to four-year deal
So much for Plan A for the Cubs in their managerial search, as the Yankees have re-upped with Joe Girardi. For weeks, reports have consistently noted Girardi was the Cubs' top target and they were willing to pay him rather handsomely for a return to Chicago's North Side.
But here's the rub: Landing Girardi was a longshot from the get-go. The Cubs had to have known this because they wouldn't otherwise be prepared to reportedly pay him up to $5 million per season to pry him away from the Bronx. Not only that, but Girardi's family is settled in New York quite well and he publicly noted that since his father passed away in 2012 that, "there's not as much there as there used to be," speaking of family ties to the Chicago area.
So considering the prestige of managing the Yankees, the large offer the Yankees gave him, his immediate family being tied to New York and his extended family not having much bearing on the situation, it was a long shot that the Cubs could land him.
Which means the Cubs had to have been prepared for this. It's also apparent they were prepared to not land Girardi because they've already been reportedly actively interviewing some other candidates.
Some of the names the Cubs have been connected to in reports and/or rumors are Manny Acta, A.J. Hinch, Rick Renteria, Sandy Alomar Jr. and Brad Ausmus. There have also been whispers about Dave Martinez, whose team has recently been bounced from the playoffs. Let's take a look at what each might bring to the table.
•Acta: His winning percentage is awful and he's never had a winning season, but the Cubs are looking for a bridge here to winning, a guy who can help develop young talent. The Nationals and Indians both started winning after he left in part due to young talent that progressed under Acta. Obviously there are several other factors in play, but that's where hiring Acta would come from.
•Alomar: A very well-respected backstop throughout his playing career who worked well with pitchers, Alomar has now been the Indians' bench coach for the past two seasons. He was in the running for the Cubs job last time, so maybe they'll feel like they're correcting a mistake?
•Ausmus: Long considered one of the more cerebral catchers in baseball, Ausmus was able to hang around the majors for 18 years despite being a pretty terrible hitter. That's how well he worked with pitching staffs. As we know, many of the better managers in the majors were catchers, too. One thing going against Ausmus, though, is Cubs brass have mentioned they are looking for a guy with big-league managing -- or at least coaching -- experience. Ausmus has none.
•Hinch: A bit similar to Acta in that Hinch's win-loss record was pretty bad in his stint with the Diamondbacks, but, again, let's be smarter and look deeper. The Cubs aren't yet ready to contend. What matters is helping to developing young players who can win a few years down the road. The year after Hinch was gone, younger players like Miguel Montero, Gerardo Parra, Chris Young, Justin Upton and Ian Kennedy helped lead Arizona to the NL West title. Hinch also worked with a young Max Scherzer. Also a catcher as a player, Hinch has spent the majority of his post-playing career in player development.
•Martinez: He hasn't (yet?) been heavily connected to the Cubs in rumors, but the Rays were just bounced from the playoffs Tuesday night. Martinez is a hot managerial candidate due to having been the Rays bench coach (which is basically assistant manager to those unfamiliar) since the 2008 season. So he's been there the entire time the Rays haven't been a laughingstock and instead have become one of baseball's most successful franchises. He's experienced first hand how to win and how to win with young and unproven players. I don't think this matters, but many do, so I'll also point out Martinez was drafted and developed by the Cubs, where he also spent the first 2 1/2 years of his playing career.
•Renteria: He's been a minor-league manager and hitting coach and has now served as the Padres bench coach for the past three seasons. Again, the emphasis is on developing young talent at the big-league level and the Padres have done a good job with a fair share of young players -- Yonder Alonso, Jedd Gyorko, Everth Cabrera, etc. -- in recent years.
And the next Cubs manager may not come from that list, but it's a start.
Again, Plan A didn't work out, but there's nothing wrong with shooting for the stars and then having a fall-back pick when that doesn't work out. That's where the Cubs are right now. It's no disaster.
Manager Torey Lovullo said so on Monday

Let's see how SportsLine forecasts the race for MLB's 10 playoff spots

Monday kicks off the final week of MLB action. Let's take a look at everything that went d...
No other rookie in baseball history has hit more home runs than Judge has this year

Jays have said goodbye to Encarnacion and will to Bautista. Should they move on from Donaldson,...

Judge's big September means Jose Altuve has some serious competition for the award