Cubs may sell minority shares to help pay for Wrigley renovations
As the Cubs continue to find ways to privately finance their proposed Wrigley Field renovations, ownership is now willing to sell minority shares in the team.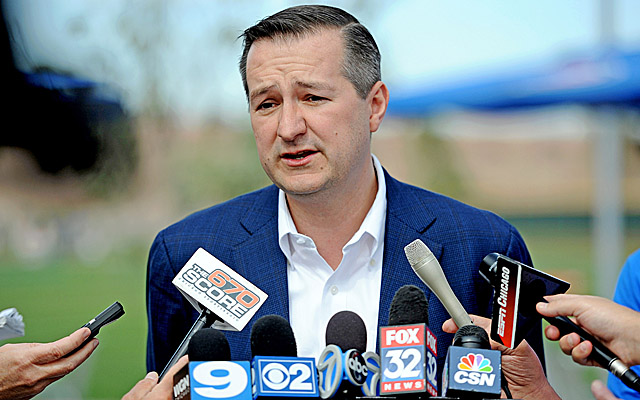 More MLB: Scoreboard | Standings | Probable Pitchers | Sortable Stats | Odds
The Cubs are planning on massive renovations to 100-year-old home Wrigley Field -- and the surrounding area -- here within the next few years that will cost upwards of $500 million. In order to help pay for it, the Cubs are going to try and sell some minority shares in the team, too.
Via the Associated Press:
Cubs spokesman Julian Green confirmed published reports Thursday that the Ricketts family is considering selling non-controlling shares to pay for a proposed $500 million upgrade of Wrigley and redevelopment of the surrounding area. The Ricketts own 95 percent of the Cubs, with the Tribune Co., which sold the team to the family, owning the rest.
So, no, the Ricketts family isn't selling the Cubs. They are just working on grabbing some minority investors to help pay for the massive renovation undertaking. The family bought the team in 2009 for $845 million with a heavy debt structure.
Cubs ownership is attempting to fully pay for the stadium renovations without asking for public, taxpayer funding -- a breath of fresh air these days -- so I'm not too worried about them opening up minority shares in an effort to get things done.
Then again, they continue to negotiate with the rooftop owners, who have a deal with the Cubs that runs through 2023 saying the Cubs can't block the views of the rooftops -- and some of the proposed additions to Wrigley Field very well might significantly block the view of some rooftops. Coming up with a deal while trying to avoid a lawsuit and keeping finances to a relative minimum is proving to be a tall order in light of this deal -- which predated the Ricketts family owning the Cubs.
The team could instead use a closer by committee approach

Both Seung-Hwan Oh and Trevor Rosenthal are free agents

The Yankees may plug their third base hole with a familiar face
Darvish's poor World Series hasn't scared the Dodgers away

GM Sandy Alderson said he followed his manager's recommendation

A report indicates the Rays are listening to trade offers on Chris Archer and Evan Longori...