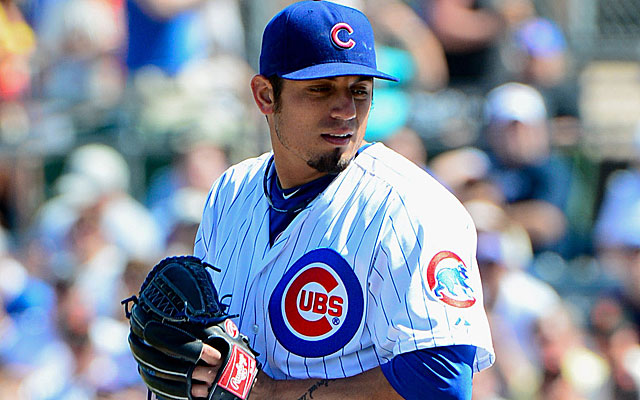 The Dodgers appear to be more interested in a different Cubs pitcher, Matt Garza.
(US Presswire)
The Cubs offered to send Ryan Dempster to his preferred Dodgers straight up for solid right-handed pitching prospect Allen Webster, but the Dodgers have rejected the offer.
The issue seems to be this: The Dodgers don't appear to love Dempster quite as much as he loves them.
According to people briefed on the talks, the Dodgers have thus far offered a couple of lesser prospects, guys who may project as relievers.
The Dodgers, or so it seems anyway, may be more interested in a different Cubs pitcher, Matt Garza. While they like Dempster enough to make an offer, they also like Garza very much, perhaps even more.
It's also possible the Dodgers are merely playing hardball because they're holding the cards.
The Braves, meanwhile, are disappointed but say they have moved on after originally believing Dempster would approve a trade to Atlanta before Dempster did an about face and rejected the trade. Dempster is said to have at first told Braves players he would go, and apparently all the folks making the trade understood that as well.
The Braves, who were originally committed to trading top prospect Randall Delgado to Chicago for Dempster, are now telling people that there's a value to having players who want to play for them and suggesting that there's little likelihood they would take Dempster even if he came crawling back. They are now trying to trade for Zack Greinke.
The strong belief is that Greinke would love to play for the Braves. Of course, we've heard that before from a certain other veteran right-hander. (Though this time it's true.)