Cubs prospect Kris Bryant named Arizona Fall League MVP
After hitting .346/.452/.691 with eight doubles, six homers and 17 RBI in 21 games, Cubs prospect Kris Bryant won the MVP of the Arizona Fall League.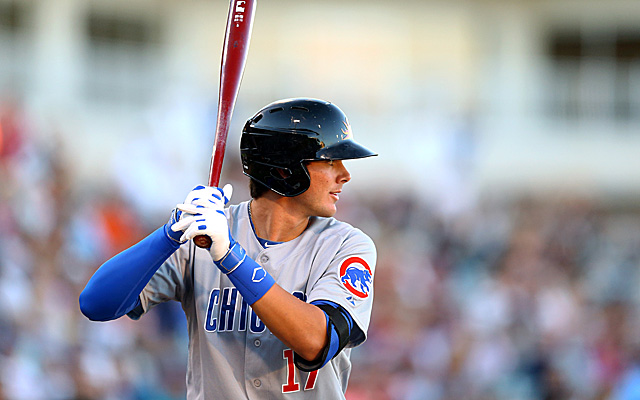 Kris Bryant was the No. 2 overall pick in the MLB draft last June and he's done nothing but crush the baseball since joining the ranks of professional baseball. His latest accolade is winning the Joe Black Award for being the most valuable player in the Arizona Fall League.
The AFL takes part every October and November and houses many of the top prospects in the game.
Including Saturday's 2-0 championship game loss to Surprise, Bryant hit .346/.452/.691 with eight doubles, six homers and 17 RBI in 21 games of AFL play. Though he's rumored to be a position-change candidate (right field?) at some point, Bryant played third base throughout the regular season and in the AFL this year when he wasn't serving as a DH. 
Bryant, 21, hit .336/.390/.688 with 14 doubles, two triples, nine homers and 32 RBI in 36 games across Rookie ball, Low-A and High-A this past regular season once he signed with the Cubs.
Bryant also won the Golden Spikes award in 2013, given to the top amateur player in America, after hitting .329/.493/.820 with 31 homers (NCAA leader by a lofty margin) and 62 RBI in 62 games for the University of San Diego.
He is likely ticketed for Double-A and could see time in Triple-A and maybe even the majors (not until September, but even that seems a longshot) in 2014, depending on myriad factors, obviously including health and performance. He's expected to arrive as a regular for the Cubs at some point in 2015.
Marcell Ozuna figures to be the next Marlins star on the move

Several relievers have signed in the last two days

Several teams are interested in the switch-hitting first baseman
Neshek and the Phillies are closing on a two-year contract

And the team that first drafted Cole is interested

This scout was SUPER into Jeter