Cubs release mock-ups of proposed renovations to Wrigley Field
The Cubs released mock-ups of their proposed renovations to Wrigley Field, which include a jumbotron in left field.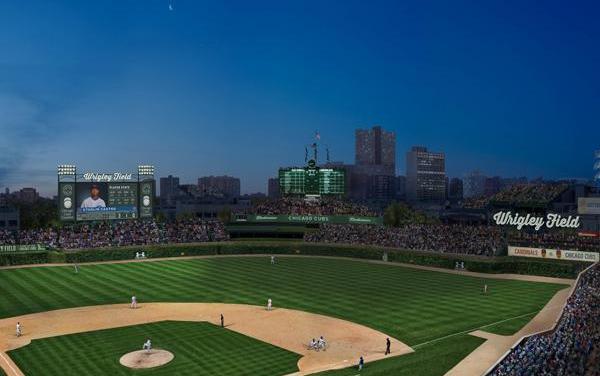 More MLB: Scoreboard | Standings | Probable Pitchers | Sortable Stats | Odds
Rumors of a new jumbotron at Wrigley Field first popped up back in January, and now that rumor is closer to becoming a reality. Cubs chairman Tom Ricketts unveiled proposed improvements to the landmark ballpark during a speech at the City Club of Chicago on Wednesday morning, reports David Kaplan of CSN Chicago.
"The fact is that if we don't have the ability to generate revenue in our own outfield, we'll have to take a look at moving -- no question," said Ricketts during his speech when asked what would happen if the renovations are not approved. "All we really need is to be able to run our business like a business and not a museum."
Ricketts confirmed the team formally filed its renovation proposal with the City of Chicago on Wednesday, and the plan must get approval from city planners and the City Council. Threatening to leave Wrigley appears to be the start of a game of chicken, more than anything. It's very unlikely the team will leave its historic ballpark.
Kaplan said the renovations could meet resistence from the neighboring community as well as the local rooftop owners, who agreed to a 20-year partnership with the team in 2004. They pay the team 17 percent of their gross revenues -- upwards of $40 million to date -- and believe they are entitled to an unimpeded view of the park. The proposed jumbotron figures to create some sight-line issues.
The 6,000-square-foot video screen highlights a significant renovation package that will benefit both fans and the players. Other mock-ups can be seen by clicking here. Among the other proposed improvements:
A significantly larger home clubhouse -- the Cubs currently have the smallest home clubhouse in baseball -- with a new weight room, medical area, player's lounge, batting cages, and media center for interviews.
Wider concourses that will make entering and exiting the stadium much easier.
New restaurants and clubs, as well as improved concessions.
Restrooms will increase by 45 percent.
Skyboxes will be enlarged and renovated. A party deck in left field is also in the works.
New plaza area for pre- and postgame festivities as well as nongame day events.
An office building at the corner of Waveland Avenue and Clark Street will be built to house team, stadium and concession personnel.
A seven-story hotel complex across the street from Wrigley. The office building and hotel complex will be connected by a walkway over Clark Street.
The Cubs have already added a new 75-foot LED board in right field.
"The Cubs are committed to making sure that we restore the park to what it looked like originally," said Cubs president of business operations Crane Kenney. "From the wrought iron to the terra cotta, we want to bring all of that back in a modern way that fits with the feel of the stadium. We also want the office building and the hotel complex to fit in with the ballpark so that everything looks like it goes together."
Wrigley Field is 99 years old, has landmark status and can not be torn down and completely replaced. The cost for the proposed renovation is approximately $500 million and will be privately funded. The home clubhouse will be renovated following the season, but the entire renovation will take five years.
The Twins have already fortified the bullpen with Addison Reed, and now they want to address...

The Orioles likely want pitching, and the Indians have plenty of it

Halladay died in a November plane crash off the coast of Florida
The power-hitting outfielder is headed to Toronto

Martinez could add some power to a Boston lineup void of it

It's almost that time of the year again, time for the Tebow madness to return