Cubs said willing to wait to see how Girardi drama plays out
They've interviewed a couple candidates, and plan to interview anther one next week. But the North Side team still have its eye on Yankees manager Joe Girardi in case he winds up becoming a managerial free agent.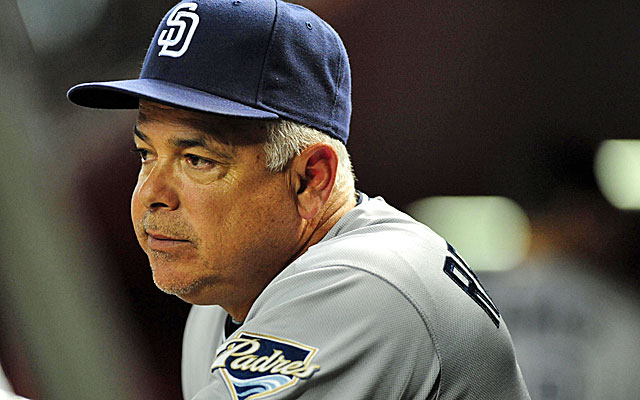 The New York Yankees have shown no signs of granting outside teams permission to speak to manager Joe Girardi about their own openings, but at least the Cubs are apparently willing to wait it out.
According to people familiar with their situation, the Cubs intend to see how the Girardi situation plays out before extending an offer to anyone else. Girardi is the Cubs' top choice to replace Dale Sveum. While Cubs higher-ups don't necessarily see themselves as favorites to land the Yankees' manager, they apparently see little downside to waiting on Girardi.
The Cubs also intend to wait to make their hire even though they understand it could be a lengthy wait. The Yankees aren't compelled to grant permission to any other teams to speak with Girardi while he is still under contract with them through Oct. 31.
Meantime, the Cubs already have interviewed Padres exectuive A.J. Hinch and ex-Nats/Indians manager Manny Acta and intend to interview Padres coach Rick Renteria next week. The Cubs are also said to view Rays coach Dave Martinez as an intriguing candidate, though his tenure as a Cubs player may not necessarily aid his cause.
Cubs people are said to be emphasizing player development if they can't land Girardi, and that could favor Hinch, who won raves in development for the the Diamondbacks before serving as their manager. The Cubs are expecting to have a very young team again in 2014.
Renteria, a longtime bench coach, is seen as effective with young players, so he might also fit. He has no major-league managerial experience but that isn't necessarily seen as a prerequisite.
It's uncertain whether Sandy Alomar Jr., who received an interview when Sveum was hired, will need to be interviewed again. Rangers pitching coach Mike Maddux was also a candidate two years ago.
There is nothing preventing Girardi from playing this out until the end, and the Yankees haven't seemed inclined to this point to set a deadline for his answer to their multiyear offer. It is believed the Yankees offered a significant raise from the $3 million a year he made on the three-year contract that's expiring at the end of this month, and they'd just about have to, considering the manager's popularity.
When Girardi three years ago signed a contract that ended at the end of October, he was likely thinking the Yankees would be back in the playoffs this year. But while the timing isn't optimal for him, he still appears in position to benefit from all the outside interest, if he can just wait another three weeks.
Where might the Orioles third baseman land?

Kinsler will slot in at second base for the Angels

The Marlins got a better return for Ozuna than Stanton or Gordon
The two teams are going about things in very different ways

The Marlins are indeed in teardown mode under new ownership

The Marlins still have more attractive pieces