Cubs sign closer Rafael Soriano to minor-league deal
Soriano could be a closing option for the Cubs, who have used three different pitchers to record the team's last three saves.
Free-agent reliever Rafael Soriano has agreed to a minor-league deal with the Cubs, according to sources. The Cubs announced the signing on Tuesday morning.
Soriano, a long-time closer who went 4-1 with a 3.19 ERA and recorded 32 saves in 2014, could provide the Cubs with an additional ninth-inning option after manager Joe Maddon started to rotate pitchers in the closer role in recent days. Hector Rondon had been the main closer, but Maddon had employed Pedro Strop and Jason Motte in that role lately, as well.
Soriano had not found the free-agent market as fruitful as expected following a rough second half in 2014, in which he posted a 6.48 ERA while blowing five save opportunities. Some teams also had questions about his makeup, which may have contributed to his difficulty in finding a suitable job.
Soriano previously starred in the closing role for Maddon's Rays, and also has been a closer for the Braves, Yankees and Nationals. He at one time was the league's second highest-paid closer to Mariano Rivera.
Soriano will receive $4.1 million prorated to his time in the majors, plus $4 million in incentives, as the Washington Post reported. 
The Blue Jays and Cardinals were said to be in the mix for Soriano's services as well. 
The Chicago Sun-Times reported Soriano was close to a Cubs deal, while CBSSports.com first reported Chicago's presence in the talks.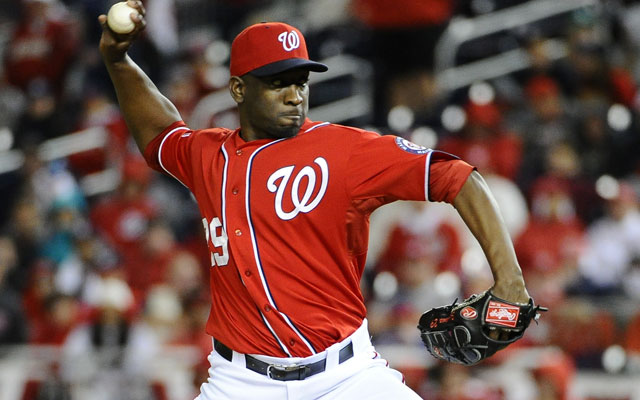 Our advanced computer model simulated the Yankees' 2018 season 10,000 times

Great news for the Dodgers and their star third baseman

Can the Sox fend off a souped-up Yankees team and win the AL East for the third straight s...
The Dodgers' third baseman broke his wrist Monday night

Our proven computer model simulated the entire 2018 MLB season 10,000 times

The Dodgers, seeking an elusive World Series title, suffer an early blow when Turner is hit...