Cubs sign Ryan Sweeney to two-year, $3M deal
The Cubs are bringing back outfielder Ryan Sweeney on a two-year, $3 million deal with an option for a third year.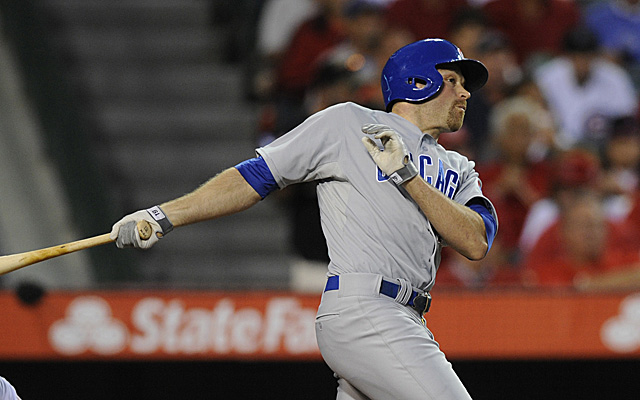 While we haven't yet hit the open free-agency period, ballclubs can still re-up with their own impending free agents. And on that front, the Cubs have done so with outfielder Ryan Sweeney. The deal is for two years and $3 million with an option for a third year at $2.5 million (with a $500,000 buyout), confirms Jon Heyman.
Sweeney, 28, hit .266/.324/.448 with 13 doubles, six homers and 19 RBI in only 70 games. He began the season in Triple-A and also missed time with a fractured rib after crashing into a wall.
Sweeney could serve as the starting center fielder heading into next season or as a fourth-outfielder type, as he can play all three spots.
If he has been signed with the intent of being the starter, it seems like he's a real cheap bridge to possibly giving way to hot-shot prospect Albert Almora. Almora, 19, was the Cubs first-round draft pick in 2012 and hit .329/.376/.466 in Class A this season. Most believe he's a top 30 prospect in all of baseball and it's reasonable to expect him to be ready after either two or three seasons to take over. So I do believe the structure of the Sweeney contract was designed with at least a bit of that in mind -- even if it wasn't the primary consideration.
The lefty starter is coming off a terrible season

After acquiring Ian Kinsler and Zack Cozart in recent days, the Angels are trending upward

Cozart's coming off a big season as the Reds' shortstop
The veteran slugger spent the last eight seasons with Cleveland

The Padres may be poised for an active winter

Yes, Bryce Harper is going to make a lot of money next winter