Cubs' Theo Epstein says Cardinals don't need competitive balance draft picks
Cubs executive Theo Epstein doesn't think it's fair the Cardinals get extra draft picks as part of MLB's competitive balance system.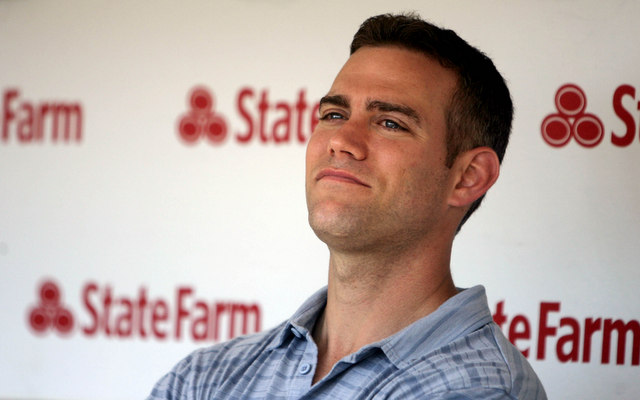 More MLB: Power Rankings | Expert Picks | Latest news & notes | Fantasy news
Earlier on Wednesday, MLB announced the results of the competitive balance lottery, giving a total of 12 additional 2015 draft picks to smaller market and lower revenue teams. The full results can be seen right here.
Among the teams to get extra picks are the Athletics, the Padres, the Marlins, and ... the Cardinals. Yes, the always successful and contending Cardinals received an extra draft pick for their powerhouse player development system. Must be nice, huh?
Count Cubs vice president of baseball operations Theo Epstein among those who don't believe it's fair the Cardinals are getting extra draft picks. Here's what he told Patrick Mooney of CSN Chicago:
"I could talk all day about the Cardinals and how much we hold them in high regard," Epstein said. "That's a fantastic franchise. They have been for the better part of a century. They do extremely well from a baseball standpoint, and from a revenue standpoint. That's probably the last organization in baseball that needs that kind of (an) annual gift."

...

"It will just make it that much sweeter when we get to a point where we can compete with them and, ultimately, we hope, prevail," Epstein said. "Because it's not necessarily the type of thing that they need, given their performance on the field and off the field. They do a fantastic job. It just doesn't seem like something they need at this point."  
This does kind of come off as sour grapes, but Epstein does have a point. The Cardinals received a competitive balance pick but the Rays did not. I'm not sure how this system makes any sense.
MLB and the union did a lot of damage to the draft with the most recent collective bargaining agreement, most notably by implementing the spending pool system. These competitive balance picks don't make much sense at all and the Cardinals are among those benefiting the most. Hopefully Epstein's comments help spur on some change.