Cubs trade Ryan Dempster to Rangers
The Ryan Dempster trade saga has finally ended: he's bound for Arlington, reports CBSSports.com Insider Jon Heyman.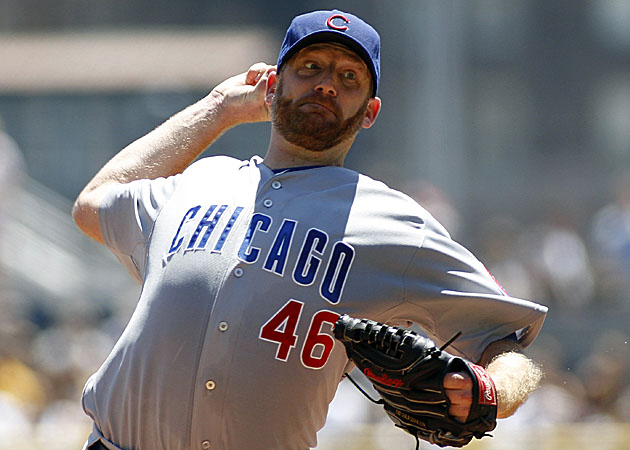 Dempster has finally been traded, after weeks of speculation and one nixed trade. (Getty Images)
CBSSports.com Insider Jon Heyman reports that the Cubs have traded right-hander Ryan Dempster to the Rangers.
More on trade deadline
Column

On the season, Dempster has a 2.25 ERA (good for second in the NL) and 83 strikeouts against 27 walks in 104.0 innings. While Dempster has obviously been outstanding in 2012, there's reason to believe that he's not going to be quite this good moving forward. That's especially the case now that he's in the DH league and pitching in Arlington.
With that said, he's clearly an upgrade for the Rangers, whose only real weakness is uncertainty in the rotation, what with the struggles of Roy Oswalt, the (likely) season-ending injury to Colby Lewis and the uncertain status of Neftali Feliz.
In return, the Cubs will receive right-hander Kyle Hendricks and third baseman Christian Villanueva. Hendricks, age 22, is thriving this season at High-A Myrtle Beach (2.82 ERA, 130.2 IP, 112 K, 15 BB), and the 21-year-old Villanueva is hitting .285/.356/.421, also at Myrtle Beach.
Last week the Cubs agreed to send Dempster to Atlanta, but with his rights as a player with 10 years of service time in the big leagues and at least the last five with the same team, he had to approve any deal. Dempster was said to prefer to go to the Dodgers over the Braves. He denied that he vetoed a deal to Atlanta.
"I just never said no," he told reporters in Chicago, according to the Associated Press. "The last few days, I had to give it a lot more thought to the teams I might possibly be traded to."
In the end, he ended up going to the Rangers. Dempster spent hours in the Cubs' offices on Tuesday awaiting word of potential deals. He gave his OK to head to Texas. But was it the right decision?
"We'll see," Dempster told the AP. "There's no right or wrong decision. There's just journeys in life that we end up taking. We try to make the most out of those. They've got a great ballclub down there. They've got some really good baseball players."
He will make his first start for Texas on Thursday against the Angels and former Ranger C.J. Wilson
For more baseball news, rumors and analysis, follow @EyeOnBaseball on Twitter, subscribe to the RSS feed and "like" us on Facebook.
Cozart's coming off a big season as the Reds' shortstop

The veteran slugger spent the last eight seasons with Cleveland

The Padres may be poised for an active winter
Yes, Bryce Harper is going to make a lot of money next winter

Outfield prospect Clint Frazier might be part of the talks

Boston wants to add two big bats to their lineup, not just one