Cubs, White Sox, Brewers top sellers as trade deadline month opens
Flyover country becomes a prime destination for buyers this month. As the market opens, Jon Heyman says the Cubs, White Sox and Brewers have plenty to offer.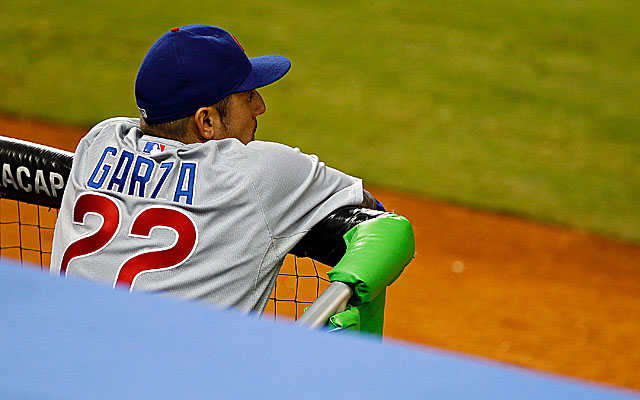 A lot of trade action this July, maybe most of it, is going to run right through the I-94 corridor, as three of the first teams out of the blocks looking to sell multiple, viable pieces exist in that great 90-mile stretch between Chicago and Milwaukee -- the Cubs, White Sox and Brewers.
Both Chicago teams surely will be active in what appears to be a big seller's market, with perhaps twice as many buyers as sellers. And while Brewers general manager Doug Melvin has a nice way of putting it -- "I'm not necessarily selling, I'm open to any discussions that could help the team now and in the future," he said by phone the other day -- the idea is basically the same.
Whatever they want to call it, the Brewers, like the Cubs and White Sox, have plenty of veterans to possibly peddle, leading with ace Yovani Gallardo and a trio of veteran relievers -- John Axford, Francisco Rodriguez and Mike Gonzalez.
Here's a complete trade deadline primer, using the noted five-and-fly method, with the trade-deadline month now open.
1. Cubs: If they consent to trading hard-throwing starter Jeff Samardzija, they could hold an all-time sale. As it is, it isn't half bad. Matt Garza leads a pretty nice list of available pitchers, and the timing couldn't be better for Garza to go on the market, what with only three runs allowed over his past three starts. He's definitely going to go, with the Rangers, Orioles, Jays, Giants, Padres and Dodgers among teams believed interested in the AL-tested right-hander. Scott Feldman is a nice starter as a consolation prize. Closer Kevin Gregg was perhaps the best spring pickup, and he'll draw plenty of interest, with James Russell, Shawn Camp and swingman Carlos Villanueva as other possibilities. Nate Schierholtz is having a very nice year; Alfonso Soriano (who has 10-and-5 veto rights and probably won't OK the West Coast) looks like he could be primed for another big second half; and Scott Hairston hits lefties like few others.
2. White Sox: With everyone but star Chris Sale and sentimental favorite Paul Konerko available, there's plenty to choose from. Jake Peavy is open to being traded, though it might help if he returns from his broken rib before the July 31 deadline. John Danks could draw interest, though Adam Dunn looks pricey, even on a 40-homer, 100-RBI pace. Jesse Crain is one of the best set-up men going, so good he may be viewed as a closer. Lefty Matt Thornton and Matt Lindstrom are two more very nice bullpen pieces.
3. Brewers:. It appears they are seriously weighing a trade of Gallardo, their 27-year-old ace, but the price would have to be high since the Brewers don't have a stash of great young starters behind him. Kyle Lohse has five quality starts this month, though Milwaukee was the only one willing to go to $11 million a year in the spring. Rodriguez is back saving games, Axford has been terrific lately and Gonzalez is a decent lefty.
4. Twins: Sticking with the Midwest theme, Justin Morneau, Kevin Correia and Josh Willingham could draw considerable interest, though Morneau's lack of power this year is a concern. The Twins do not want to trade hometown lefty closer Glen Perkins.
5. (tie) Miami Marlins: Ricky Nolasco is the obvious one who'll go, but as a Marlins person mentioned recently, "he's no giveaway." With no evidence apparent that Giancarlo Stanton will be traded, there's not much left, as the better players are all young, cheap and likely to stay. That said, vets Gregg Dobbs and Placido Polanco could possibly be of some help to someone.
5. Astros: Everyone's available, though one person familiar with their thinking said the Astros like Jose Altuve so much, he may be the least likely to be dealt. More likely to go: starting pitchers Bud Norris and Lucas Harrell and closer Jose Veras. As GM Jeff Luhnow pointed out on the phone, there's no urgency to trade anyone since no one's making too much money. (The total payroll is in the high $20 millions, give or take.)
1. Phillies: The Phils really doesn't want to trade Cliff Lee or Jonathan Papelbon, so unless they get overwhelmed, figure on those two staying. GM Ruben Amaro made clear in an interview with Danny Knobler that he prefers to keep lifetime Phillie Chase Utley, but Michael Young, who has an expiring contract and a nice veteran presence, could easily go. The Yankees, who may need a third baseman because Alex Rodriguez remains in limbo, would be a fit for Young. The Dodgers, Royals, A's and Orioles could use a second baseman, making Utley a possible fit for any of them. Kevin Frandsen is another infielder in the trade mix.
2. Mariners: No word from close-to-the-vest GM Jack Zduriencik on what they may do, but with the pressure on to win now, don't expect a major sale. Kendrys Morales, who has an expiring contract and wants to play first base, might bring the biggest package. Michael Morse, who's currently out (quad), is also a free agent at year's end. Lefty Oliver Perez is having a terrific year out of the pen.
3. Angels: With their recent hot streak and $265 million sunk into Albert Pujols and Josh Hamilton, consider the Angels very reluctant sellers. Jason Vargas would have been valuable, but he recently had surgery for a blood clot. Scott Downs is a decent lefty reliever. And while he takes abuse (from here, too), Joe Blanton is pitching better lately.
4. Mets: Marlon Byrd has miraculously turned his career around (his slugging percentage has practically doubled from .245 last year) and Shaun Marcum is much better than his record, but neither would bring as much as Scott Hairston last year and they held onto him. They have pretty well determined they'll hold onto veteran catcher John Buck, and with young pitchers to develop and Travis d'Arnaud still not back, that makes sense. Would they consider dealing closer Bobby Parnell? Doubtful.
5. Royals: Some websites are citing a very low probability the Royals will make the playoffs (3.4 percent, said one) but it's still doubtful they sell. On the off chance they do, there'd be a feeding frenzy for pitchers James Shields, Ervin Santana and Jeremy Guthrie.
Five Buyers needing starter
1. Orioles: With that young nucleus, they may be one top starter away from being a juggernaut.
2. Indians: The offense is coming together nicely, so a starter could make them a threat against disappointing Detroit.
3. Diamondbacks: The D-Backs have a lot of talent, but 22 straight starts without a win from a starting pitcher seems to suggest something's amiss.
4. Rockies: The tricky part is finding the one who can succeed at Coors.
5. Padres: With a deep group of position players, they might surprise some folks if they can improve the rotation. (Note: All five NL West teams are actually in the market for a starter.)
Five buyers needing offense
1. Yankees: Nobody is hitting worse lately. Curtis Granderson, Derek Jeter and Alex Rodriguez would help, but when are they all coming back?
2. Pirates: Their .699 team OPS ranks 21st, though they still seem to be doing pretty well in spite of it.
3. Rangers: Specifically, they'd like an outfielder or DH.
4. Nationals: They are a startling 28th in runs, but the return of Bryce Harper this week should help.
5. Bay Area: The Giants could use an outfielder after the loss of Angel Pagan, the Athletics a second baseman to cement a season-long issue.
Five buyers needing reliever
1. Tigers: Specifically, they need a closer. I think everyone knows that.
2. Red Sox: Ditto. The surprise is that they came into the season with the best closing depth in the game, before Joel Hanrahan got hurt and Andrew Bailey went south.
3. Braves: They have the best bullpen ERA in baseball at 2.68, but the losses of Jonny Venters and Eric O'Flaherty have left an issue at set-up for Craig Kimbrel. Either Gregg or Crain would seemingly fit.
4. Dodgers: Brandon League hasn't been the only issue.
5. St. Louis Cardinals: They don't have any real weaknesses, but GM John Mozeliak likes deadline pen pickups. Couldn't hurt.
Five pie-in-the-sky trade targets
1. Giancarlo Stanton: There's no indication the Marlins would consider trading him now. But we have to think it's only a matter of time since it's hard to see them coming up with the money (or him taking it from them).
2. Cliff Lee: The Phillies did trade him once before when he least expected it, and while that wasn't the favorite of his four trades, he doesn't seem to mind the idea. Philly, a team serious about winning, doesn't see how it can replace him for 2014 or '15, though.
3. David Price: No chance can the Rays can afford to keep their ace long-term, and if they trade him now as opposed to next July, they'd get a lot more for him. That is, assuming he shows he's healthy over the next few weeks.
4. Jeff Samardzija: Samardzija and the Cubs were nowhere close to a long-term deal in May. With free agency not until after next year, he'd get a haul back.
5. Starlin Castro: Maybe the Cubs' shortstop needs a change of scenery. He certainly needs something. One of the best prospects in baseball, slugging shortstop Javier Baez, is on the horizon.
Five starters who will go
1. Matt Garza: "Garza is a goner," said someone familiar with the Cubs' thinking. The sides talked about a deal a year ago in spring and it didn't go anywhere. So now he will. Barring new entries, he looks like the prize of the market.
2. Ricky Nolasco: He'll go, too, as the Marlin making $11.5 million is about to be a free agent. He's a consistent innings eater with a sterling strikeout-to-walk ratio (44 strikeouts, 12 walks in his past eight starts) who has been hurt by Marlins bats going especially cold in his starts (only 33 runs for him in 17 starts). Maybe not another Anibal Sanchez, but the Marlins career leader in wins, games started, innings and strikeouts is plenty good.
3. Bud Norris: The native Californian and Angel killer is thought to not mind the idea of going west. With seven of eight quality starts against all opponents and a reasonable $3 million price tag for 2013, the Astros righty is worth a shot.
4. Kevin Correia: He's been the best Twins' best starter (6-5, 4.08), and while that isn't saying much, it's something.
5. Scott Feldman: Very astute pickup by the Cubs guys, he should be highly sought after (1.14 WHIP this year), though he definitely takes a back seat to Garza and certainly Samardzija, in the Cubs' hierarchy of starters.
1. Jake Peavy: He was traded with a bum ankle (and for four prospects), so why not a broken rib? Is contracted through 2014 and wants to play for a winner.
2. Yovani Gallardo: There's has been a debate going on in the Brewers' front office, as Gallardo isn't having his usual year so far. As Melvin pointed out, he has a pretty good second-half record (35-20). And he can hit.
3. Kyle Lohse: He was just signed to a $33 million deal, but Milwaukee will consider just about anything. He's helped the cause, going 2-0 with a 2.34 ERA in June.
4. John Danks: With Danks in the second year of a $65 million contract with the White Sox, can't imagine the price can be too high.
5. Kevin Slowey: He's having a solid season for his old batterymate Mike Redmond (who was Slowey's very first big-league catcher), though he's recently been bumped out of the Marlins' rotation. Not an overwhelmer, but serviceable.
Five outfielders who may go
1. Alex Rios: It looked like a gamble when the White Sox took his contract on a waiver pickup, but he has a nice combo of power and speed, and that $12.5 million salary looks quite reasonable now.
2. Nate Schierholtz: The Cubs outfielder's played great when given the chance to be a full-time player, and even has gotten some All-Star mentions.
3. Josh Willingham: He has terrific power, having conquered both Oakland Coliseum and Target Center (35 home runs last year at Target is quite a feat). Don't let the low average this year fool you.
4. Scott Hairston: A great hitter vs. left-handers most times (all six homers have come vs. lefties), though he isn't having the sort of season he had last year.
5. Dayan Viciedo: Slipped quite a bit this year (25 home runs in 2012, five so far this year) but very talented.
1. Alfonso Soriano: Loves Chicago and has veto power (which he wielded last year over a potential Giants trade). Isn't just playing out the string, though. Very pleasant guy for a clubhouse who has power, is improved defensively and is a well-known second-half player (17 home runs after the break last year).
2. Michael Morse: Big-time power, and heading into walk year. Ripe for big second half. But will Seattle sell?
3. Adam Dunn: Hard to see someone taking the whole $13 million salary, but he remains a threat, as evidenced by his pace for 43 homers and 107 RBI.
4. Greg Dobbs: Professional hitter, low price tag.
5. Carlos Pena: Big power threat is also slick at first base.
Five infielders who may go
1. Michael Young: Negotiated veto rights when he agreed to go to the Phillies, but hard to see the third baseman not accepting a trade to a contender.
2. Aramis Ramirez: Still a very good hitter, but the $25 million owed through next year discourages even the Yankees.
3. Chase Utley: With his contract up, if the Phillies don't turn it around they will get calls. The Royals, A's and maybe Orioles could fit.
4. Jeff Keppinger: The White Sox 3B is starting to hit now, with a more characteristic .317 June batting average.
5. Brendan Ryan: Slick fielder has been displaced by top-hitting prospect Brad Miller.
Five top relievers who may go
1. Kevin Gregg: He's been a Godsend for the Cubs (13 for 14 in saves with a 0.99 WHIP), raising his status from spring giveaway.
2. Jesse Crain: He's been so efficient in his set-up role for the White Sox (the earned run Saturday was his first since April 12, raising ERA to 0.74), that maybe someone would deal for him as a closer.
3. John Axford: Axford has it all back together, and is rarely giving up anything lately (no runs in 22 appearances for the Brewers to lower his ERA from 9.20 to 3.93).
4. Francisco Rodriguez: He's back closing games for Milwaukee, and is 6 for 6 in saves with a 1.02 ERA.
5. Michael Dunn: The Marlins' tough lefty reliever (left-handed hitters have a .523 OPS against him) could help contender.
Five who may benefit from trade
1. Jake Arrieta: The Orioles starter has the talent to be an ace, but only has shown it in flashes so far.
2. Daniel Bard: Could that switch to the Red Sox rotation have caused this steep a downturn?
3. Brandon League: It hasn't quite worked as the Dodgers had hoped.
4. Gordon Beckham: The White Sox second baseman hasn't quite become the star folks figured he'd be.
5. Joba Chamberlain: Maybe it's time to leave the town that overhyped him.
Five on contending teams who may go
1. Rick Porcello: Detroit is reluctant, but he'd help them get a closer.
2. Phil Hughes: It's possible the Yankees could trade him for more-needed offense.
3. Andre Ethier: While he seems to be out of Donnie Baseball's doghouse, with Yasiel Puig there to stay, Ethier's departure could be a consideration.
4. Chase Headley: He'll probably stay, but the chances for a long-term contract aren't great and the Padres could move Jedd Gyorko to third from second. After a June with one homer and 26 strikeouts, his value may be a bit down, though.
5. Edinson Volquez: The Padres starter has been linked to an Orioles rumor already.
The slugger had shoulder surgery in November

Tebow reported to spring training with Mets position players on Sunday

Santa Clara senior Jake Brodt did the honors Saturday
Eric Hosmer's eight-year contract with San Diego has wide-ranging ramifications

Keep tabs on the top 50 free agents right here

The Padres have been heavily connected with Hosmer all offseason