Curt Schilling reveals he has mouth cancer, blames chewing tobacco
Curt Schilling has revealed that he has cancer in his mouth and blames it on using chewing tobacco during his career.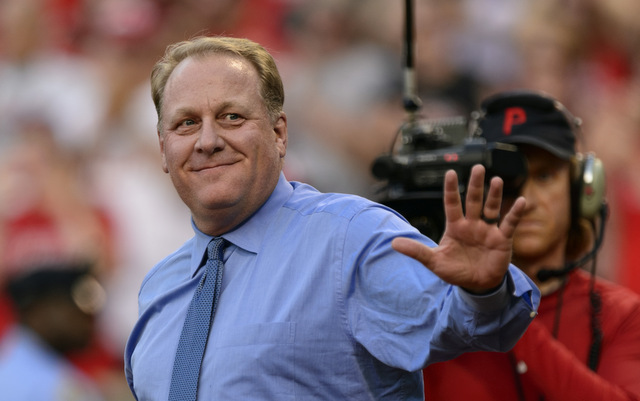 More MLB: Power Rankings | Expert Picks | Latest news & notes | Fantasy news
Back in June, long-time big leaguer Curt Schilling announced his cancer is in remission. We first learned he was being treated back in February, but the type of cancer remained a mystery.
On Wednesday, Schilling announced he had been diagnosed with squamous cell carcinoma -- cancer in the mouth -- during the WEEI/NESN Jimmy Fund Radio Telethon, according to Steve Silva of the Boston Globe. Schilling blames his use of chewing tobacco as a player. Here are his quotes, courtesy of Silva:
"This all came about from a dog bite," Schilling said. "I got bitten by a dog and I had some damage to my finger and I went to see a doctor, and the day that I went to see the doctor, I was driving and I went to rub my neck and I felt a lump on the left side of my neck. And I knew immediately it wasn't normal. So there happened to be an ENT [Ear, Nose, and Throat] right next door to the hand doctor, and I thought what the heck, let me just stop in and see and so I waited in the office and went in there and they did the biopsy, and two days later, they diagnosed me with squamous cell carcinoma.

...

"I didn't talk about it for two reasons. No. 1, I didn't want to get into the chewing tobacco debate, which I knew was going to come about, which to me, I'll go to my grave believing that was why I got what I got... absolutely, no question in my mind about that. And the second thing was I didn't want people to feel sorry for me. I didn't want the pity or any of that stuff because early on... I ended up spending about six months in the hospital because I had a bad reaction. I had a staph infection. I had what's called C. diff. I had a couple different problems and there was a week there, there's a week of my life I don't remember while I was in the hospital going through this.

...

"I did (chewing tobacco) for about 30 years. It was an addictive habit. I can think of so many times in my life when it was so relaxing to just sit back and have a dip and do whatever, and I lost my sense of smell, my taste buds for the most part. I had gum issues, they bled, all this other stuff. None of it was enough to ever make me quit. The pain that I was in going through this treatment, the second or third day it was the only thing in my life that had that I wish I could go back and never have dipped. Not once. It was so painful."
Hall of Famer Tony Gwynn recently passed away following a battle with salivary gland cancer, which he attributed to his use of chewing tobacco. Doctors never did link his cancer to his tobacco use, however.
Chewing tobacco is a hot topic in baseball and MLB has taken steps in recent years to limit its usage and visibility among players. Players and personnel are no longer allowed to carry a can or package of chewing tobacco in their uniform while on the field, nor are they allowed to have a wad of chewing tobacco under their lip while signing autographs and conducting interviews.
Schilling, now 47, had been working as a television analyst with ESPN at the time of his diagnosis. He appeared at Fenway Park for the 10-year anniversary celebration of the 2004 World Series Champion Red Sox team a few weeks ago and appeared to be in good spirits despite the obvious physical toll of chemotheraphy.
Also, the Indians crush the Cubs, some high-profile home runs and much more

Adames is considered the Rays' shortstop of the future

Cozart thinks teams could be trying to suppress the salaries of starting pitchers
Bautista was recently released by the Braves

The shortstop, who is one of the best prospects in all of baseball, will start Tuesday vs....

Gordon had been filling in for Robinson Cano at second base