Curt Schilling says Red Sox encouraged him to use PEDs in 2008
During a radio interview on Wednesday, Curt Schilling said 'members of the [Red Sox] organization' encouraged him to use performance-enhancing drugs toward the end of this career.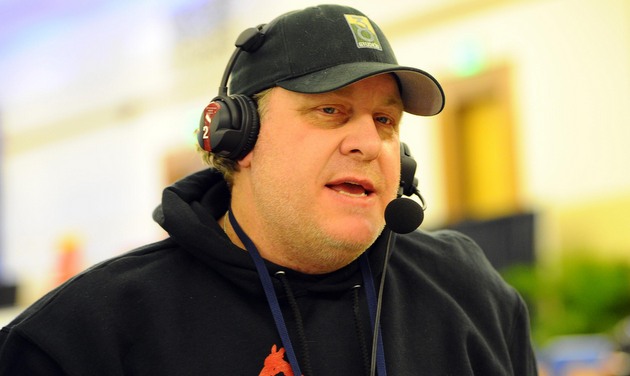 Schilling went 53-29 during four seasons with the Red Sox. (US Presswire)
During an interview with ESPN Radio on Wednesday, long-time big leaguer Curt Schilling said "members of the [Red Sox] organization" encouraged him to use performance-enhancing drugs toward the end of his tenure with the organization. Here are the quotes, courtesy of Jerry Spar at WEEI.com.
"At the end of my career, in 2008 when I had gotten hurt, there was a conversation that I was involved in in which it was brought to my attention that this is a potential path I might want to pursue," Schilling told Colin Cowherd.

Asked for more details, Schilling said the conversation occurred in the clubhouse and involved "former members of the organization -- they're no longer there. It was an incredibly uncomfortable conversation. Because it came up in the midst of a group of people. The other people weren't in the conversation, but they could clearly hear the conversation. And it was suggested to me that, at my age and in my situation, why not? What did I have to lose? Because if I wasn't going to get healthy, it didn't matter. And if I did get healthy, great.

"It caught me off guard, to say the least. That was an awkward situation."
Schilling has never been shy about giving candid interviews, and this is obviously a very serious accusation. Team president Larry Lucchino told Evan Drellich of MLB.com he was surprised by the statements and will look into the matter. Given the recent PED-related news stemming from Biogenesis, the South Florida clinic, MLB might want to investigate further as well.
Elsewhere, Cubs GM Jed Hoyer, who along with fellow Cubs exec Theo Epstein was part of the Boston front office in 2008, told 670 The Score in Chicago that neither he nor Epstein is the unnamed executive in Schilling's story. "The first I ever heard of that was this morning when I saw it, so clearly, no, it didn't ring true to me at all," Hoyer said Thursday on The McNeil & Spiegel Show. "I can tell you it would be preposterous that Theo or I would be involved in that. So I can comment for the two of us. I obviously wasn't there. I don't know the story he's talking about so I can't comment on the rest of it. I can tell you certainly it wasn't Theo or me."
The other wrinkle in all of this? Maybe the appropriate people were informed and the appropriate steps were taken .... back in 2008. This from Michael S. Schmidt of the New York Times:
im told @gehrig38 told red sox in '08 that he had been approached abt peds, mlb did an investigation and emplyee was fired #thesystemworked

— Michael S. Schmidt (@MichaelSSchmidt) February 7, 2013
Scott Lauber of the Boston Herald reached out to MLB spokesman Pat Courtney, who had this to say: "The club immediately notified us. We take these matters very seriously, and an investigation was completed."
As Lauber notes, Courtney would not confirm reports that a Red Sox employee was fired as a result of the incident.
Schilling, who last pitched in 2007, spent the final four seasons of his career with the Red Sox. He battled major shoulder problems toward the end of his career and was unable to pitch at all in 2008, eventually having surgery.
For more baseball news, rumors and analysis, follow @EyeOnBaseball on Twitter, subscribe to the RSS feed and "like" us on Facebook. Also, individually interact with us on Twitter: @MattSnyder27, @daynperry and @mikeaxisa.
Gallardo spent the first eight years of his career in Milwaukee

MLB revenues are at a record high right now, but teams aren't spending it on players

Chicago added Tyler Chatwood earlier this offseason but might not be done adding to the ro...
The Dodgers and Braves pulled off a whopper on Saturday

Sabathia will reportedly spend a 10th season in the Bronx

Fowler suffered a knee injury at Chicago's Guaranteed Rate Field