D-Backs are talking about Gallardo; LHP prospect Skaggs in the mix
Arizona has sown some interest in Milwaukee's Gallardo, though one person familiar with the talks says there's 'no traction' right now.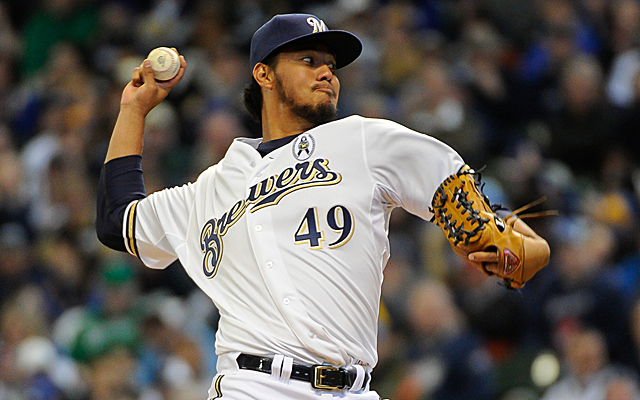 The Diamondbacks and Brewers have been talking about possible trades involving Milwaukee veteran right-handed starter Yovani Gallardo, and one of the Arizona names that's surfaced in discussions is top pitching prospect Tyler Skaggs.
The Diamondbacks and Brewers would seem to match up well since Milwaukee has a couple of veteran starters (Kyle Lohse also), and Arizona is well-stocked with well-regarded younger pitchers, including the 22-year-old lefty Skaggs and several others. Randall Delgado is another.
However, it doesn't appear anything is close. As one person familiar with the talks put it, "There's no traction at this point."
It's something to keep an eye on, though, as the D-Backs haven't had a win from their rotation for more than three weeks now, and as Foxsports.com first reported, they have particular interest in established starters who are more than rentals, meaning they are under contract through at least next year. With that in mind, Matt Garza and Ricky Nolasco might not fit Arizona as well as Gallardo, still only 27, who is contracted through next year for just over $15 million, or Lohse.
Brewers people have been debating whether to trade Gallardo, who is having an off year (6-8, 4.78) so far. They also wish he had more success against the rival Cardinals and Reds. Milwaukee is most in need of young pitchers.
The Dodgers and Braves pulled off a whopper on Saturday

Sabathia will reportedly spend a 10th season in the Bronx

Fowler suffered a knee injury at Chicago's Guaranteed Rate Field
The lefty starter is coming off a terrible season

After acquiring Ian Kinsler and Zack Cozart in recent days, the Angels are trending upward

Cozart's coming off a big season as the Reds' shortstop