D-Backs GM advocates intentional beanings, 'eye for an eye' mentality
During a radio interview on Tuesday, Diamondbacks GM Kevin Towers said he wants his pitchers to intentionally hit more batters.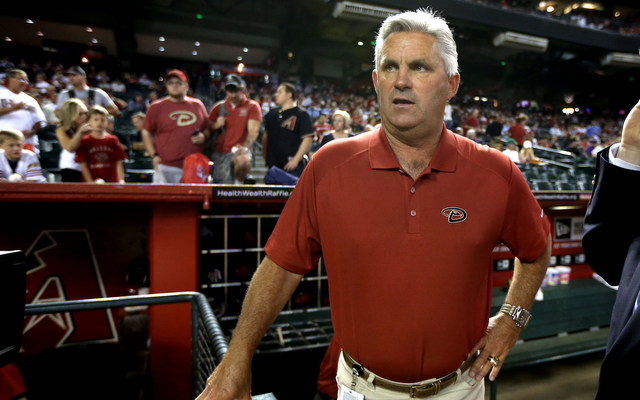 The Diamondbacks became something of a punchline last offseason as GM Kevin Towers and his coaching staff made it clear they were emphasizing "gritty" and "high-energy" players. The Justin Upton-Martin Prado trade stands out the most, but the Chris Young and Stephen Drew deals were also byproducts of the team's philosophy.
Apparently grit and energy aren't enough anymore. During a radio appearance on Tuesday, Towers expressed frustration with his team's lack of retaliatory hit batsmen -- he said his pitchers don't hit enough players intentionally. Here's a snippet of the interview, courtesy of Adam Green at Arizona Sports:
"You'd think the GM comes down and makes it a point to talk to the staff about it that at we need to start protecting our own and doing things differently," he said. "Probably a week later [Paul Goldschmidt] gets dinged, and no retaliation. It's like 'wait a minute.'

"Not that I don't take any of our guys from a lesser standpoint, but if Goldy's getting hit, it's an eye for an eye, somebody's going down or somebody's going to get jacknifed."
Alright, Towers is frustrated his pitchers don't retaliate when their star player is hit. I can understand that to some extent but it is definitely not something a GM should say publicly. Advocating retaliatory beanings on the radio isn't the smartest move, even if you say you're not looking to hurt someone (which he did). I imagine Towers will hear from MLB officials pretty soon. The union can't be happy hearing an executive say his team doesn't hit their members enough.
But wait! There's more. Towers acknowledged pitching coach Charles Nagy was let go on Tuesday partly because he didn't order his staff to hit more batters. He also indicated he'll look to get rid of any pitchers who don't buy into the team's macho approach:
"Some of them, contractually, it's tough to move," he said. "But I think come spring training, it will be duly noted that it's going to be an eye for an eye and we're going to protect one another.

"If not, if you have options there's ways to get you out of here and you don't follow suit or you don't feel comfortable doing it, you probably don't belong in a Diamondbacks uniform."
The ironic thing is that Towers traded away Ian Kennedy at the trade deadline in July, after Kennedy established himself as one of the the game's most notorious plunkers in recent years. He led baseball in hit batsmen last season and since breaking into the league full-time in 2010, Kennedy is third among all pitchers in hit batters.
I understand players have to protect their teammates and all that. I think that's mostly silly -- especially among fans, who seem to want retaliation for every hit-by-pitch regardless of intent -- but when you hear something like this ...
"I was sitting behind home plate that game and when it showed up on the Diamondvision of stuffing bananas down their throats, I felt like we were a punching bag," Towers told Arizona Sports 620's Burns and Gambo Tuesday. "Literally, if I would have had a carton of baseballs I would have fired them into the dugout from where I was sitting behind home plate.

"That's not who we are as Diamondbacks, that's not how -- I mean, it's a reflection on Gibby, on myself, on our entire organization. They slapped us around and we took it."
... it makes me think there's something deeper going on here. Towers comes off as thinking his club isn't tough enough, and maybe that's the case. It does take a certain level of physical and (especially) mental toughness to succeed at baseball, but a GM endorsing an "eye for an eye" approach and coming out and saying he was so aggravated with his club's behavior he "would have fired [baseballs] into the dugout" to set them straight? That's a problem. It's one thing to want gritty and high-energy players, this is another matter entirely.
Mark Appel was one of the players being moved about on Monday night

Garrett Cooper is the answer to a trivia question

We still don't know if Ohtani will be jumping to the majors yet
Kinsler is a free agent next winter

Opening Day will be Thursday, March 29 -- the earliest opening day in MLB history

The World Series champion and big-time wrestling fan was on hand Sunday night