D-Backs GM plans to land a pitcher before leaving Winter Meetings
A few hours after landing Mark Trumbo, Diamondbacks GM Kevin Towers said he wants to leave the Winter Meetings with a pitcher.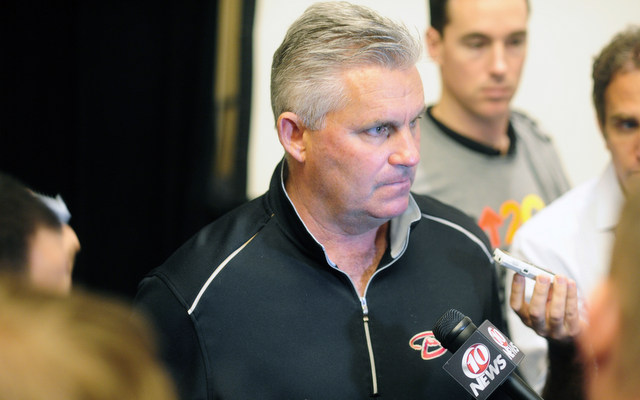 MORE: FA tracker: position players | FA tracker: pitchers | Winter Meetings updates
The Arizona Diamondbacks made the biggest move of the Winter Meetings (so far) by acquiring slugger Mark Trumbo in a three-team deal with the Los Angeles Angels and Chicago White Sox on Tuesday afternoon. Arizona is still aggressively looking to improve their team, so much so that they expect to land a pitcher in the coming days.
Dbacks GM Kevin Towers: "We plan on leaving with a pitcher before we're done."

— Nick Piecoro (@nickpiecoro) December 10, 2013
Planning on something and actually doing it are two different things. The D-Backs may have every intention of landing a pitcher in the next two days but the market may not allow it to happen. That's just the way it is.
That said, Towers is known as being a no nonsense guy who goes after the players he wants and acts quickly. The team has been connected to starters like David Price , Jeff Samardzija and Chris Sale in trade rumors as well as Matt Garza , a free agent. None of those guys will come cheaply.
Even after sending Tyler Skaggs to the Angels in the Trumbo trade, the D-Backs still have five starters pencilled into next year's rotation: Patrick Corbin , Brandon McCarthy , Trevor Cahill , Wade Miley and Randall Delgado . Towers is rumored to be seeking a high-end starter who can pitch at the front of the rotation, not someone to replace Delgado in the fifth spot.
Arizona has used three of its best trade chips in the last week -- Adam Eaton , David Holmberg and Skaggs -- so landing a top starter via trade will be more difficult than it was earlier this offseason.
L.A. manager Dave Roberts indicated that Puig's benching was related to more than one inci...

Manager Torey Lovullo said so on Monday
Let's see how SportsLine forecasts the race for MLB's 10 playoff spots

Monday kicks off the final week of MLB action. Let's take a look at everything that went d...

No other rookie in baseball history has hit more home runs than Judge has this year