D-Backs GM unsure about job security due to team's terrible start
Diamondbacks GM Kevin Towers said he is unsure about his job security in the wake of the team's terrible start to the season.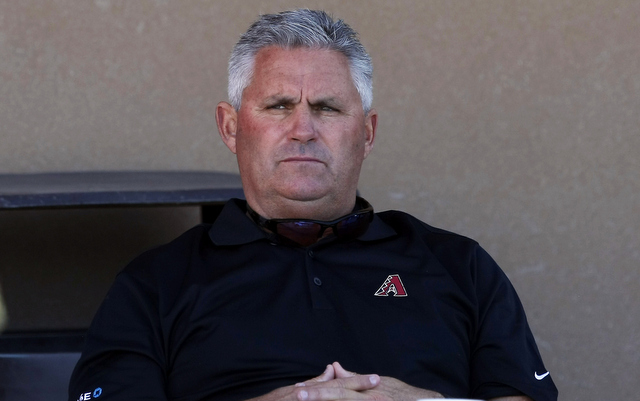 More MLB: Power Rankings | Expert Picks | Latest news & notes | Fantasy news
The Diamondbacks come into Sunday's game with an 11-22 record and a -59 run differential, both the worst marks in baseball. They've been terrible. There's no sugarcoating it.
Managing partner Ken Kendrick and club president Derrick Hall are disappointed in the team's poor start but they've stuck by GM Kevin Towers and manager Kirk Gibson in recent weeks. That doesn't mean Towers feels comfortable about his job security. Here's what he recently told MLB.com's Barry Bloom:
"But they're both very, very disappointed, and rightfully so," Towers said before the D-backs played his former team, the Padres, at Petco Park on Friday night. "When you spend $110 million and you're 9-22 at the end of April, I wouldn't be happy, either. I'm also disappointed, but I still believe in the core group. I think they will get better. Will I be around to see it? I don't know."

...

"To me personally, it's not a tear down," he said. "I'm hoping (Daniel) Hudson comes back. If we had Hudson right now, (Matt) Reynolds, (David) Hernandez and (Patrick) Corbin, we're a better ballclub. But that's a year away. Do we have that year? I don't have that answer. I feel terrible for [Kendrick]. He went out and spent a lot of money on this club and it's not performing. That's a reflection on him and his entire organization, and that hurts. I know how frustrated he is and to me, he wants to win.

"We all thought that with our payroll we had a good chance. And we got off to a horrible start and he's probably scratching his head. 'Do I have the right manager? Do I have the right general manager? Is this really what we have? Is this really who we are?' I guess if he believes that we're terrible and we stink and we're bad, then we're probably in trouble. If he believes it's a blip …"
Both Towers and Gibson signed contract extensions in February, which could give ownership and the rest of the team's brass pause when it comes to making changes. Would they really replace these guys so soon after giving them new contracts? The easy answer is yes, if it's for the benefit of the club, but who really knows if they are ready to make that decision.
Towers is an old school scouting type of GM and that's perfectly fine, but there have been rumblings that the industry has passed him by in recent years. He has been slow to incorporate statistical analysis into his front office in an age when most teams doesn't just have one or two guys crunching numbers, but an entire statistical department. Arizona's lack of defensive shifts is one example of their behind the times approach.
Over the last few seasons, Towers has traded away potential cornerstone pieces in Justin Upton, Jarrod Parker, Tyler Skaggs, Adam Eaton, Matt Davidson, Ian Kennedy, Ryan Cook and Trevor Bauer. That's an awful lot of young talent and the returns have been generally underwhelming. Towers has made his fair share of good trades (Aaron Hill stands out), but there have been some real duds mixed in.
There's no doubt losing Hudson, Hernandez and especially Corbin to season-ending Tommy John surgery were huge blows. Would those three alone turn the worst team in MLB into a contender all by themselves? Unlikely. It's not unreasonable to think the D-Backs will get worse before they get better.
Does the Jackson signing mean the Giants are out on Lorenzo Cain?

Acuna edged out Shohei Ohtani and Vladimir Guerrero Jr.

There's no reason to run over the cases for and against Bonds, so let's have fun instead
The coveted right-hander would certainly be a fit in Milwaukee

We rate the best mustaches from random baseball cards because, why not?

Colon wants to break a Dennis Martinez record