D-Backs looking to sign Goldschmidt long term; what's a fair price?
The Diamondbacks and first baseman Paul Goldschmidt are engaged in ongoing talks about a contract extension. What would be a reasonable deal for both sides?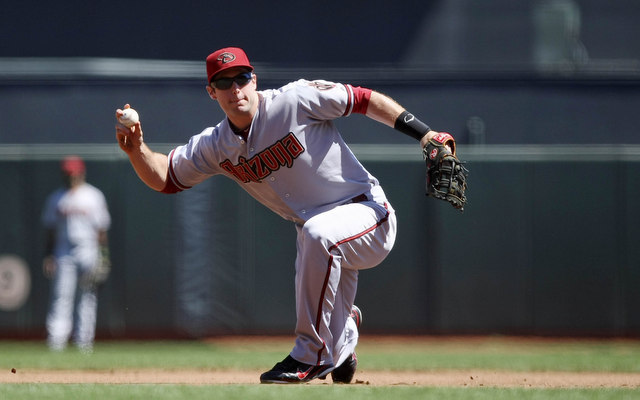 The Diamondbacks and first baseman Paul Goldschmidt are "engaged in ongoing dialogue" about a multi-year contract extension, reports Jon Morosi of Fox Sports. The slugger can not become a free agent until after the 2017 season.
Golschmidt, 25, hit .286/.359/.490 (123 OPS+) with 20 homers and 18 stolen bases in 145 games last season, his first full year as a big leaguer. The stolen base prowess isn't something that is expected to continue, but the power is legitimate. Golschmidt had two 30+ homer seasons during his three years in the minors, and in the other year he went deep 18 times in 74 games.
First base has been treated as a low-priority position in terms of contract extensions in recent years, so Arizona and Goldschmidt's representatives are venturing into uncharted territory. Here are two similar players who signed multi-year extensions in recent years:
First Base Contract Comparison (using Baseball-Reference.com's WAR)
 
Goldschmidt
Allen Craig
Mark Reynolds
Platform Year WAR
3.1
2.2
3.0
Career WAR
3.4
4.5
4.5
Years
?
5
3
Dollars
?
$31M
$14.5M
Option Years?
?
1
1
Two problems here. For starters, Reynolds was a third baseman when he signed his contract, so it's not a perfect comparison. Third basemen are more valuable than first basemen because it's a tougher position to fill. That said, he was a poor defensive third baseman and it was assumed he would eventually move to first. Secondly, both Craig and Reynolds signed their contracts after their second full season in the big leagues, not first. Again, not a perfect comparison.
Since Reynolds signed his extension before the 2010 season, the Craig deal is a better comparison because it's more recent (as in two weeks ago). The Collective Bargaining Agreement has changed and so has teams' ability to spend. Goldschmidt is under team control for five more years, and the Cardinals will pay Craig just short of $20 million for the same chunk of his career. Since he has one fewer year of big league time, Goldschmidt's representatives should probably shoot for $15 million to $18 million total over the next five years. If the team wants to buy out any free-agent years beyond that, they'll cost $10 million+ apiece easy. A five-year deal worth, say, $17.5 million with an eight-figure club option for a sixth year seems reasonable given our admittedly imperfect comparables.
Although Reynolds signed his extension with the D-Backs, the team was run by GM Josh Byrnes at the time, not by current GM Kevin Towers. Towers has signed both Aaron Hill (three years, $35 million) and Martin Prado (four years, $40 million) to new extensions, but both players were one year away from free agency. There was a little more urgency there. Power pays very well through the arbitration process, so Arizona could save millions by signing Goldschmidt now if his career progesses as expected. On the other hand, the player would secure a very nice guaranteed payday early his career and still be in a position to hit the free-agent market at age 30.
For more baseball news, rumors and analysis, follow @EyeOnBaseball on Twitter, subscribe to the RSS feed and "like" us on Facebook. Also, individually interact with us on Twitter: @MattSnyder27, @daynperry and @mikeaxisa.

The Nats will host the All-Star Game in 2018

The Orioles are looking to trade Machado heading into his walk year

The Cardinals have been linked for a while to the Baltimore star
Gallardo spent the first eight years of his career in Milwaukee

MLB revenues are at a record high right now, but teams aren't spending it on players

Chicago added Tyler Chatwood earlier this offseason but might not be done adding to the ro...