D-Backs manager Kirk Gibson has some harsh words for Ryan Braun
Diamondbacks manager Kirk Gibson lashed out at Ryan Braun on Sunday, saying "if he thinks he*s giving back to the game, he has a different idea of how to give back than I do."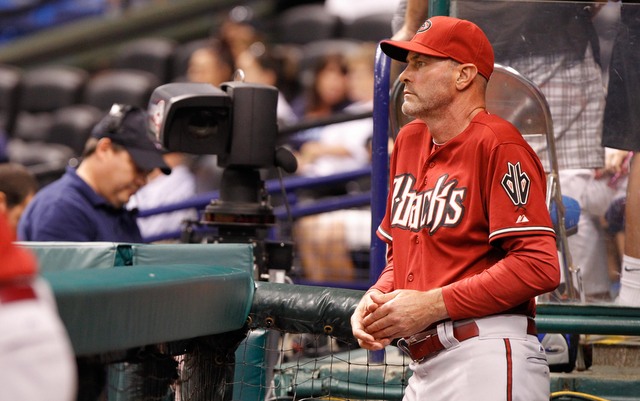 More MLB: Scoreboard | Standings | Probable Pitchers | Sortable Stats | Odds
On Friday, we learned suspended Brewers slugger Ryan Braun plans to soon admit he used performance-enhancing drugs during his MVP season in 2011. He intends to apologize to everyone involved, from commissioner Bud Selig to the fans.
Diamondbacks manager Kirk Gibson, whose team lost to Braun and the rest of the Brewers in the 2011 NLDS, isn't happy with a simple admission and apology. He had some harsh words for the embattled slugger on Sunday afternoon. Here's the quote, courtesy of Nick Piecoro of the Arizona Republic:
"I said this a long time ago: I think that people should have an opportunity to ask him some questions and have him answer them unrehearsed. Something tells me he's getting really prepared for just about anything that they could throw at him.

"I'm not surprised he hasn't addressed people. He probably doesn't give a (expletive) about me. He's got it really good. I was one of the guys who went through many things – work stoppages, etc. – so that he could do that. I would hope that he respects me and everybody who stood up for him before he played the game. Everybody looks at it differently, but if he thinks he's giving back to the game, he has a different idea of how to give back than I do."

(snip)

"Everybody listened to his line of (expletive), so you take him at face value," Gibson said, referring to Braun's press conference in spring training of 2012. "All things considered, we should have won [Game 5 of the 2011 NLDS]. All things considered, the last game, we tied it up and we had a chance to win it. There were other times in my career when I did overcome cheaters. We had our chance."
The D-Backs lost Game 5 by the score of 3-2 in 10 innings. They tied the game in the top of the ninth before Nyjer Morgan slapped a walk-off ground ball single back up the middle. Braun torched Arizona in the five-game set, going 2-for-3 with a walk and a double in the deciding Game 5 and 9-for-18 (.500) with four doubles and a homer in the series.
I have a very hard time buying the idea that one man determines the outcome of an entire playoff series, but Gibson has every right to be angry his team lost to an opponent with a soon-to-be-admitted cheater in the middle of their lineup. Was everyone on the D-Backs clean at the time? Who knows. There are plenty of reasons to be angry at Braun, but the results of the 2011 NLDS shouldn't be one of them.