D-Backs rookie Gregorius hitting rockets, earning raves in the desert
Didi Gregorius, the least known key man in Arizona's widely panned three-team trade, is surprising everyone -- maybe even GM Kevin Towers.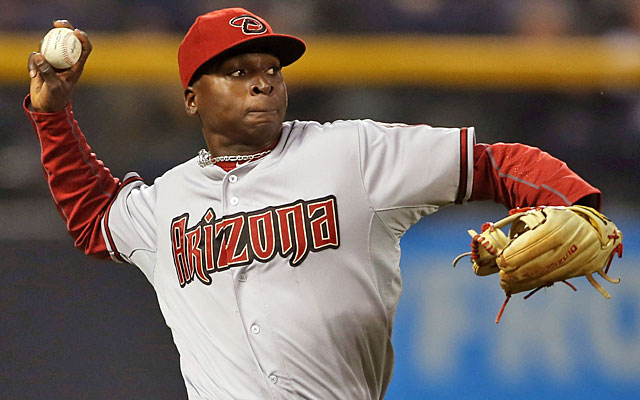 All three ballplaying members of the Gregorius family -- father Johannes, older brother Johnny and little brother Didi -- are commonly called Didi when they are together in Curacao. It can get to be confusing.
"Some people make fun," Didi the younger said with a smile.
No one is laughing now, certainly not at Didi Gregorius (or Didi III, if you prefer).
Gregorius, the Diamondbacks' new wunderkind shortstop, is making a name for himself since beginning play following an injury rehab assignment. That came after a winter trade that was one of the most discussed -- in some quarters maligned -- three-way arrangements in recent memory. In what was technically a nine-player deal, the Reds received star outfielder Shin-Soo Choo, the Indians obtained ballyhooed young right-hander Trevor Bauer and the Diamondbacks took back a talented but largely unknown shortstop.
Mariekson Gregorius (his given name) generally was viewed at the time as a defensively ready shortstop with offensive limitations. Choo was seen by the Reds as perhaps the final piece on their rock-solid roster. Former No. 3 overall pick Bauer was a possible coup for the Indians. Choo was the surest thing, but the hard-throwing Bauer was already famous for his big-time UCLA career, unusual workout routine and set-in-his-way persona. Gregorius definitely was the wild card in the deal, the least-known key man in that trade.
So far, the 23-year-old Gregorius is surprising everyone, maybe even the Diamondbacks a little. Gregorius' arrival came earlier than expected (a Willie Bloomquist injury forced the issue), his defense a little more spectacular than advertised and his bat quite a bit livelier than almost anyone believed. Opponents are impressed. The Diamondbacks are falling in love.
"He is [bleepin'] fantastic," Diamondbacks coach Steve Sax said. "He's a good kid. He works hard. I think he's got a big future. He makes plays other guys can't. And he's got some pop, too."
Gregorius, whose father pitched until fairly recently and 31-year-old pitcher-turned-infielder brother still plays, has two more things you can't teach: flair and timing. His athleticism and arm make him a natural for shortstop. And like countryman Jurickson Profar, he seems to have a knack for being at his best in the biggest moments.
Gregorius homered off Phil Hughes in his first at-bat for the Diamondbacks, at Yankee Stadium no less. In what might not be a coincidence, in his first at-bat back after returning from the seven-day concussion list, Gregorius also homered, this one coming off Edinson Volquez.
Gregorius continues to shock folks with his bat. He's at .348, and not a light .348 either. Don't let the slim physique fool you (he's listed at 6-feet-1 and 185 pounds); Gregorius has 12 extra-base hits and a .948 OPS.
So far, it seems, he's wowing everyone but himself.
"It's not where you start," Didi said. "It's how you finish."
At the very least, the heat is off as far as the reams of negative trade critiques -- not that Diamondbacks general manager Kevin Towers ever worries too much about that. He's the kind of dealer who knows what he wants, goes for it and doesn't listen much to the noise.
"We really didn't care. We turned the page once the deal was done," Towers said. "We had a young, talented player who's under our control for [six] years."
Towers went into the winter determined to acquire a quality young shortstop since Arizona didn't have a sure thing at the upper reaches of the minors (though local product and former first-rounder Chris Owings has 70 quick hits for Triple-A Reno). Towers tried to make deals for Elvis Andrus, Profar and yet another Curacao product, Andrelton Simmons, while also taking a look at Adeiny Hechavarria and Jose Iglesias. But since Towers liked Gregorius more than almost anyone else did, it shouldn't come as a surprise to anyone that he's the one he got.
Diamondbacks manager Kirk Gibson, who has an ability to summarize things succinctly, said, "He's talented. Very talented. We had a need. And we also had depth [among pitchers]."
Towers was that rare GM with a stash of quality early-to-mid 20s arms, like Patrick Corbin (off to a monster start), Trevor Cahill, Tyler Skaggs, David Holmberg and others. Bauer, a quirky personality who had great difficulty meshing in the Diamondbacks clubhouse, started to seem more like a trade chip.
"Towers made a pretty good deal considering their excess of pitching and shortage of impact athletes up the middle," one NL scout said. "[Gregorius] will continue to improve and he's somebody whose total value goes beyond their stat line, like Elvis Andrus and Derek Jeter."
Another rival NL scout provided this quickie report: "Speed player, but the ball jumps off his bat. Good player but needs to get discipline at the plate. One of the good young shortstops in the game."
The Diamondbacks suddenly look like, potentially, the biggest winner in the winter's most intriguing trade.
As for the other teams in the trade, they're OK, too. Bauer is getting along better in Cleveland but still trying to control his fastball (15 walks in 16 innings as he is eased in). The Indians replaced Choo, who they had no chance to re-sign, by adding to their deep outfield with Michael Bourn and Nick Swisher. Meanwhile, Choo has solved the Reds' one major issue at leadoff, and is second in the league in on-base percentage to Joey Votto and third in runs to Votto and Carlos Gonzalez.
That doesn't mean Cincinnati didn't understand they had a gem in Gregorius.
"[Reds GM Walt Jocketty] loved [Gregorius] -- his tools, his makeup, his intellect. It was very painful to give up Didi in the deal," a Reds-connected person said. "But Walt has a club with high expectations and Choo was seen as a difference-maker."
It's quite possible that Choo and the Reds might have been that "perfect marriage."
"As such, those things never come cheaply. It's hard to imagine not having made the deal and having Didi in Triple-A with [Drew] Stubbs in center and rotating people through the leadoff spot."
Gregorius finds himself near the top of the D-Backs' lineup, having already been promoted to No. 2 hitter after starting as Gibson's No. 8 hitter upon his surprise ascension. Injuries to Adam Eaton and Aaron Hill opened this chance for Gregorius, and he's thriving in a key spot for team currently tied atop its division.
"He puts the bat on the ball, he's a pretty good situational hitter and he hangs in there against lefties," Gibson said of the lefty-swinging Gregorius.
Towers was way ahead on this one, thanks to two advantages. Towers saw him play as a Scottsdale Scorpion in the Arizona Fall League where he once created a stir by likening him to Derek Jeter as a young defender. Towers also had the word of David Bell, who managed Gregorius at Triple-A Louisville last year and whose brother Mike Bell is Towers' farm director. Plus, Jerry Krause, the Diamondbacks scout who used to be Bulls GM, was "adamant'' about going for Gregorius at the Winter Meetings. Krause likened Gregorius defensively to a young Ozzie Guillen.
Gregorius fooled others by never hitting more than seven home runs in the minors, and never batting .300. He did hit .300 in a brief stay with the Reds last year, which only highlights his better play against better competition. The majors are an altogether different game, and Towers recognized that many minor-league stars flop when they ascend, but a few good or great major leaguers post mundane minor-league numbers.
Even so, even Towers figured he might be a half-year away offensively, a projection that was overlooked out of necessity. Once Bloomquist went down and Gregorius' early season rehab for a balky elbow was complete, he was in the majors. "I was a little bit surprised," Gregorius said of his quick callup.
He first joined the team in New York -- to the surprise of many, not just him. D-Backs veteran Eric Chavez said no one knew what to expect of Gregorius as a shortstop since he didn't play a game there this spring due to the elbow injury. But now that he has watched him for a month, Chavez said, "I haven't seen a flaw."
They all rave about the range and arm, and but what they love most is a "makeup that's off the charts," Towers said.
He works daily with Diamondbacks coach Alan Trammell, a borderline Hall of Fame shortstop who teaches him abut the finer points of shortstop play.
"He grasps things real quick,'' said Towers.
Well, yes, Gregorius, speaks four languages -- English, Spanish, Dutch and his native Papiamento.
Trammell is there for him whenever Gregorius makes an error of youth -- like recently, in Miami, trying to take second base when he mistakenly assumed a ball had been thrown away before first baseman Nick Green scooped it up and threw him out at second. Trammell mostly works with Gregorius on the nuances of shortstop play, like catching double-play throws higher so the ball is nearer the throwing arm.
Gregorius is still flying under the radar, to no one's surprise since he plays in the relative anonymity of the desert. But before the year is up, he should be mentioned with other great shortstops and shortstop prospects, like his Curacao countrymen Simmons and Profar, who just got called up but has had an infinitely bigger buildup.
"To me he doesn't have to take a back seat to any of them," Trammell said of Gregorius. "It's early. But this kid can play."
Does the Jackson signing mean the Giants are out on Lorenzo Cain?

Acuna edged out Shohei Ohtani and Vladimir Guerrero Jr.

There's no reason to run over the cases for and against Bonds, so let's have fun instead
The coveted right-hander would certainly be a fit in Milwaukee

We rate the best mustaches from random baseball cards because, why not?

Colon wants to break a Dennis Martinez record