D-Backs' Upton back on trade market, this time he could go ... really
The Diamondbacks are said to be in talks with teams already.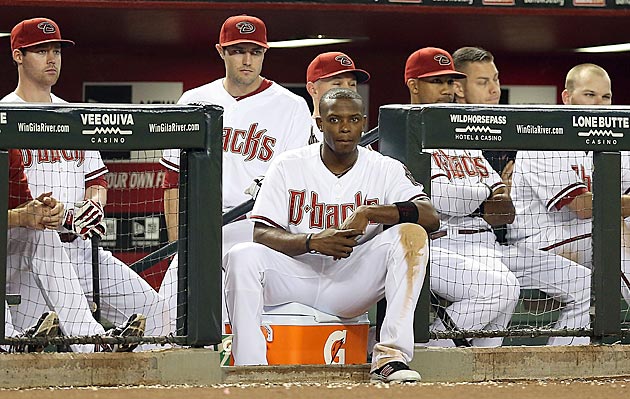 How much longer will Justin Upton be sitting in Phoenix? Perhaps not that long. (Getty Images)
INDIAN WELLS, Calif. -- Justin Upton's on the block again, and this time it looks like the Diamondbacks mean business.
People familiar with the situation say they believe this time Upton will likely be dealt. There is a lot of buzz here about a possible deal happening.
There are several very good free-agent outfielders, such as Josh Hamilton, Michael Bourn, Justin's brother B.J. Upton, Torii Hunter and Cody Ross, but a Justin Upton trade could be the first domino in a strong market.
The Diamondbacks are most interested in a shortstop, a third baseman and pitching.
The Red Sox, Phillies, Yankees, Rangers, Tigers and Pirates are among many teams looking for outfielders.Some, including the Yankees, may not be stocked with the right young players, to make an Upton deal.
Texas matches up well since they have two great young shortstops, but the Rangers seem dead-set against trading Jurickson Profar and pretty reluctant to deal Elvis Andrus, as well.
The Rays have been mentioned as a team for B.J. Upton's brother, as well, but Upton's contract ($38 million total over the next three years) sems steep for them.
Much has been made of Upton's four-team no-trade list, but it is believed the latest list is comprised of teams he felt were likeliest to make a trade for him, so under the right circumstances he's likely to sign off on a deal to any of those teams.
Diamondbacks GM Kevin Towers suggested there's already plenty of action on Upton, even from a team or two on the no-trade list. He said he didn't see that as an issue, as Chris Young was dealt to the A's despite a no-trade there.
The Diamondbacks are most interested in a shortstop, a third baseman and pitching.
"We have some outfield depth," Towers said in explanation for why Upton was being talked about again.
Towers called the stops and starts on Upton trade talk "part of the business.''
Towers makes it policy that he's willing to consider anything, and anyone. That might also go for their top young pitching.