Dan Haren should stick with adjustments despite Monday's loss
Dan Haren expressed frustration with the results after adjusting his pitching style on Monday, but he should stick with the adjustments going forward.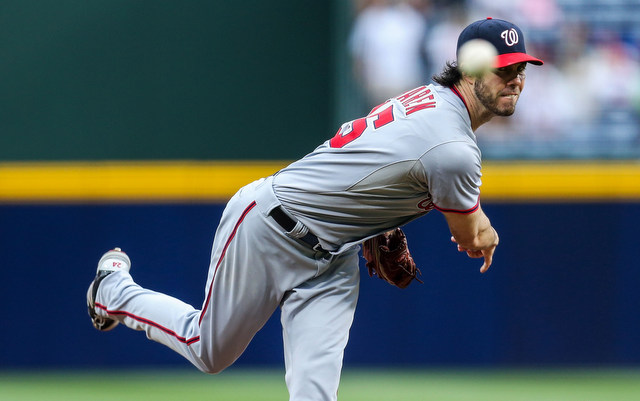 More MLB: Scoreboard | Standings | Probable Pitchers | Sortable Stats | Odds
It wasn't long ago that Dan Haren was one of baseball's premier workhorses. He went 16-10 with a 3.17 ERA in 238 1/3 innings for the Angels in 2011, his seventh consecutive season of 200-plus innings. The righty pitched to a 3.49 ERA during those seven years.
Last season, Haren hit the DL for the first time in his career thanks to a stiff back. He went 12-13 with a 4.33 ERA for the Angels, his worst performance as a full-time big leaguer. He also failed to crack that 200-inning plateau for the first time since 2004, when he made only five starts and nine relief appearances for the Cardinals.
The Nationals gambled on Haren's back in the offseason and trusted he could return to his previous form by signing him to a one-year contract worth $13 million. The deal was widely billed as brilliant given his track record and the low-risk nature of a one-year contract, even at that salary.
Instead of transforming back into the guy he was with the Athletics and Diamondbacks, the 32-year-old Haren is having a nightmare season and playing a big role in Washington's disappointing sub-.500 campaign. Through 14 starts, he has gone 4-8 with a 5.72 ERA while allowing a league-leading 18 home runs.
The Phillies roughed Haren up for four runs in six innings on Monday night, the Nationals' seventh consecutive loss with the three-time All-Star on the mound. Afterwards, Haren told Mark Zuckerman of Nats Insider he changed his approach in an effort to turn his season around and help his team get back into the win column.
Perhaps most notable about last night's start: Haren felt he needed to try a different approach, one that doesn't mirror his typical pitching style.

Recognizing that opposing hitters have been making solid contact off him all season, the usually control-minded right-hander decided to pitch more to the corners of the strike zone than over the plate. The end result: A season-high three walks from a guy who even as he's struggled this year still had kept the free passes to his typical minimum.

(snip)

"My game isn't walking guys," he said. "My game isn't nibbling around the zone. My game is attacking hitters. The runs have been somewhat of a premium. ... I can't buy a break, and I've obviously made my share of mistakes. Just not a good combination."
Haren did sort of throw his offense under the bus there -- they've scored three or fewer runs five times in his last seven starts and never once more than four runs -- but that's another matter entirely.
During his heyday from 2005-11, Haren walked only 1.8 batters per nine innings, or 4.9 percent of batters faced. The league average during that time was 3.29 BB/9 and 8.5 BB%, for comparison. Shooting for the corners and walking guys isn't his game, and he was clearly frustrated by it Monday night.
Of course, times have changed and so has Haren. He was never a hard-thrower to begin with, but he no longer sits in the low-90s with his fastball. He's now more of a mid-to-upper-80s guy, which can be very problematic for someone who throws various fastballs -- four-seamers, two-seamers, cutters and splitters -- a combined 96.5 percent of the time according to PitchFX.
The reduced velocity could be (and likely is) the result of many factors. Age, nearly 2,000 career innings, the back injury, all of that and more. I'm sure Haren takes a great deal of pride in limiting walks and attacking hitters, but he's reached the point where he needs to make some adjustments to remain an effective pitcher. Man wasn't meant to survive with 80-something mph fastballs over the plate. Yesterday's results were not positive, but Haren shouldn't give up on working the corners just yet. Adjustments take time.
This would undoubtedly be the worst trade in Miami Marlins history

The Pirates recently shipped Gerrit Cole and Andrew McCutchen to Houston and San Francisco,...

Surely, Martinez and his agent are holding out for more
The reliever had a very good 2017 season with the NL Central champs

We don't need to discuss Chipper's Hall of Fame case, so let's have fun instead

Dioner Navarro still hopes to return someday