Daniel Hudson's Topps card uses picture of day he tore his UCL
Diamondbacks starter Daniel Hudson needed Tommy John surgery after tearing the UCL in his throwing elbow last season. He tore it in an outing against the Braves. And Topps baseball cards used the picture of Hudson reacting to blowing out his elbow on his card.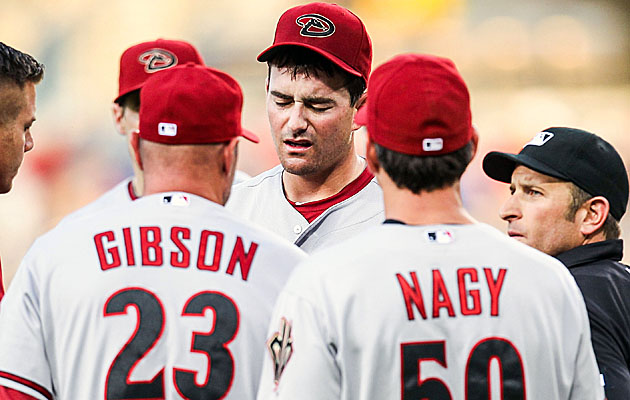 Diamondbacks starting pitcher Daniel Hudson tore his ulnar collateral ligament last June, which required Tommy John surgery to repair. I'll never forget it because in watching the broadcast it could clearly be seen that Hudson said, "My elbow is f------ done."
Now, the moment has been commemorated on a baseball card. Check out Hudson pointing out as much on Twitter:
Thank @toppscards for using a close up of me right after my elbow blew out! Card will be around forever as areminder! twitter.com/DHuddy41/statu…

— Daniel Hudson (@DHuddy41) March 24, 2013
Hudson, 26, went 16-12 with a 3.49 ERA and 1.20 WHIP in 222 innings in 2011. Injuries marred last season -- he had a shoulder injury earlier before the UCL issue -- and he was 3-2 with a 7.35 ERA in just nine starts.
Hat-tip: Big League Stew
There's now a crowded outfield in San Diego

The former Braves star served as a race official for the Daytona 500

He'd be a good fit in the Bronx, but can they make it work and still stay under the luxury...
The slugger had shoulder surgery in November

Tebow reported to spring training with Mets position players on Sunday

Santa Clara senior Jake Brodt did the honors Saturday