Daniel Murphy makes journey from no position to solid second baseman
Daniel Murphy of the Mets was once a poor defensive left fielder, but hard work has turned him into one of baseball's top second basemen.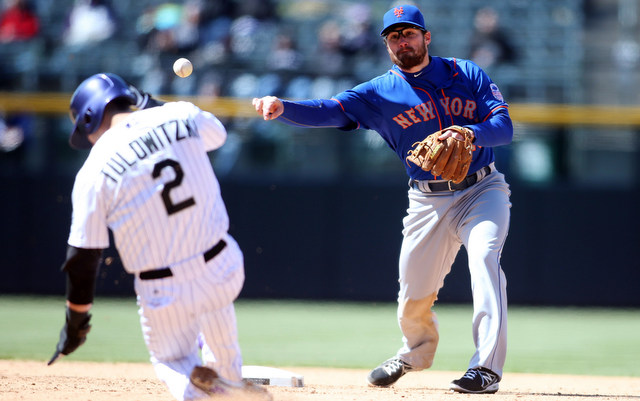 More MLB: Scoreboard | Standings | Probable Pitchers | Sortable Stats | Odds
NEW YORK -- For the second time in as many games, Mets second baseman Daniel Murphy came through with a big hit against the Yankees on Tuesday night. On Monday, it was the go-ahead, game-winning single off David Robertson in the eighth inning. On Tuesday it was the leadoff ground-rule double off Mariano Rivera to ignite his team's walk-off win.
Murphy, who turned 28 in April, has emerged as an above-average offensive player these last three seasons. Since the start of 2011, he's hitting .303/.343/.428 (114 OPS+) in more than 1,200 plate appearances, including a .304/.338/.461 (124 OPS+) line in 204 plate appearances this year. He's on pace for 53 doubles and 11 home runs in 2013. What wasn't always clear with Murphy was his defense, specifically his position.
He came up through the minor leagues as a third baseman. But sorry, kid: David Wright has that spot locked down for the foreseeable future. The Mets tried Murphy in left field early in his career, but that was an unmitigated disaster to put it kindly. It wasn't until Jose Reyes left as a free agent that the Mets decided to make him a second baseman (with Ruben Tejada sliding over to short). Limited mobility stemming from a pair of knee injuries -- MCL sprains in both 2010 and 2011 -- was an obvious concern.
"I've seen him play third, I've seen him play first, and I knew he had good enough hands for it," said Mets manager Terry Collins at Citi Field on Tuesday when asked about the decision to move Murphy to second base. "The fact that he had injured his knee -- I was concerned about the range factor. Was that brace going to hinder him going right to left?"
With help from third base coach/infield coach Tim Teufel -- Murphy also credits utility infielder Justin Turner for relaying some advice -- and countless extra hours on the back fields during spring training, Murphy went to work transitioning from third base and left field to second base last spring.
The initial results were just OK. Probably worse. Murphy made 15 errors in 156 games at second base in 2012, 10 fielding balls and five on throws. Defense metrics like UZR and DRS rated him very poorly, saying he cost his team north of 10 runs with the glove.
Fielding stats are notoriously fickle, especially in one-year samples, but Murphy himself said, "I don't think I could've gotten much worse" in the field last year.
"When he showed me last year [the knee] wasn't going to be a factor, the next thing that stepped in was 'How's he going to be around the bag?' Cause that's how he hurt his knee the second time," Collins added. "What he has done is absolutely worked very, very hard on the pivot, getting rid of the ball, giving them different looks -- some he goes across the bag; some he goes behind the bag -- so that there's no real clean shot at him. He's also learned [that] once he releases the ball, to get off the ground. So no matter who hits him, he's just going to fall. It's not about driving your leg in if you have your feet on the ground. He's adjusted to all those phases extremely well."
So far this year, Murphy's defensive progress at second has been noticeable. He has yet to make an error in 2013, and both UZR and DRS rate him a tick above-average in the field. Teufel credits Murphy's athleticism for easing the transition to the middle infield. Collins credits his work ethic.
"If you know the guy, he's a workaholic," Collins said when asked if Murphy has surpassed expectations at second base. "I mean, he's going to be as good as he can possibly be. So, I think everybody is impressed [and] say, 'This guy can play second base.' It's no longer an experiment.
"He is a good second baseman. That's a credit to the way he's gone about his job. But what we expected, we weren't sure. [We knew] he could catch it; now, could he go get it? He's done that. Now, can he handle around the bag? He's done that. So I think he certainly has exceed our expectations from where we started."
Make no mistake, Murphy will always be an offense-first player. He makes an awful lot of contact and hits for average in addition to poking balls into the gaps for doubles and occasionally over the fence. That will be his primary contribution to the Mets going forward.
However, instead of being a positionless bat-only player in a non-DH league, Murphy has worked hard to turn himself into a playable second baseman. At some point soon, he might be much more. Murphy has surpassed his team's expectations and has quietly become one of the most productive all-around second basemen in baseball.
Gardenhire is familiar with the American League Central

"Homer at the Bat" is being memorialized by its own show in a unique way this weekend

It's Clayton Kershaw against Jose Quintana at Wrigley Field in Chicago
Five months is mid-to-late March, so this could impact the 2018 season

Cubs manager Maddon becomes the first manager ever ejected twice in one postseason series

Closer Wade Davis pitched two innings in Game 4 to help force a Game 5