Daniel Murphy's costly error up there with Bill Buckner's in '86
Murphy's boot of Eric Hosmer's grounder is not only a reminder of Buckner's infamous error during Game 6 in '86, but it was just about as costly in cold, hard numbers.
The two costliest errors in World Series history involve the Mets. The biggest and most infamous is the Mookie Wilson grounder that went through Bill Buckner's legs in the 10th inning of Game 6 in 1986. It scored Ray Knight to cost the Red Sox the deciding run, and it created a 40 percent swing in win probability added.
What goes around came back around 29 years later Saturday night, when Murphy booted a slow roller to second with one out in the eighth inning of Game 4, allowing Ben Zobrist to score the tying run. The Royals' 5-3 victory put the Mets down 3-1 in the best-of-seven 2015 World Series. Murphy's error caused a 35 percent swing in win probability added.
They're literally the two biggest errors in World Series history by this measure:
Most costly errors in World Series history, by Win Probability Added: 1. 1986, B. Buckner, -40% 2. 2015, D. Murphy, -35%

— August Fagerstrom (@AugustFG_) November 1, 2015
Check out video of the Murphy miscue:
And now the Buckner. It's Vin Scully on the call:
"Behind the bag! It gets through Buckner! Here comes Knight and the Mets win it!
Great call. The play from '86 not only has five more percent impact because of its timing, but it also had the circuses of happening with the Mets one strike away from elimination. So, in some ways, it'll always overshadow the Murphy play. But in terms of actual cost, Murphy's error was darned close. Not something Mets fans will remember with the same reverence.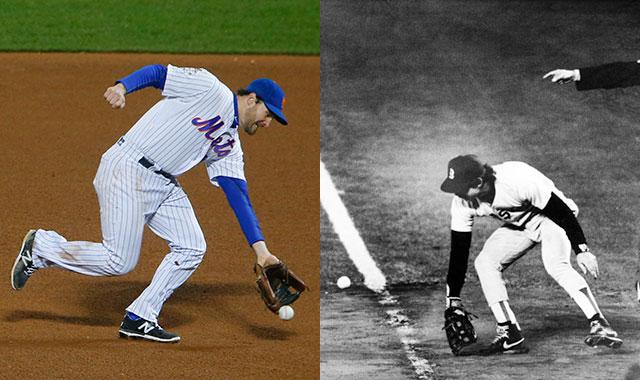 CBS Sports HQ Daily Newsletter
Get the best highlights and stories - yeah, just the good stuff handpicked by our team to start your day.
Please check the opt-in box to acknowledge that you would like to subscribe.
Thanks for signing up!
Keep an eye on your inbox for the latest sports news.
Sorry!
There was an error processing your subscription.
Keep up with all the latest trade rumors around Major League Baseball

The Dodgers and Orioles have reportedly pulled off the first blockbuster of the trading se...

The Orioles received five prospects in exchange for their franchise player
The Dodgers and Orioles pulled off a blockbuster on Wednesday, and these two Dodgers are pretty...

Which prospects might contenders deal away in the coming days? Let's have a look

From Zach Britton to Jonathan Schoop, we examine all the Orioles' trade options