Danks remains a Yankee option in tough starters market for them
John Danks would aid the Yankees' rotation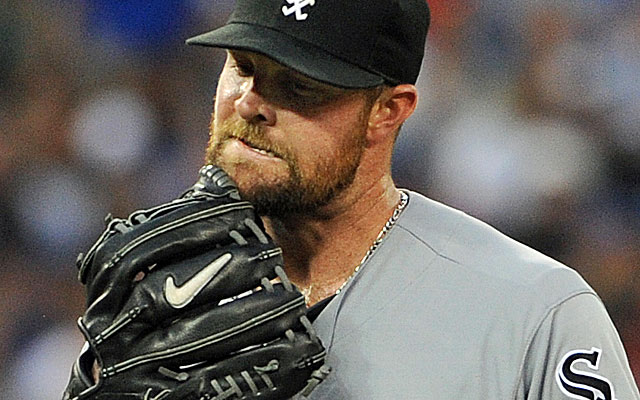 More MLB: Power Rankings | Expert Picks | Heyman: Trade deadline news
The Yankees are still looking at White Sox left-hander John Danks as a trade possibility in what appears to be a diminishing starters market for them.
Danks may be among the most likely rotation candidates for the Yankees, if not the most likely, as there's no evidence they're even talking to the Padres about Ian Kennedy. And several other available pitchers aren't possibilities for them. The Yankees, who've lost four of their original five starters to injury, already added right-hander Brandon McCarthy, who looks like a superb pickup so far; however, a second rotation piece won't be easy.
The rival Red Sox are said to listening on ace Jon Lester and others now, but he's more likely a winter free-agent consideration for them than a trade possibility for New York.
While Cliff Lee could become an option later if he pitches some better games in his return after a two-month absence with an elbow issue, the Yankees aren't focused on him now since he's all but sure to clear waivers in August and remain a trade candidate.
Lee's teammate Cole Hamels seems barely available, and even if he is, the Yankees probably don't have the upper-level prospects to do such a deal.
As for the third Philly starter, A.J. Burnett, the Yankees seem less than enthused about a reunion.
Meantime, the Diamondbacks, a sometime trading partner of the Yankees, don't seem interested in trading Wade Miley, a young, cost-efficient starter. Bartolo Colon, Kevin Correia and Edwin Jackson are some other available starters. The Mets and Yankees don't often trade, so Colon seems improbable, while the Yankees don't seem interested in Jackson, despite some speculation tying him to them.
Danks is 9-6 with a 4.40 ERA and the $34 million remaining over the next three years isn't unreasonable in light of that production. Some scouts note a slightly lowered velocity average, though.
They still would much rather grab the AL East, however

Sale becomes the first AL pitcher to reach 300 strikeouts since 1999

Steve Balboni's long-standing record of 36 has finally fallen
Several players called for the netting to be extended down the base lines following Wednesday's...

Maria made landfall as a Category 4 on Wednesday

The players are trying to do their job and don't want to see anyone hurt