Darvish takes fourth 1-0 loss of year
Yu Darvish has become the ninth player in baseball history to lose at least four 1-0 games in baseball history.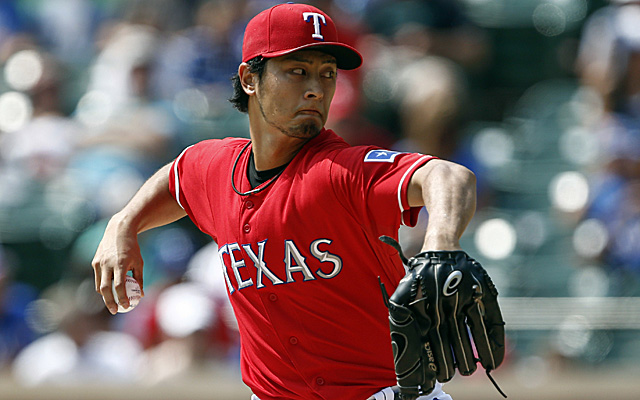 More MLB: Scoreboard | Standings | Probable Pitchers | Sortable Stats | Odds
Earlier this week, I wrote about Rangers ace -- yes, he's an ace -- Yu Darvish and his 1-0 losses. I guess I should have waited, because he just took another one. After Saturday's 1-0 loss to the Athletics, Darvish now joins a rather exclusive group of starting pitchers in baseball history.
Here's the updated list of pitchers who have lost at least four 1-0 contests in a single regular season (since 1916, as data prior to that isn't available on baseball-reference.com's excellent play index):
1. Roger Craig, five, 1963
1. Jim Bunning, five, 1967
1. Fergie Jenkins, five, 1968
2. Walter Johnson, four, 1916
2. Lee Meadows, four, 1916
2. Billy Pierce, four, 1955
2. Don Drysdale, four, 1964
2. Orel Hershisher, four, 1989
2. Darvish, four, 2013
That's it. Only nine times in baseball history has a starting pitcher taken at least four 1-0 losses on the chin as Darvish has this season. So his record is now 12-9, but shouldn't we be looking deeper than that?
Darvish sports a nice rate-stat line -- 2.79 ERA, 1.03 WHIP, 3.82 K/BB -- and leads the majors with 256 strikeouts in 193 2/3 innings. He's headed for a top three finish in Cy Young voting and rightfully so, but that pesky record sits at just 12-9 -- thanks in part to these four 1-0 losses.
Some more interesting nuggets:
•The only other Rangers pitcher with at least four 1-0 losses in his entire Rangers career is Jenkins (5).
•Darvish becomes the first pitcher since 2004 (Randy Johnson) to lose four double-digit strikeout games in a season.
•This is the first time in Darvish's professional career -- including when he played in Nippon Professional Baseball (Japan) -- that he's lost four consecutive starts.
Sale becomes the first AL pitcher to reach 300 strikeouts since 1999

Steve Balboni's long-standing record of 36 has finally fallen

Several players called for the netting to be extended down the base lines following Wednesday's...
Maria made landfall as a Category 4 on Wednesday

The players are trying to do their job and don't want to see anyone hurt

The child is receiving medical attention at an area hospital, the Yankees said in a statem...