David Ortiz becomes the all-time hit king at DH; is he a Hall of Famer?
Red Sox slugger David Ortiz became the all-time hit king at the DH position on Wednesday night, but is he Cooperstown-bound?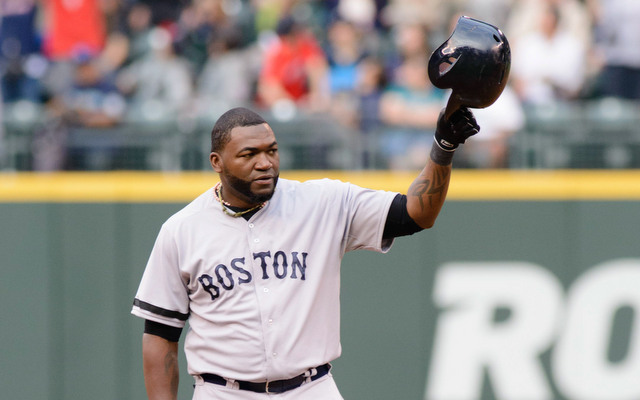 More MLB: Scoreboard | Standings | Probable Pitchers | Sortable Stats | Odds
With a second-inning double to left off Aaron Harang of the Mariners, Red Sox slugger David Ortiz became the all-time leader in hits by a DH on Wednesday night. His 1,689th hit at the position moved him past Harold Baines.
Ortiz, 37, came into the game with 1,951 career hits. Eleven of those have come as a pinch-hitter and the other 252 as a first baseman. Ortiz, who started his career in the Mariners' organization before being traded to the Twins (1996) and non-tendered by Minnesota (2002), has 1,559 of his 1,952 career hits with the Red Sox.
In parts of 17 big-league seasons, Ortiz is a .287/.381/.550 career hitter with 419 home runs. That works out to a 139 OPS+, which is tied for the 80th best in baseball history. Among players who have gotten more than half of their career plate appearances as a DH (min. 2,000), it ranks third all-time behind Frank Thomas (156) and Edgar Martinez (147). Is that enough to get Big Papi into the Hall of Fame?
It certainly puts him in the conversation, if nothing else. Putting aside all of the performance-enhancing drug rumors, Ortiz's case for Cooperstown will be built on four factors:
Career performance. Duh, this one's obvious. The particulars are above.
Peak performance. From 2003-07, Ortiz hit .302/.402/.612 (156 OPS+) with 208 home runs. That's the third best OPS+, third most homers, third best SLG and ninth best OBP in baseball during that time. Only Barry Bonds was a more productive from the left side of the plate during those five years.
Hardware. Ortiz has never won an MVP Award, but he has five top-five finishes in the voting, all from 2003-07. He finished second in 2005. He also has nine All-Star Game appearances and five Silver Sluggers.
Intangibles. People love Ortiz, which works in his favor. He has been the face of a historic franchise for the better part of a decade, he has a clutch/big-game reputation, and he helped break the Curse of the Bambino. Stuff like that matters.
Thomas has yet to appear on a Hall of Fame ballot, leaving Baines and Martinez as the gold standard at DH among Cooperstown-eligible players. Baines appeared on the ballot just five times, never receiving more than 6.1 percent of the vote. Martinez has been on the ballot for four years and counting, receiving between 32.9-36.5 percent of the vote each time. If he makes it, it's unlikely to happen anytime soon.
Voters have already shown a bias against DHs, mostly because many still don't consider it an actual position. It's similar to relief pitchers, who are getting more and more Hall of Fame love these days. Ortiz probably needs another good year or two to pad his resume a bit, but what he has going for him more than anything is time. If he retires when his contract expires after next season, that means he's still seven years away from appearing on the Hall of Fame ballot. Perhaps by then the perception will change and the Baseball Writers Association of America will be more open to including a DH. Until then, Ortiz is probably on the outside looking in.
Stanton warned Marlins fans about the lean years that are forthcoming

The World Series champions aren't complacent

Stanton swiped at his old team on his way out
Your one-stop shop for all things MLB Winter Meetings-related

Matt Harvey could be on his way out of New York

The Nationals are looking to improve on the edges of their roster