David Ortiz 'didn't like' that Ryan Dempster threw at Alex Rodriguez
Not everyone was happy with Ryan Dempster after he threw at Alex Rodriguez on Sunday. Red Sox teammate David Ortiz wasn't a fan of the move.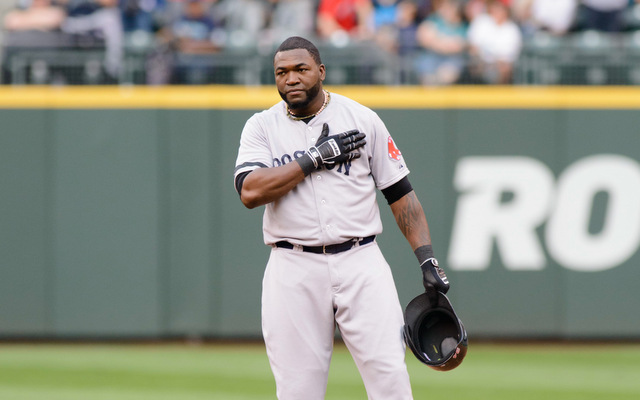 More MLB: Scoreboard | Standings | Probable Pitchers | Sortable Stats | Odds
Red Sox right-hander Ryan Dempster took baseball law into his own hands on Sunday night by throwing at (and hitting) Yankees third baseman Alex Rodriguez. Dempster was disciplined by MLB with what amounts to a slap on the wrist: a five-game suspension and $2,500 fine.
Naturally, quite a few people -- fans, mostly -- came out and defended Dempster's actions even though he was clearly in the wrong. One person who was not happy about it was his teammate David Ortiz, and not only because he's a prime target for retaliation at some point in the future. Here's what Big Papi told USA Today's Jorge L. Ortiz:
"I didn't like it. I don't think it was the right thing to do,'' Ortiz told USA TODAY Sports. "But we don't all think alike, and the guy who did it, Dempster, is a great guy. It's not that I didn't think it was right because Alex and I are friends, because once you cross the white lines, everyone's on their own.

"But we've got Tampa right on our heels, and that pitch woke up a monster in the Yankees' team at that moment. You saw how the game ended up. CC (Sabathia) was throwing 91 (mph) and started throwing 96. Alex later hit one way out there. You're talking about a good team that you can't wake up. But we learn from our mistakes.''
The Yankees came back to win Sunday's game and haven't lost since. The Red Sox, meanwhile, have seen their lead in the AL East trimmed to one game over the Rays. Is that all because of the plunking? Of course not, but it goes to show how little margin for error Boston has at the moment.
Jason Heyward of the Braves had his jaw broken by a pitch on Wednesday and will miss 4-6 weeks. A-Rod's teammate and third base replacement for most of the season Jayson Nix had his hand broken on Wednesday by an errant pitch, likely ending his year. Neither plunking was intentional, but it goes to show just how dangerous throwing at someone can be. It's not okay.
Maybe Ortiz was defending A-Rod because the two are long-time friends. Maybe he just doesn't like thinking the Yankees are going to hit him at some point as payback. Maybe he doesn't like one of his teammates acting on a selfish, personal vendetta against another player and potentially hurting the club in the process. Whatever it is, a well-respected player like Ortiz coming out and saying what Dempster did was wrong tells you all you need to know about how foolish throwing at Rodriguez was in the first place. No one appointed him judge, jury and executioner.
The Nats will host the All-Star Game in 2018

The Orioles are looking to trade Machado heading into his walk year

The Cardinals have been linked for a while to the Baltimore star
Gallardo spent the first eight years of his career in Milwaukee

MLB revenues are at a record high right now, but teams aren't spending it on players

Chicago added Tyler Chatwood earlier this offseason but might not be done adding to the ro...