David Ortiz: 'Hopefully I won't have to wear another uniform'
Boston's David Ortiz wants a multiyear contract, and to that end he has floated the idea of playing elsewhere.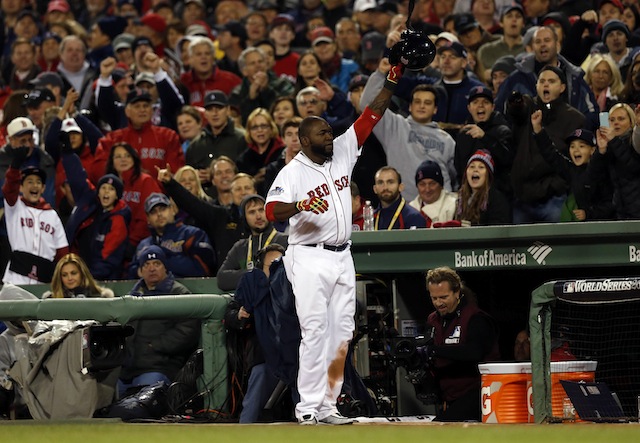 MORE: FA tracker: position players | FA tracker: pitchers
Red Sox DH/warrior-poet David Ortiz is the final year of a two-year, $30 million contract, and as such he's angling for a new pact. The rub is that Ortiz, even at age 38, wants a multiyear deal. Will the Sox oblige? That of course remains to be seen, but Big Papi is raising the stakes by suggesting that, yes, if not given the security he seeks, then he would be willing to play elsewhere. 
Here are Ortiz's recent comments to CBS Boston:
"As long as they keep offering me a job and I keep doing what I'm supposed to do and the relationship keeps on building up, I'm going to be there. Hopefully, I won't have to go and wear another uniform."

...

But if the Red Sox do not offer him a multiyear deal, or it's not up to Ortiz's standards, the slugger said it would be "time to move on."

"If I have to, I've got no choice," he said. "I'm not going to quit. As long as I keep hitting the ball the way I have, I've got to keep on giving it a try."
At this early hour, the above can probably be dismissed as "negotiating from afar," but it's not inconceivable that Ortiz and the Red Sox might have differing views of his value at this stage. There's no doubt that Ortiz can still rake -- he's coming off a 2013 season in which he batted .309/.395/.565 with 70 extra-base hits in 138 games -- but skills retention is not to be assumed at his age. 
Regardless of whether or not Ortiz goes elsewhere after the 2014 season, his standing as a franchise icon is secure. Still, it would be quite odd to see Ortiz in something other than a Red Sox uni for the first time since 2002. 
Then again, three trades in four days might be behind Jerry Dipoto's usual pace

Ohtani is arguably the best hitter and pitcher in Japan

The O's need rotation help, and Cobb is available for hire
The Red Sox and Cardinals are expected to make trade offers next

The free agent first baseman may be a fit in St. Louis

The front office changes in Atlanta continue