David Ortiz now says he wants one-year deal from Red Sox
Red Sox DH David Ortiz is softening his earlier contract stance.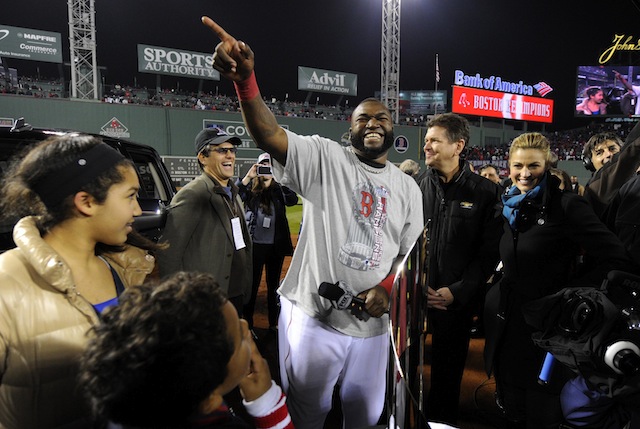 MORE: FA tracker: position players | FA tracker: pitchers 
You'll recall that Red Sox DH/warrior-poet David Ortiz recently suggested he wanted a multiyear contract from Boston and, absent that, was prepared to play elsewhere once his current deal expires at the end of the upcoming season. Now, though, Big Papi seems to have revised his stance quite a bit and says things are just fine on the contract front. Here's Ortiz's money quote from WEEI: 
"We're good. We're good. We talked, they're talking and I just asked for one year. I didn't ask for anything crazy. It wasn't like I asked for a five-year deal. It's a one-year extension I asked for. I've got a contract for this year. I was asking for a one-year extension for next year. I think, like I say, I think we had a great season last year and I'm walking into free agency after this season. We had a conversation, they're outlining what they plan on doing and they're going to come back to me with their answer at some point. … Everything is going well. We had a great conversation. They are happy about what we talked about. I don't even know why people are spreading bad rumors."
So all is well with the reigning champs and their spiritual leader. 
Ortiz, the 2013 World Series MVP, is coming off a season in which he batted .309/.395/.565 with 70 extra-base hits in 138 games. That's self-evidently a very high level of production, but at age 38 Ortiz could enter his decline phase at any moment. Given that, it's no surprise that the Sox would prefer a year-to-year arrangement, even with a franchise icon.