David Ortiz rips David Price after beanball, calls him 'a little girl'
David Ortiz tore into David Price following Friday's win, calling him "a little girl" for intentionally hitting him with a pitch.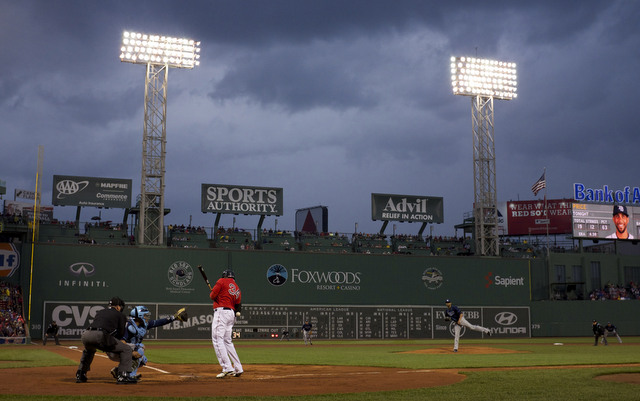 More MLB: Power Rankings | Expert Picks | Latest news & notes | Fantasy news
The Rays-Red Sox rivalry kicked up another notch on Friday night, when David Price plunked two Boston players and Brandon Workman responded by throwing behind Evan Longoria's head. There were four ejections, including three Red Sox managers/coaches.
Price hit David Ortiz with a pitch in a very first inning, a beanball that was clearly intentional. Whether it was in response to last week's fracas over Yunel Escobar's stolen base or Big Papi admiring a home run he hit off Price in last year's ALDS is up for debate. Either way, Price took aim at Ortiz and didn't miss his target.
Understandably, Ortiz was not happy about being hit and he ripped Price after the game. Here's what he said, courtesy of CSNNE.com:
"You can't be acting like a little girl out there," said Ortiz. "You're not going to win every time. When you give it up, that's an experience for the next time. If you're going act like a little [expletive] when you give it up, bounce back and put your teammates in jeopardy, that's going to cost you."

Ortiz made it clear that the actions belong to Price and Price alone. 

"He knew he screwed up,'' said Ortiz. "He did that on his own. No manager sent him. No player was comfortable with the situation. He did that on his own. Which is (expletive). He can get somebody else hurt. You can't be doing that (stuff).''

"It's on. Next time [Price] better bring the gloves. I have no respect for him no more.''
So yeah, Ortiz was not pleased at all.
Price did not respond to the comments right away and he simply played the whole "the pitch got away from me" game when asked about hitting two Red Sox players. He did speak up on Saturday, however. Here's what Price told Ken Rosenthal of Fox Sports:
"For as many people as I quote-unquote lost respect from, I gained respect from a lot more. I know that's a fact. Nobody's bigger than the game of baseball. You ask pitchers from 10-15-20 years ago. That's normal. Part of the game.

"He was mad. I get it. You say stupid stuff when you're mad. I'm sure he probably wishes he didn't say some of things he said. You can't equate the game we play to a war. Kellen Winslow said he's a soldier. No, he's not. This is not a war ... not a good comparison."
There has been bad blood between these two clubs for years, dating back to the Pedro Martinez-Gerald Williams brawl back during the 2000 season. There was also the James Shields-Coco Crisp brawl in 2008. Needless to say, this feud is far from over.
They still would much rather grab the AL East, however

Sale becomes the first AL pitcher to reach 300 strikeouts since 1999

Steve Balboni's long-standing record of 36 has finally fallen
Several players called for the netting to be extended down the base lines following Wednesday's...

Maria made landfall as a Category 4 on Wednesday

The players are trying to do their job and don't want to see anyone hurt