David Price fined, not suspended for plunking David Ortiz
Dave Price was fined but not suspended for hitting David Price with a pitch last week.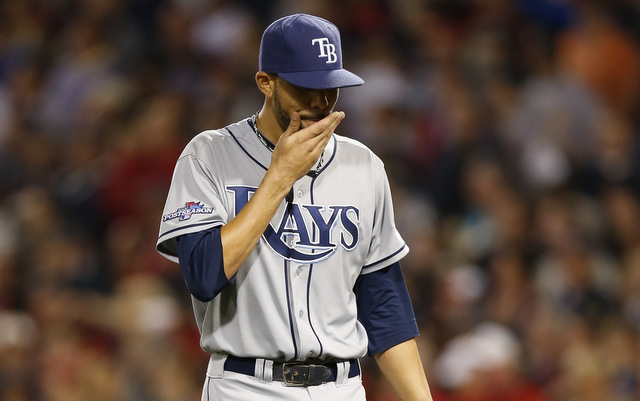 More MLB: Power Rankings | Expert Picks | Latest news & notes | Fantasy news
Rays left-hander David Price was fined an undisclosed amount for hitting David Ortiz with a pitch last week, Jon Heyman of CBSSports.com has confirmed. Nick Cafardo of the Boston Globe originally reported the news. Price was not suspended.
Price, 28, hit Ortiz in the first inning, apparently because Big Papi spent a little too much time admiring a home run during the ALDS last fall. Both benches were warned and Price hit Mike Carp with a pitch later in the game, but it was deemed unintentional.
Red Sox righty Brandon Workman responded by throwing behind Evan Longoria, up around his head. Workman was suspended six games because it happened after the warning and was close to the head. He is appealing the suspension and will start Wednesday night as scheduled.
Ortiz is certainly not happy Workman was suspended while Price got away with just a fine. Here's what he told reporters on Tuesday (via ESPN Boston):
"We're the ones getting fines and suspensions," Ortiz said. "I guess the rules aren't for everyone.

"I don't think what they're doing is fair. I think the rules should be for everybody. We didn't start this up. I didn't hit nobody. Workman didn't hit anybody in the first inning. [Price] did."

...

"I thought the rule was for everybody," Ortiz said. "I thought that the minute you figure someone hit someone on purpose -- the rule says it right there -- you're going to follow up with it. In this case, it seems they ain't.

"Workman throws one pitch behind Longoria, he got thrown out of the game. So [what] are you telling me? We haven't hit nobody. But the guy who threw a pitch behind Longoria and he got thrown out of the game? So where we at?"
Ortiz ripped Price following the game last week, going as far as calling him "a little girl."
Price essentially admitted to intentionally throwing at Ortiz by saying "nobody's bigger than the game of baseball" when asked about the comments, referring to the prolonged home run trot.
The Astros scored seven runs in Game 6 after scoring nine runs total in Games 1-5

The Astros are still alive, and Justin Verlander is the reason why

With a six-run lead in the ninth, the Astros used closer Ken Giles for 23 pitches
On Saturday night in Houston, it'll be CC Sabathia against Morton

The ALCS will go the distance after all with the Astros offense coming back to life in Game...

Verlander's stuff was insane during Game 6 of the ALCS