David Price loves his Rays and his beard (but is he serious?)
David Price didn't deny saying he wouldn't shave his beard to play for the Yankees, and he didn't deny meaning it. He did try to calm the firestorm, and he left us wondering if he was serious.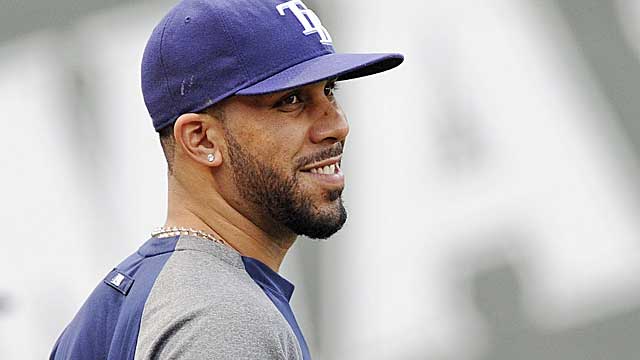 Price says his beard is not coming off. 'It's a part of me.' (USATSI)
PORT CHARLOTTE, Fla. -- There's no way David Price was serious.
Or maybe he was.
There's no way Price would rule out signing with the Yankees simply because he might need to shave off his beard.
Or maybe he would.
There's a real chance it won't matter, anyway. While there's no chance that the low-budget Rays will sign Price to a long-term contract, it's very likely that they'll trade him next winter to a team that can (and will).
It may well be that Price has little more chance of reaching free agency (he'd be eligible after the 2015 season) than Justin Verlander or Clayton Kershaw do.
Still, there will be a time when Price has more of a choice as to where he plays. So would he really eliminate the Yankees based on their rules against facial hair?
Price tried to do some damage control on Thursday morning, calling the Yankees "the best organization in baseball" and saying anything could happen by the time he becomes a free agent.
"That's three years down the road," he said. "My hair might fall out by then."
But a day after Price's initial comments to Jon Paul Morosi of Foxsports.com created something of a Twitter and talk-radio firestorm ("I'm hearing the most hateful things," Price said), what was perhaps most interesting is that Price didn't really back down.
He didn't deny saying it. He didn't deny meaning it.
"I love this thing," he said, running his fingers across his beard. "It's not [coming off]. It's a part of me."
What's more, when he started talking about the Yankees, he quickly mentioned that he had never really been a Yankee fan growing up.
"I never envisioned myself in pinstripes," he said, pointing out that while growing up in Tennessee, the Braves and Cubs were the teams that he saw most on television. "They're a great organization, but I never aspired to be a New York Yankee."
Look, we've all seen how money can change a player's visions and aspirations (and facial hair). It would be silly to say there's no way that Price would ever end up with the Yankees, facial-hair regulations or no regulations (and who knows if someday those rules would change).
But here's why this episode is worth more than just a passing mention:
Unlike Felix Hernandez, he hasn't signed a long-term deal. Unlike Verlander and Kershaw, he's unlikely to get it from the team he's with.
As long as he's a Ray, deep-pocket teams like the Yankees can dream that Price will be free agent in three years.
For now, Price is saying that those deep pockets won't be enough to sway him.
"It's about being comfortable where you play," he said. "The last thing I want to think is that I'm signing a long-term deal -- regardless of the money -- and not having the feeling I have here."
Price knows that making his beard/Yankees feelings public probably wasn't the best move. He knows why his agent, Bo McKinnis, called him after the story came out (which is why he didn't return the call).
He also said, "I can't rule out anybody."
He's just prefer a team like the Rays, where manager Joe Maddon's dress code is simple: "As long as you think you look hot."
"Beards, earrings, tattoos, we like it all," Maddon said. We definitely promote individualism around here."
Price loves it. He'll love it, for one more season, until the Rays trade him.
"I have my beard for at least another year," he said
So he would shave it off to go to the Yankees?
No, he didn't say that. Not at all.
Is he serious?
We might not know for another three years -- if then.
Dioner Navarro still hopes to return someday

Christian Yelich's agent says his client's relationship with Marlins is 'irretrievably bro...

The free-agent market has been slow and one player is bracing for an even longer wait
The Mets didn't want to trade a young outfielder for an older one

Josh Harrison doesn't sound pleased Gerrit Cole and Andrew McCutchen have been traded away

The team's media contracts expire following the 2019 season