David Price's future: Playoffs (maybe), and then a trade (probably)
David Price is likely in his final days with the Rays, who are expected to explore trading their Cy Young winner this winter.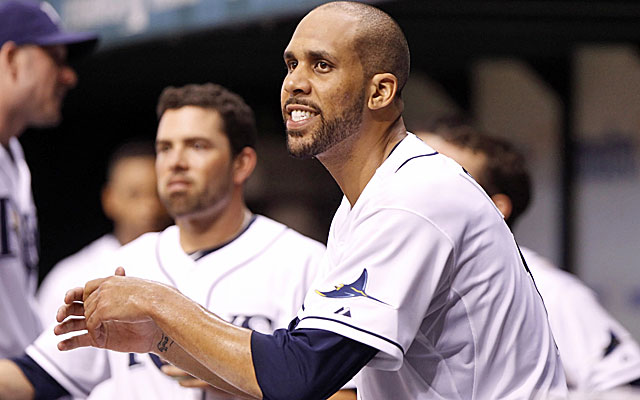 NEW YORK -- David Price admits the thought has crossed his mind.
These are likely his final days with the Rays. Wednesday night's start against the Yankees was likely his last regular-season start for the only team he has ever known.
When this season ends, whenever that is, the Rays are expected to explore trading their Cy Young left-hander. By the time spring training begins, Price will likely be wearing a new uniform.
The reason is simple. The Rays can't afford to sign Price to a long-term contract. By the end of this season, he'll be two years from free agency.
If they want to maximize his value, this is the time.
General manager Andrew Friedman won't discuss Price's future, saying his entire focus is on the Rays' effort to make the playoffs.
But in discussing the Rays' overall strategy this week, Friedman talked about "not allowing ourselves to fall off a cliff." In other words, while the Rays will at times stick with a player all the way to free agency (Carl Crawford in 2010, B.J. Upton last year), more often than not they need to make an earlier decision and move on (as they did last winter with James Shields).
The Rays were able to turn Shields into Wil Myers, and you can bet that they'll be looking for just as big a return (or bigger) for Price. Price is younger than Shields (he'll still be 28 when next season begins), and he's won a Cy Young award.
And while Price's overall numbers this season don't match what he did in his Cy Young year, he has been outstanding since coming off the disabled list at the start of July.
"Since then, his season has been A-plus," Rays pitching coach Jim Hickey said. "He's also been a great influence on our other pitchers. It's no coincidence that we started our roll when he came back."
Price had a 2.57 ERA over those final 17 starts. Only three regular starters in the American League -- Ubaldo Jimenez, Bartolo Colon and Anibal Sanchez -- had a lower ERA in that time.
Price's velocity is down some, about 2 mph from last year according to fangraphs.com. But in a winter where the free-agent market offers mostly middle- or back-of-the-rotation types, the Rays should be able to do very well with a Price trade.
The Rangers have long coveted Price, and would seem to have the pieces to make a trade happen. They would have tried last winter, except that the Rays made it clear at that point that they were only interested in dealing Shields, not Price. Price was still three years from free agency then, and the difference in return between a pitcher two years out and three years out wasn't enough to force their hand.
The return would figure to go down considerably if the Rays waited one more year, when an acquiring team would only get one guaranteed year of control.
But almost any team with the money to pay Price and the young talent to get a deal done could end up trying for Price.
With that kind of potential market -- and potential return -- it's hard to imagine a deal not getting done.
Price would rather not think about it, no matter how many times it crosses his mind. He'd actually rather stay a Ray -- although not enough to sign the far-below-market deal that would be the only way the team could consider keeping him.
"I love it here," he said Thursday. "Everybody in our organization knows that. The fan base knows it."
They also know that these are the Rays. Money is always an issue. Players like Price are always candidates to be traded.
"I've seen it happen quite a few times," Price said.
The next time it happens, it will likely be him.
Wright was arrested at his home Friday

The former Tigers teammates were voted into Cooperstown by the 16-person Modern Era Commit...

The Yankees still have room for a good-sized signing even after Saturday's trade with Miam...
St. Louis gets some much needed help for their bullpen

Keep tabs on the top 50 free agents right here

Morrow thrived with the Dodgers last season